Louis Moinet or Moynet
(1768-1853)
Pierre-Philippe Thomire
(1757-1843)
Exceptional Patinated and Gilt Bronze and Black Marble Mantel Garniture with Matte and Burnished Finishing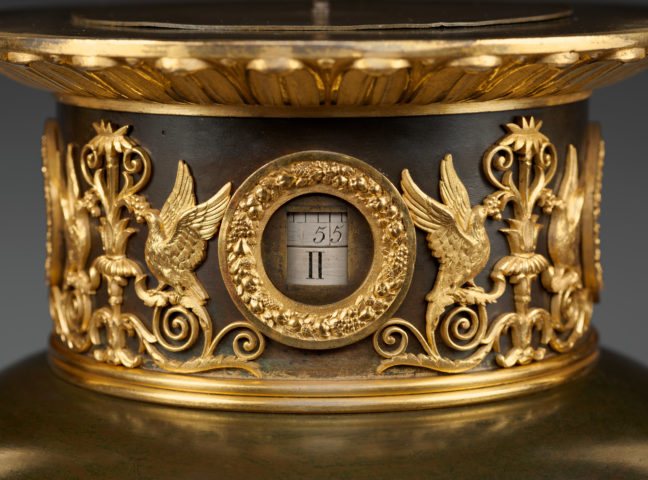 The movement signed "Moinet l'aîné"
The bronzes Attributed to Pierre-Philippe Thomire
Paris, Empire period, circa 1810
Clock :
Height
71 cm
Width
29 cm
Diamètre
Base 25.3 x 25.3 cm
Vases :
Height
54 cm
Width
23.5 cm
Diamètre
Base 18 x 18 cm
Provenance:
Sold Paris, Palais Galliera, Maîtres Laurin-Guilloux-Buffetaud, June 21, 1974, lot 59.
Made entirely of finely chased patinated and gilt bronze with matte and burnished finishing and black marble, this garniture comprises a central vase housing the clock and two lateral oval-shaped vases. The clock has an aperture within a medallion framed by a flower wreath, which indicates the Roman numeral hours and Arabic five-minute intervals on two silvered metal cadrans tournants; the movement is signed "Moinet l'aîné". The lip is adorned with a frieze of veined leaves; the neck is decorated with applied motifs of flowers and scrolling foliage, framed by birds that peck at seeds. The belly, with plain and reeded motifs, is further embellished with medallions framing rosettes that are flanked by flowers and scrolls and a magnificent classical-style frieze depicting dancing bacchantes. The lower portion is adorned with wide leaves alternating with stems of flowers; the spreading pedestal is decorated with a row of stylized water leaves. The applied handles, with reserves containing flower and leaf garlands, are attached to the belly by female masks emerging from palmettes and to the neck by medallions centered by neoclassical profiles. The quadrangular base features thyrsi motifs with intertwining vine branches and snakes on either side of wicker baskets filled with fruits. The spreading pedestal is adorned with water leaves. The clock stands on a square base. The two similarly decorated lateral vases are elaborately embellished with applied palmette, C-scroll, and flower motifs and arabesque style torches flanked by kneeling female figures that are tying ribbons. The applied slightly curved handles are adorned with foliage against matted reserves, and are attached to the necks by medallions centered by female masks inside of wreaths. The vases stand on pedestals decorated with wide ribbed water leaves, which themselves are set on square black marble bases with quadrangular plinths decorated with molding featuring friezes of alternating leaves and stems.
Discover our entire collection of antique mantel clocks for sale online or at the gallery.
The present garniture is comparable to certain pieces by the Parisian bronzier Claude Galle, including a  vase-form clock that Galle made circa 1810, an example of which is in the Grand Trianon (see H. Ottomeyer and P. Pröschel, Vergoldete Bronzen, Band I; Munich, 1986, p. 365, fig. 5.12.12). A second is on display in the Museo di Capodimonte in Naples (illustrated in A. Gonzales-Palacios, Il Gusto dei Principi, Arte di corte del XVIIe e del XVIIIe secolo, Milan, 1993, p. 74, fig. 127). It may be attributed to Pierre-Philippe Thomire, the most talented Parisian bronze caster of the final years of the 18th century and the first decades of the following century.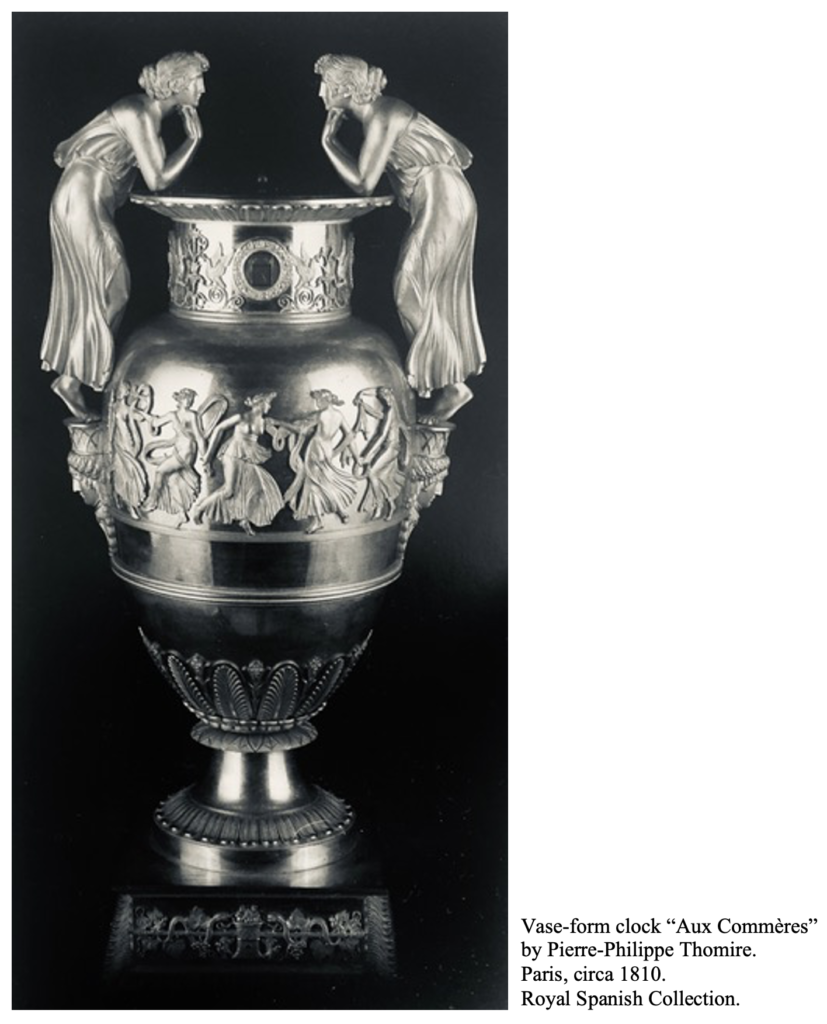 The unusual design of the clock may be seen on an "aux commères" vase-form clock, which is identical except for a variation in the treatment of the handles. The "aux commères" clock was created by Thomire circa 1805-1810. A few rare examples of it are known to exist, among them one example made entirely of gilt bronze that is in the Royal Spanish Collection (illustrated in J. Ramon Colon de Carvajal, Catalogo de relojes del Patrimonio nacional, Madrid, 1987,  p. 164, catalogue 142). A second example, in patinated and gilt bronze, signed "Louis Moinet", is on display in the David Roche Foundation in Melbourne; it was commissioned circa 1810 by Ernst-August, Prince of Hanover (illustrated in J. Russel and R. Cohn, French Empire Mantel Clock, Editions Bookvika, 2012, p. 8).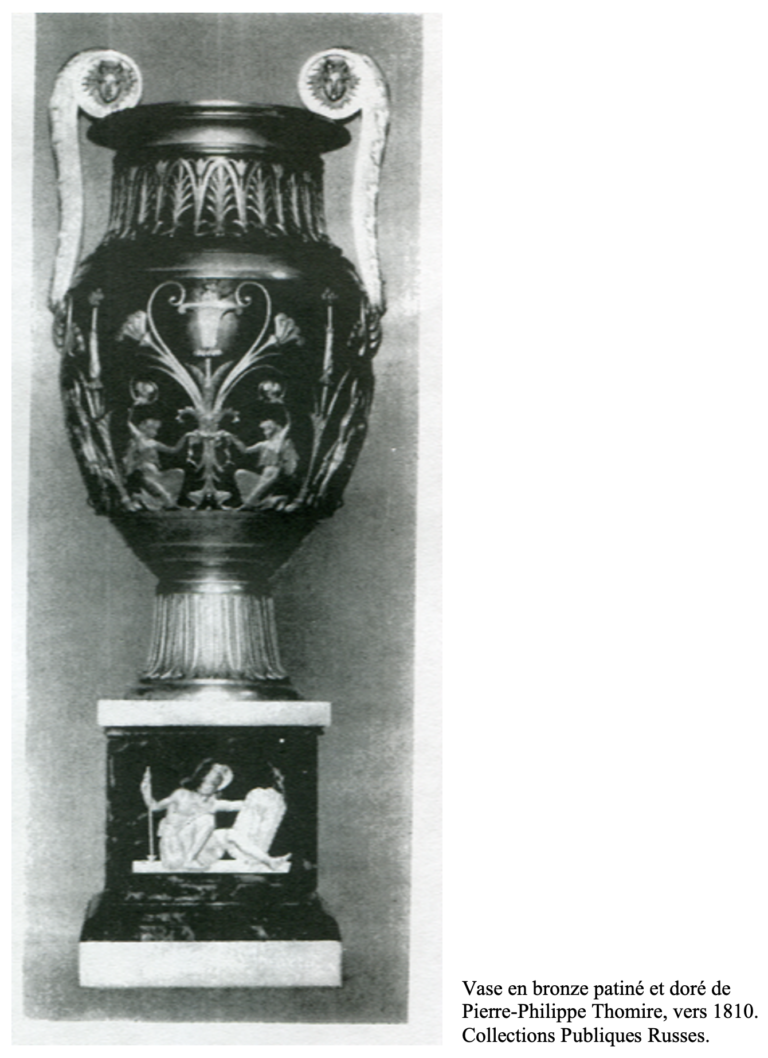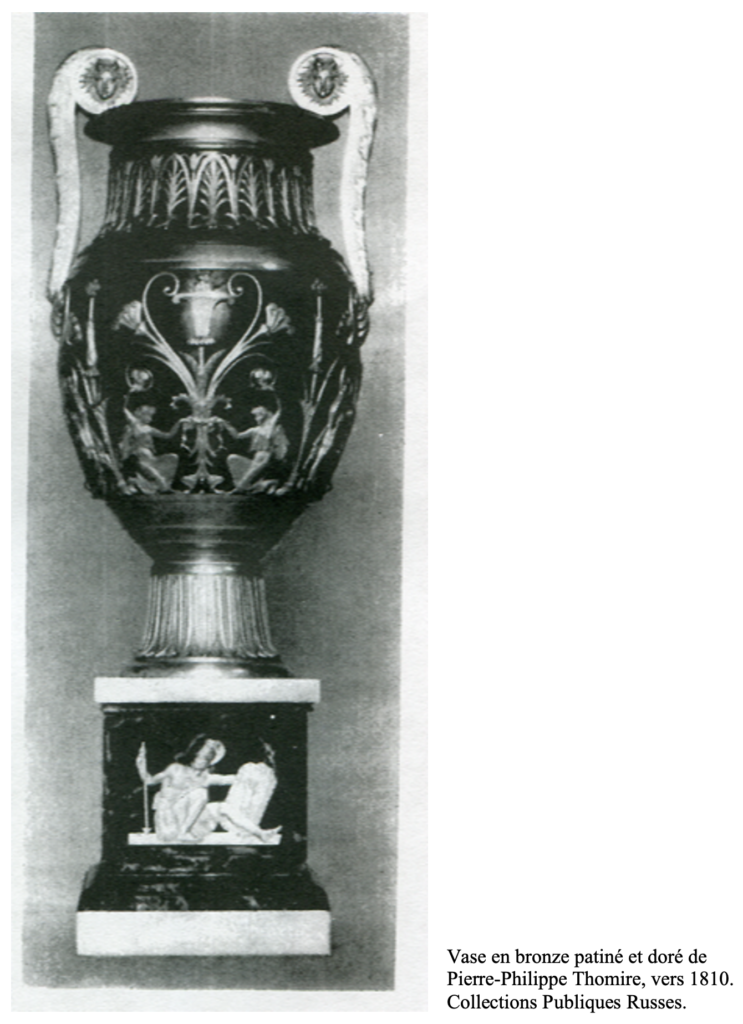 One further example of a vase identical to those flanking the present clock, which nevertheless features slight variations in the base, is illustrated in a catalogue devoted to the work of Pierre-Philippe Thomire that is now in Russia (see A.N. Voronikhina, Dekorativnaia bronza Pera-Filippa Tomira (1751-1843), Leningrad, Hermitage Museum, 1984).
Louis Moinet or Moynet (1768 - 1853)

Was one of the most important Parisian clockmakers of the early decades of the 19th century. Born in Bourges, Moinet drew notice at a young age due to his passion for clockmaking, winning numerous first prizes and competitions. Also an enthusiastic painter and draughtsman, he stayed in Italy for several years, studying classical antiquity. When he returned to France, he settled in Paris and became a professor at the Académie des Beaux-Arts in the Louvre. A member of several artistic and scholarly societies, he became friendly, and collaborated with, many of the finest artists, artisans, and scientists of the time. His passion for clockmaking soon took precedence over painting and Moinet concentrated exclusively on the practical and theoretical aspects of clockmaking. He invented the first chronograph in 1816; ten years earlier he had designed an automaton clock for the Emperor, in which Napoleon and Josephine were crowned when the music box was activated. He also made pieces for Prince Murat and Marshall Ney. His fame spread beyond the borders of France, and Moinet designed clocks for American presidents Thomas Jefferson and James Monroe, as well as for George IV, King of England. Today the clocks made in his workshop are all thought to have been made in collaboration with Pierre-Philippe Thomire, with whom the clockmaker must have had a close commercial and personal relationship.
Pierre-Philippe Thomire (1757 - 1843)

Pierre-Philippe Thomire was the most important Parisian bronzier of the last quarter of the 18th century and the first decades of the following century. Early on in his career he worked for Pierre Gouthière, ciseleur-fondeur du roi, and toward the mid-1770's began working with Louis Prieur. He later became one of the bronziers attached to the Manufacture Royale de Sèvres, creating the bronze mounts for most of the important creations of the day. After the Revolution, he purchased the stock of Martin-Eloi Lignereux, thus becoming the most important suppliers of furniture bronzes for châteaux and Imperial Palaces. In addition, he worked for a wealthy private clientele, both French and foreign, including several of Napoleon's Marshals. Thomire retired in 1823.