Rare Gilt and Patinated Bronze Mantel Clock with Matte and Burnished Finishing
"The Meeting of Ceres and Men"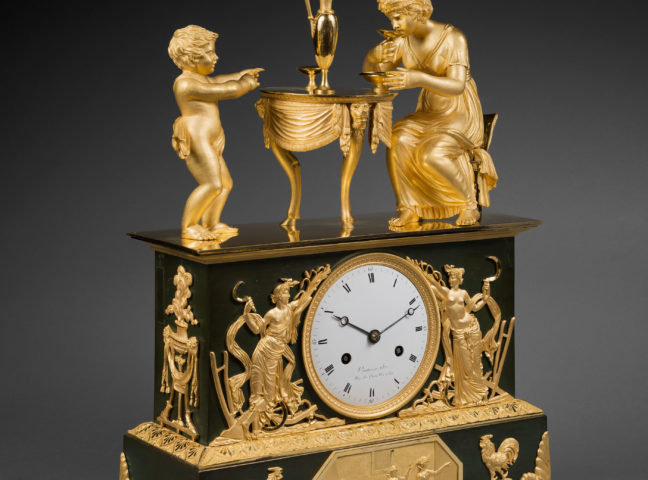 "Couturier Jne"
Paris, Empire period, circa 1805-1810
Height
47
Width
34.5
Depth
13.5
The round white enamel dial, signed "Couturier Jne/rue du Caire n°6 à Paris", indicates the Roman numeral hours and the Arabic numeral fifteen-minute intervals by means of two blued steel Breguet hands. It is housed in a finely chased gilt and patinated bronze architectural case with matte and burnished finishing. The hour and half-hour striking movement is housed in an oblong case with molding decorated with a stylized palm frieze; the case features two applied draped figures standing opposite one another, which hold sickles and wheat sheaves. At their feet lie the attributes of Agriculture; on the sides there are athéniennes with smoke rising from them, which are adorned with goats' heads and hooves. Surmounting the clock, there is a mythological scene with a young, nude boy who is laughing as a young woman sitting on an armchair with a rounded back drinks from a goblet. The woman, in classical dress with upswept hair adorned with ribbons and wheat sheaves, is sitting at a three-legged table with goat legs' feet and lions' masks adorning the apron; the apron is covered in a fringed drapery. On the table are a ewer and two goblets with spreading feet. The rectangular base is embellished with the applied motifs of two roosters facing each other, flanking an octagonal medallion that depicts an interior with figures set against a striated ground; the theme is related to that of the sculptural group that surmounts the clock. The clock is raised upon four lions' paw feet emerging from leaf bouquets.
Discover our entire collection of antique french empire mantel clocks for sale online or at the gallery.
The elaborate design of the present clock, its unusual theme, which is rarely seen in Parisian horology, and the exceptional quality of its gilding and chasing, make it one of the most impressive mythological-themed clocks of the First Empire. Its iconography refers to the story of the goddess Ceres, who, while searching for her daughter Proserpina, who had been abducted by Pluto, stopped during her travels among men to quench her thirst. The scene is described as follows in Ovid's Metamorphoses:
 "Meanwhile, the heartsick Ceres seeks her daughter:

She searches every land, all waves and waters.

… Worn out and racked by thirst – she had not wet

her lips at any spring along her path –

she chanced to see a hut whose roof was thatched

with straw. And Ceres knocked at that poor door,

which an old woman opened. When she saw

the goddess there and heard her ask for water,

she gave her a sweet drink in which she'd soaked

roast barley. While the goddess drank this brew,

a boy came up to her; and scornful, rude,

he laughed and said she drank too greedily.

Offended, Ceres stopped her sipping, threw

the brew and all of its pearl-barley grains

full in his face. So – soaked – his face soon showed

those grains as spots; his arms were changed to claws;

a tail was added to his altered limbs…

the goddess shrank him, left him small – much like a lizard, and yet tinier in size."

(Metamorphoses, Book V, verses 435-459)
Couturier

Couturier was a clockmaker active during the first two decades of the 19th century; he is recorded as working at rue du Caire n°6 in Paris.
Photo gallery