Adam Weisweiler
(1744-1820)
Pierre-Philippe Thomire
(1757-1843)
Important Elm Burr Veneer, Matte Gilt and Patinated Bronze, and Corsican Orbicular Diorite Guéridon with Surtout de Table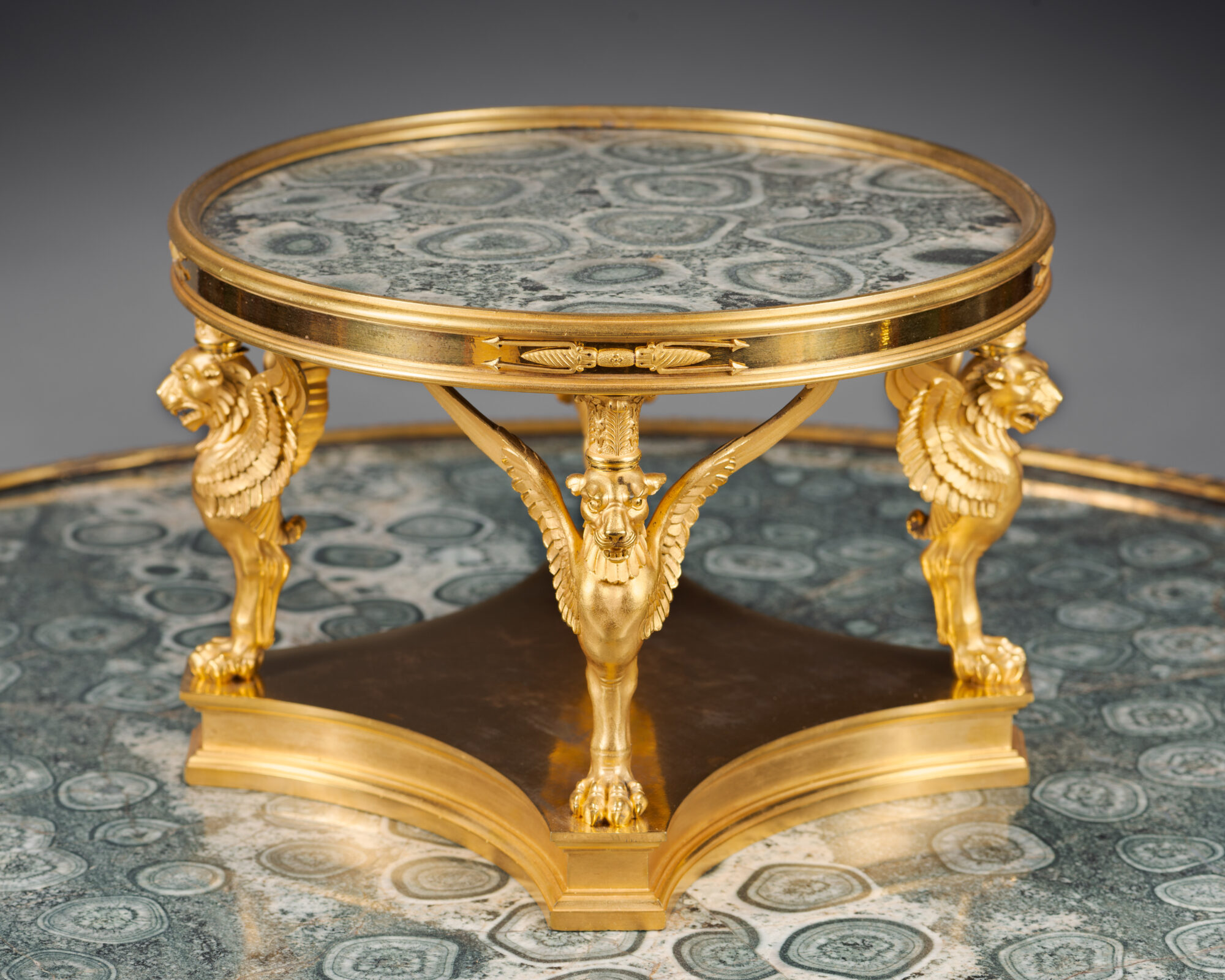 Attributed to Adam Weisweiler
The Bronzes Attributed to Pierre-Philippe Thomire
Paris, Empire period, circa 1805-1810
Guéridon :
Height
78 cm
Diamètre
76.5 cm
Surtout :
Height
18.5 cm
Diamètre
26.8 cm
Provenance:
– Formerly in the collection of Louis Duchanoy (1781-1847)
– Thence by descent
Made of elm burr veneer and very finely chased, patinated, and matte gilt bronze, it features a circular tabletop made of Corsican orbicular diorite, framed by an entablature adorned with olive branches and rosettes; it is supported by four winged female figures whose bodies terminate in lions' paw feet. The whole stands on a shaped circular base that is adorned with applied rosette and stylized palmette motifs. In its center stands a surtout de table with a top that is also made of diorite. It is adorned with a band decorated with thunder motifs and pinecones. It is supported by four winged animals with lions' paws; they stand on a shaped plinth with concave sides.
This important guéridon, whose design was inspired by classical models, stands out above all for the exceptional quality of its bronze mounts and its veneer. This allows us to attribute it to the bronze caster Thomire and the cabinetmaker Weisweiler, who occasionally collaborated on certain very high-quality pieces of furniture. Secondly, its tabletops are made of Corsican orbicular diorite, also known as Corsite or orbicular Gabbro, which is a very rare material that comes from the quarries of Saint-Lucie de Tallano, whose decorative qualities are due to the orbicular design whose circles with fine white bands stand out against the gray granite ground. Toward the end of the 18th century, or perhaps in the early years of the following century, a small number of Parisian cabinetmakers produced this type of guéridon with standing winged female figures. One example, made by François-Honoré-Georges Jacob-Desmalter, now in the Villa Masséna in Nice (illustrated in L. Mézin, La villa Masséna: du Premier Empire à la Belle Époque, Editions Somogy d'art, December 2010, p.108-109). A second, similar model, made by Adam Weisweiller, is illustrated in P. Lemonnier, Weisweiller, Editions d'Art Monelle Hayot, Paris, 1983, p. 95. One further guéridon, which is similar to the present example and was made in Russia  at a slightly later date, is in Pavlovsk Palace, where it stands in the Salon d'angle (see Pavlovsk: Palace and Park, Aurora Art Publishers, Leningrad, 1975, fig. 168).
Adam Weisweiler (1744 - 1820)

Adam Weisweiler is a cabinetmaker who became a master in Paris on March 26, 1778. Having settled in the Faubourg Saint-Antoine quarter, he quickly gained renown, becoming one of the most important cabinetmakers of the final years of the reign of Louis XVI. He worked for the most important collectors of the time through the intermediary of marchand-merciers Dominique Daguerre and Martin-Eloi Lignereux. The Revolution does not seem to have greatly affected him; at this time he purchased several buildings. He continued to be active during the Empire period, working for the Queen Hortense, among others.
Pierre-Philippe Thomire (1757 - 1843)

Pierre-Philippe Thomire was the most important Parisian bronzier of the last quarter of the 18th century and the first decades of the following century. Early on in his career he worked for Pierre Gouthière, ciseleur-fondeur du roi, and toward the mid-1770's began working with Louis Prieur. He later became one of the bronziers attached to the Manufacture Royale de Sèvres, creating the bronze mounts for most of the important creations of the day. After the Revolution, he purchased the stock of Martin-Eloi Lignereux, thus becoming the most important suppliers of furniture bronzes for châteaux and Imperial Palaces. In addition, he worked for a wealthy private clientele, both French and foreign, including several of Napoleon's Marshals. Thomire retired in 1823.
Photo gallery