Pierre-Philippe Thomire
(1757-1843)
Important Gilt Bronze Mantel Clock
"The Music Lesson" or "Homage to Joséphine"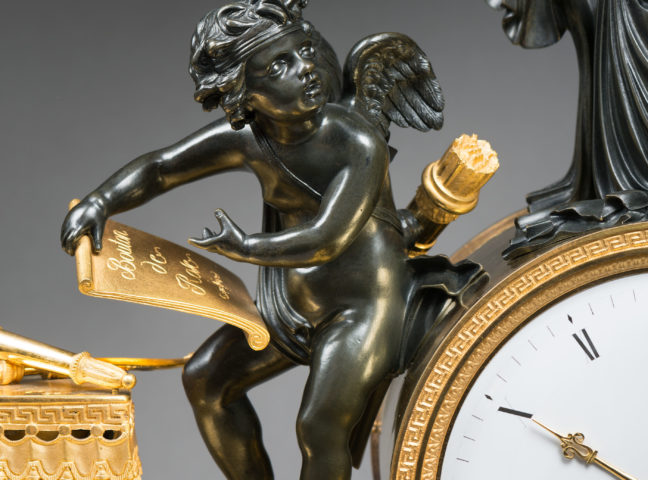 "Collas à Paris"
Attributed to Pierre-Philippe Thomire
Paris, early Empire period, circa 1805
The round enamel dial signed "Collas à Paris" indicates the Roman numeral hours and the fifteen-minute graduations. The case is made of finely chased, gilt and patinated bronze. The movement is housed in an elaborately decorated drum case upon which is seated a fine female figure who is dressed in antique robes and plays the harp. Her sheet music is placed on a four-legged gueridon; she looks behind her towards a winged putto who is wearing a quiver of arrows slung across his chest and holds a parchment with the words "Bouton de rose" (rosebud). His bow and a flaming torch are placed before him on a stool with lions' feet. The plinth, with elaborately decorated reserves, is set upon a square green marble base adorned with applied motifs: ribbon-tied garlands, lyres flanked by griffons and masks within pierced medallions adorned with stylised palmettes. The clock is raised upon six toupie feet that are decorated with foliage and interlace motifs centered by pearls; the plinth has flattened ball feet.
This clock's unusual design was inspired by a poem entitled "Bouton de rose", by Constance-Marie de Théis, Princess de Salm-Dyck (1767-1845). Published in 1785 in the Almanach des Grâces the poem became famous during the latter part of the 18th century, when it was set to music by the composer Louis-Barthélémy Pradher (1782-1843). The popular singer Pierre-Jean Garat (1762-1823) sang it in fashionable Salons, dedicating it to the beauty of Josephine, the wife of the future Emperor Napoleon. The present clock's exceptional chasing and gilding allow us to attribute it to the most talented Parisian bronze caster of the period, Pierre-Philippe Thomire.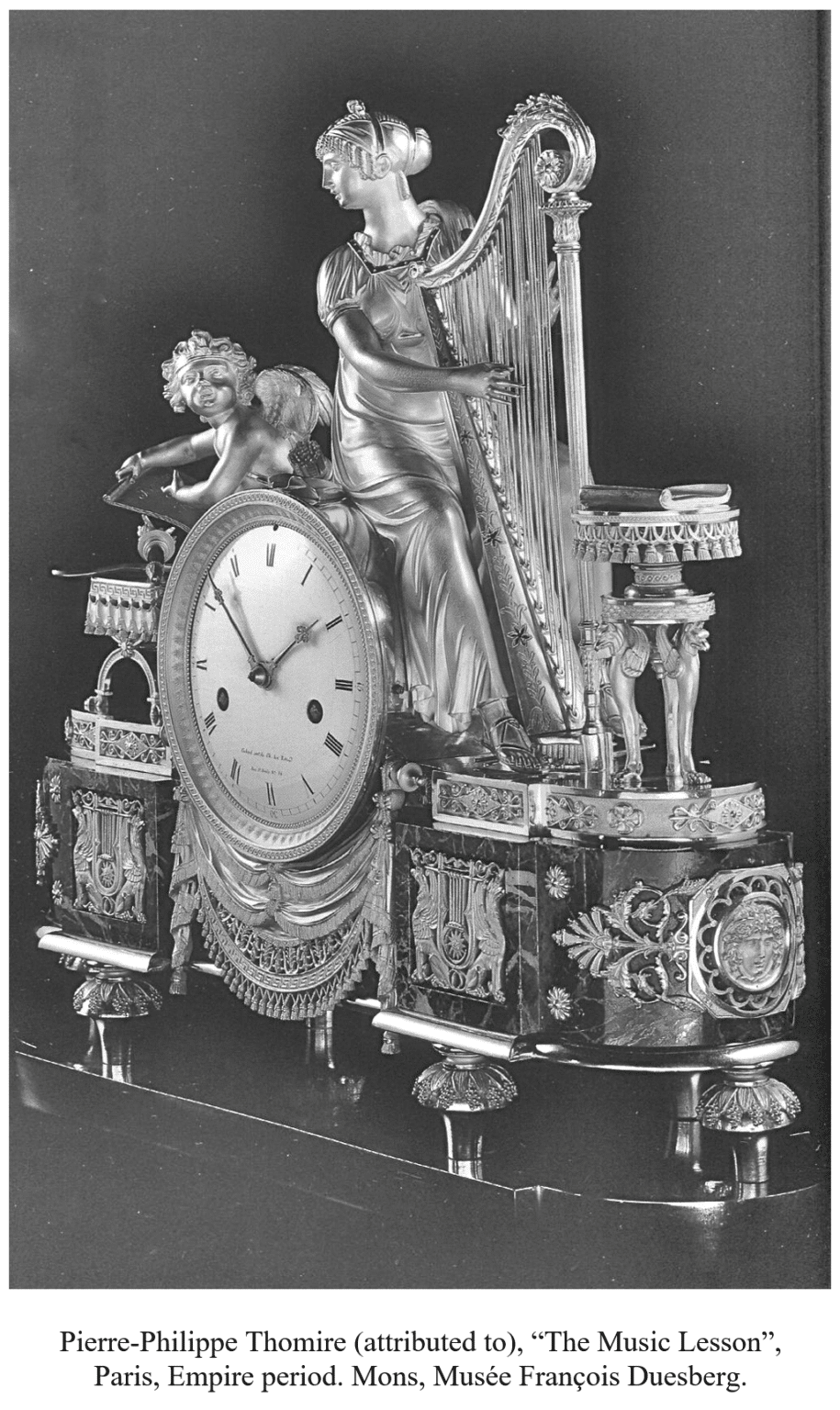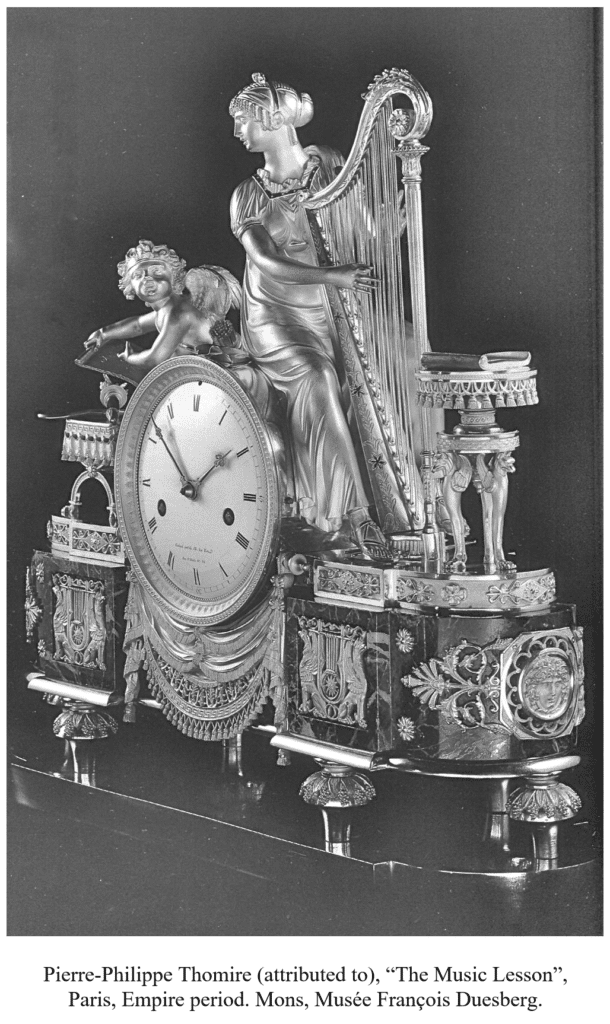 Only a few identical clocks are known: one example, whose dial is signed  "Dubuc le jeune", is illustrated in P. Kjellberg, Encyclopédie de la pendule française du Moyen-Age au XXe siècle, Paris, 1997, p. 388; a second clock appears in Tardy, La pendule française, 2ème Partie: du Louis XVI à nos jours, Paris, 1975, p. 401; a further clock, also attributed to Pierre-Philippe Thomire, is in the Musée François Duesberg, the famous horological museum in Mons (illustrated in Musée François Duesberg, Arts décoratifs 1775-1825, Bruxelles, 2004, p. 40).
Pierre-Philippe Thomire (1757 - 1843)

Pierre-Philippe Thomire was the most important Parisian bronzier of the last quarter of the 18th century and the first decades of the following century. Early on in his career he worked for Pierre Gouthière, ciseleur-fondeur du roi, and toward the mid-1770's began working with Louis Prieur. He later became one of the bronziers attached to the Manufacture Royale de Sèvres, creating the bronze mounts for most of the important creations of the day. After the Revolution, he purchased the stock of Martin-Eloi Lignereux, thus becoming the most important suppliers of furniture bronzes for châteaux and Imperial Palaces. In addition, he worked for a wealthy private clientele, both French and foreign, including several of Napoleon's Marshals. Thomire retired in 1823.
Photo gallery