André-Antoine Ravrio
(1759-1814)
Important Gilt and Patinated Bronze Mantel Clock
"Venus Guided by Love"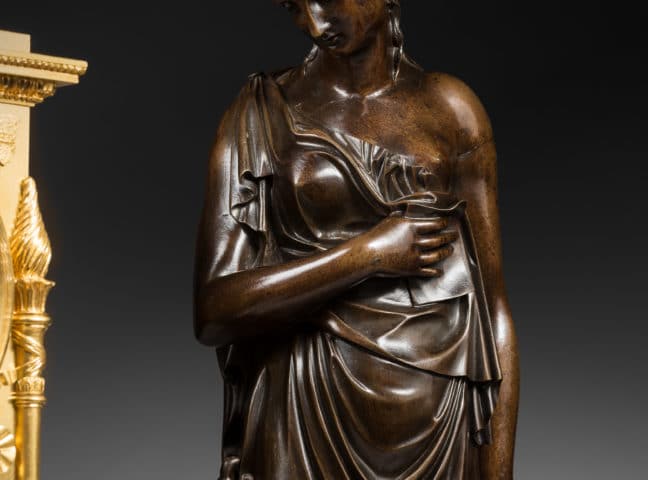 "Lesieur"
Case Attributed to Antoine-André Ravrio
Paris, Empire period, circa 1805-1810
The round enamel dial, signed "Lesieur à Paris", indicates the Roman numeral hours and minute graduations. It is housed in a finely chased bronze altar whose pediment is decorated with egg and dart friezes, and beribboned torches on either side; the façade is adorned with applied stylised butterfly and lyre motifs. The sides feature beribboned flower wreaths, and the plinth a leaf frieze. On one side, there are two fine patinated bronze figures depicting a winged and semi-nude Cupid who is pointing to the time, while addressing Venus, who is clothed in antique robes and gazes lovingly at him. The rectangular Italian griotte marble base is decorated with a finely chased applied gilt bronze frieze composed of torches and winged putti holding butterflies, linked by beribboned flower and foliage garlands. The base, which rests on a gilt bronze plinth, is raised upon four flattened and gadrooned ball feet.
The unusual design of the present clock places it among the finest mythology-inspired clocks created in Paris in the early 19th century. It depicts a scene derived from classical mythology, in which Cupid is warning the goddess of love of time's effect on her beauty.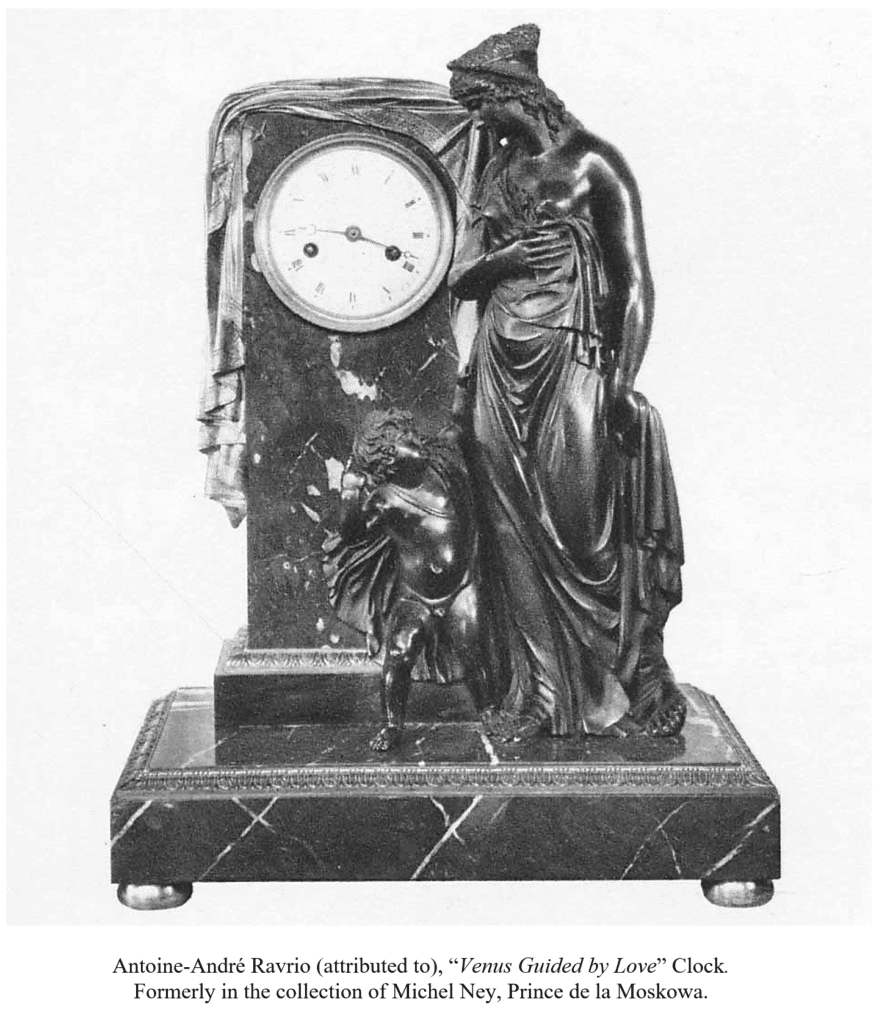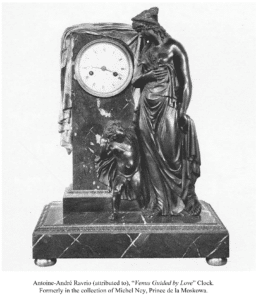 Only a few identical models are known. They are generally much smaller in size, and often feature variations, particularly in the treatment of the base. One such clock appears to be in the Mobilier National in Paris (illustrated in E. Dumonthier, Les bronzes du Mobilier National, Pendules et Cartels, Paris, undated (circa 1911), plate 37, and in E. Niehüser, Die französische Bronzeuhr, Munich, 1997, p. 211, fig. 276); a second piece, perhaps the same as the preceding clock, and now in a private German collection, is shown in H. Ottomeyer and P. Pröschel, Vergoldete Bronzen, Munich, 1986, p. 366, fig. 5.13.2; a further clock, formerly in the collection of the Prince de la Moskowa, very likely Léon-Napoléon-Louis-Michel Ney, Prince de Moskowa (1870-1928) (sold in Paris by Me Lair-Dubreuil, Galerie Georges Petit, May 27-29, 1929, lot 56).
André-Antoine Ravrio (1759 - 1814)

Made master bronzier in 1777, he is one of the most important Parisian bronze workers of the late 18th century and the early Empire period. Supplier of bronzes to the Imperial Garde-meuble, Ravrio helped furnish Napoleon's residences, along with Thomire and Galle; he also worked for some of the most influential figures of the time, including Marshals of the Empire. Today certain of his works are in the collections of the Mobilier national in Paris.
Photo gallery