François-Pierre Jolly
(?-after 1820)
Important Gilt and Patinated Bronze Mantel Clock with Matte and Burnished Finishing
"Diana the Huntress Resting"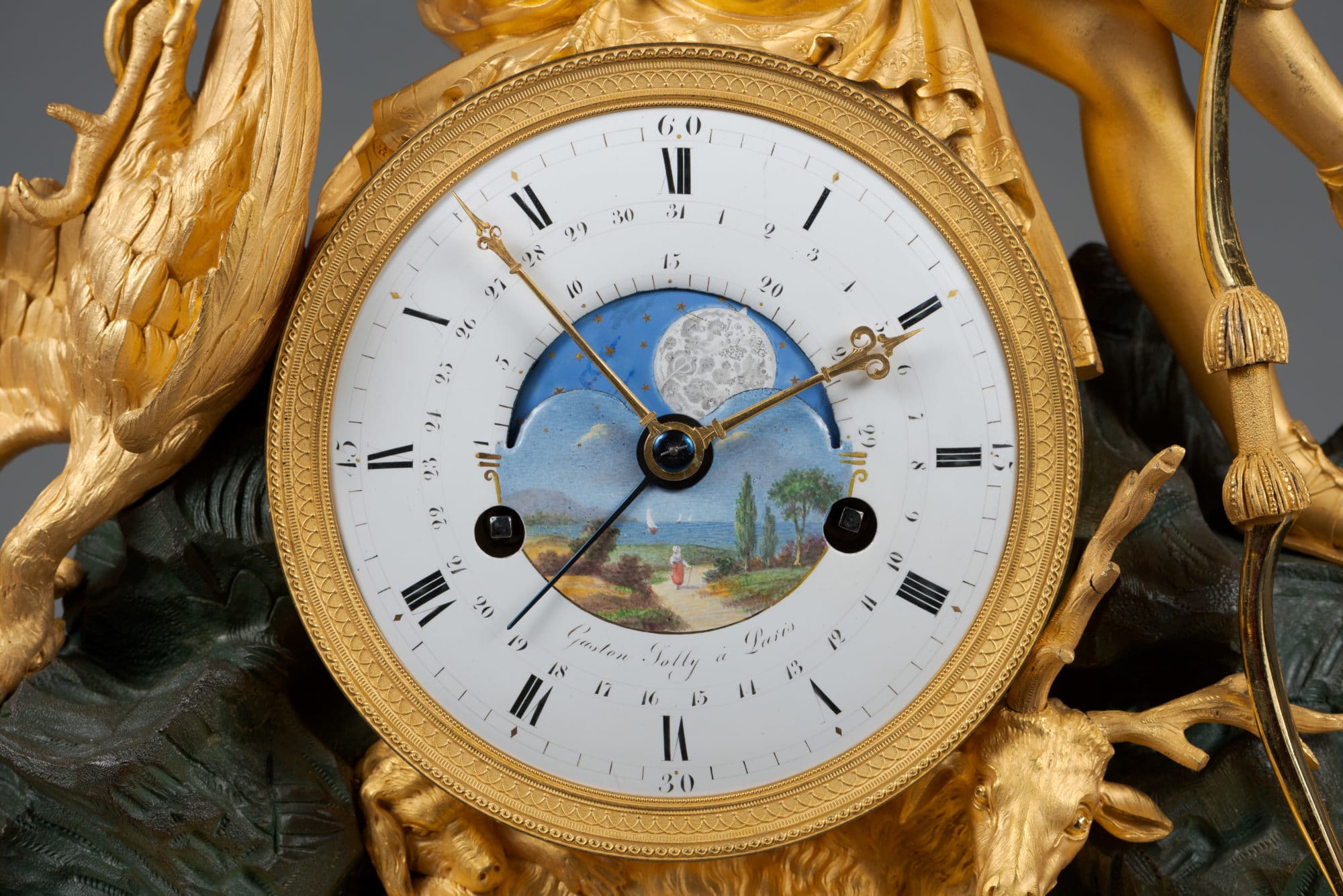 Gaston Jolly
Case Attributed to Claude Galle
Paris, Empire period, circa 1805-1810
The white enamel annular dial, signed "Gaston Jolly à Paris", indicates the Roman numeral hours, the Arabic numeral fifteen-minute intervals, and the date by means of three hands, two of which are made of pierced and gilt brass. In its center is a painted medallion indicating the moon phases and the age of the moon along its upper border, with a perspective landscape showing a lady walking along a path, and in the background a seascape with sailing ships. The hour and half hour striking movement is housed in a finely chased, patinated and gilt bronze  case with matte and burnished finishing, which features a figure depicting Diana resting after the hunt. The bezel is adorned with friezes of beads and interlacing patterns. Surmounting the clock is a fine sculptural figure representing Diana wearing classical robes and a diadem, and bearing a quiver slung across her chest. She holds a bow in her left hand and a swan, the result of her hunt, which is being examined by a dog standing on its hind legs. She is seated on a naturalistic rocky terrace which also contains a sculptural group depicting a reclining stag and a fawn. The shaped quadrangular base, with rounded corners, is elaborately adorned with applied motifs and decorated reserves. On the sides, there are dogs hunting or eating, and a panel with mythological scenes depicting two nymphs riding on sea creatures, including a seahorse. The clock stands on six knurled feet decorated with hatching and beads.
Discover our entire collection of antique mantel clocks for sale online or at the gallery.
The exceptional quality of the chasing and gilding of this important mantel clock, as well as its remarkable composition, make it one of the most successful models of the early 19th century. It may be attributed to Claude Galle, one of the finest Parisian bronze casters of the time. A comparable pyramid-shaped clock, which depicts a resting Omphale holding Hercules's club, bears Galle's signature. At the time, his shop was located in the rue Vivienne in Paris (illustrated in H. Ottomeyer and P. Pröschel, Vergoldete Bronzen, Die Bronzearbeiten des Spätbarock und Klassizismus, Band I, Munich, 1986, p. 371, fig. 5.13.19). The clock is also shown in E. Niehüser, Die Französische Bronzeuhr, Eine Typologie der figürlichen Darstellungen, Munich, 1997, p. 65, fig. 92.
François-Pierre Jolly (? - after 1820)

François-Pierre Jolly, known as Gaston-Jolly, is one of the most important Parisian horologists of the late 18th century and the early 19th century. After he became a master, on May 6, 1784, he established his workshop in the rue de Arcis and quickly earned a reputation among Parisian horological connoisseurs. During the Directoire and the Empire, he created several clocks, which were sought-after due to the quality of their movements and their original compositions. He is recorded first in the rue Pavée Saint-Sauveur from 1810 to 1820, then in the boulevard Poissonnière in 1820. Certain of his creations were recorded during the Empire as belonging to important collectors of the day, such as the wife of Charles-Philibert-Marie-Gaston de Lévis, comte de Mirepoix and Bernard-Charles-Louis-Victor, Marquis de Lostanges, Napoleon's Chambellan.
Claude Galle (1759 - 1815)

One of the foremost bronziers and fondeur-ciseleurs of the late Louis XVI and Empire periods, Claude Galle was born at Villepreux near Versailles. He served his apprenticeship in Paris under the fondeur Pierre Foy, and in 1784 married Foy's daughter. In 1786 he became a maitre-fondeur. After the death of  his father-in-law in 1788, Galle took over his workshop, soon turning it into one the finest, and employing approximately 400 craftsmen. Galle moved to Quai de la Monnaie (later Quai de l'Unité), and then in 1805 to 60 Rue Vivienne.
The Garde-Meuble de la Couronne, under the direction of sculptor Jean Hauré from 1786-88, entrusted him with many commissions. Galle collaborated with many excellent artisans, including Pierre-Philippe Thomire, and furnished the majority of the furnishing bronzes for the Château de Fontainebleau during the Empire. He received many other Imperial commissions, among them light fittings, figural clock cases, and vases for the palaces of Saint-Cloud, the Trianons, the Tuileries, Compiègne, and Rambouillet. He supplied several Italian palaces, such as Monte Cavallo, Rome and Stupinigi near Turin.
In spite of his success, and due in part to his generous and lavish lifestyle, as well as to the failure of certain of his clients (such as the Prince Joseph Bonaparte) to pay what they owed, Galle often found himself in financial difficulty. Galle's business was continued by his son after his death by his son, Gérard-Jean Galle (1788-1846). Today his work may be found in the world's most important museums and collections, those mentioned above, as well as the Musée National du Château de Malmaison, the Musée Marmottan in Paris, the Museo de Reloges at Jerez de la Frontera, the Residenz in Munich, and the Victoria and Albert Museum in London.
Photo gallery