Antoine-Henri Voisin
(1733-circa 1815)
Rare White Marble and Gilt Bronze Clock with Matte and Burnished Finishing
"Mercury and Venus"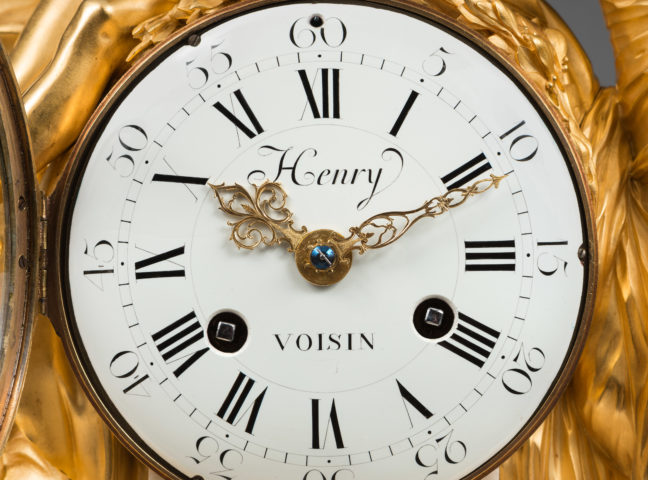 "Henry Voisin"
Paris, Louis XVI period, circa 1780
Height
46.5
Width
43
Depth
17
The round white enamel dial, signed "Henry Voisin", indicates the Roman numeral hours and the Arabic numeral five-minute intervals by means of two pierced gilt bronze hands. The hour and half-hour striking movement is housed in a white Carrara marble and finely chased gilt bronze case with matte and burnished finishing. The clock is surmounted by the figure of Mercury, with wings at his heels; he is wearing a petasos hat with a wide, rounded brim, which is a symbol of travelers, of whom he is a protector. At the feet of the young god there is a caduceus, lying on clouds; he holds an open book engraved with poetic verses relating to Art, which is being examined by a young woman in classical draperies who represents Venus; at her feet lie a crown and branch. The shaped quadrangular base with rounded corners is adorned with alternating egg and dart friezes and flowers; it is further decorated with reserves with rosettes, and leafy scrolls with flowers and birds' heads. The clock is raised upon four robust architectural feet that are adorned with beribboned laurel toruses and gadrooning.
The elegant composition of the present rare clock illustrates a theme that was favored by contemporary clockmakers: the goddess Venus accompanied by another god. Many examples may be found in both sculpture and painting, as well as in the decorative arts, in which the goddess of Love is depicted in various positions and attitudes, often accompanied by the young Cupid, and occasionally by Mercury.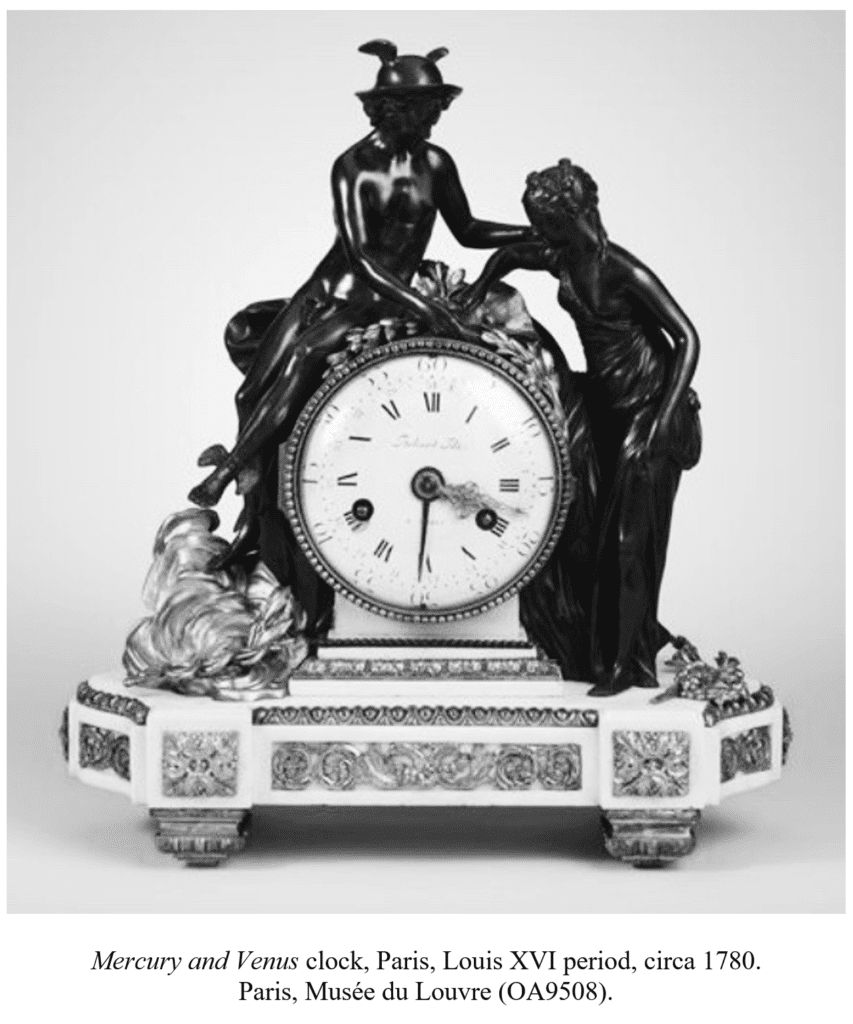 Among the small number of identical clocks known to exist, one example, whose dial is signed "Béliard fils à Paris", is in the Musée du Louvre in Paris (Inv. OA9508). A second example, whose dial is signed "Imbert l'aîné", is in the Munich Residenz; it is illustrated in H. Ottomeyer and P. Pröschel, Vergoldete Bronzen, Die Bronzearbeiten des Spätbarock und Klassizismus, Munich, 1986, Volume I, p. 248, fig. 4.6.14 (see also E. Niehüser, Die französische Bronzeuhr, Eine Typologie der figürlichen Darstellungen, Munich, 1997, p. 50, fig. 61).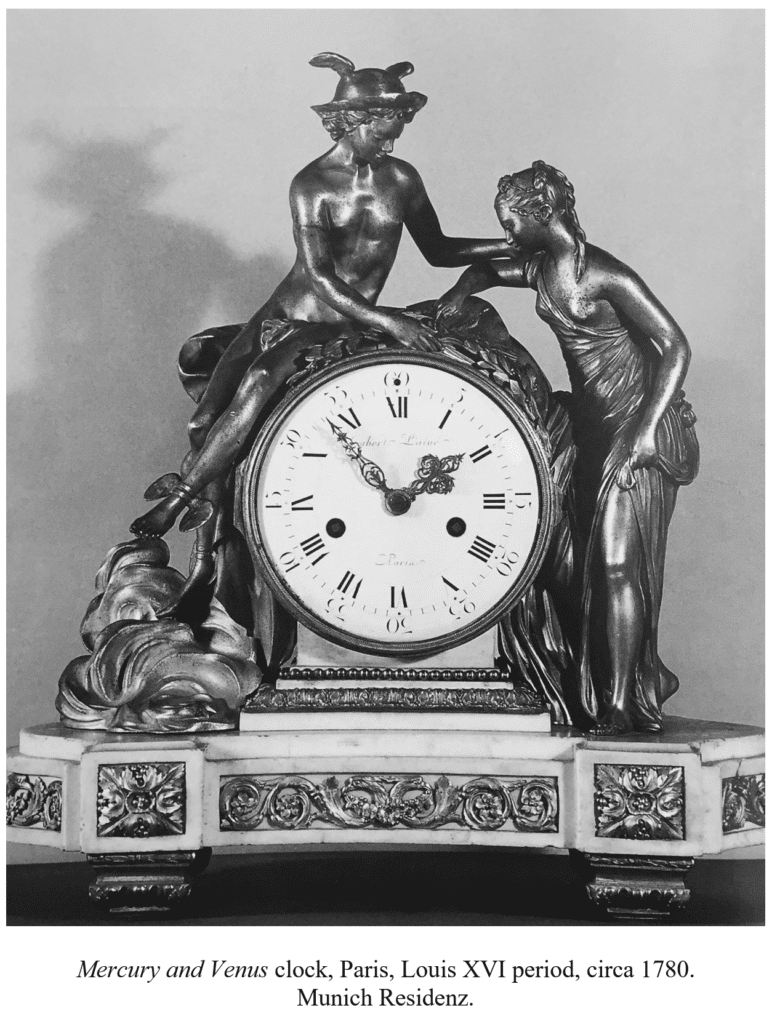 Antoine-Henri Voisin (1733 - circa 1815)

Better known as Henry Voisin, he was one of the most important Parisian clockmakers of the second half of the 18th century. The son of clockmaker Charles Voisin (1685-1761), he went into partnership with his father and then opened his own workshop, becoming one of the most renowned clockmakers of the French capital within just a few years. In the final years of the 18th century and the early years of the following century, certain of his clocks were mentioned as being the property of important Parisian connoisseurs. These include clocks mentioned in the inventories of Madeleine-Françoise-Louise-Elisabeth de Lorraine, Princess de Marsan, the Marshal of France Charles Duke of Fitzjames (in his wife's probate inventory), the famous printer Pierre Didot, called "the elder", and Victurnien-Bonaventure-Victor de Rochechouart, Marquis de Mortemart.
Photo gallery