Nicolas-Alexandre Folin
(circa 1750-after 1815)
Rare White Marble and Chased Gilt Bronze Clock
"Love and Friendship"
The enamel dial, signed Folin l'aîné à Paris, indicates the hours in Roman numerals and the minutes in Arabic numerals. The case is in the form of a fluted white marble vase with chased gilt bronze mounts and stylised leaves adorning the foot. The bezel is embellished with gilt bronze beading; two finely chased flower and leaf garlands hang on either side of the dial. At the summit, a winged child is seated on clouds between two female figures, allegories of Love and Friendship, whose respective attributes are lying at their feet; he hesitates between the tempting offer of the former and the call to reason of the latter. The fine white marble oval base is decorated with gilt bronze beading and twisting cords, as well as a scrolling leaf frieze.
Discover our entire collection of antique mantel clocks for sale online or at the gallery.
The present clock's unusual and elegant composition ranks it among the finest allegorical horological creations of the late 18th century. Its iconography, relating to the theme of Love and Friendship, derives from models created during the reign of Louis XV, when the King's former mistress the Marquise de Pompadour was striving to retain his friendship. Very few comparable models are known; an example signed Hartingue à Paris was formerly in the collections of the Marquis de Cholmondeley in Houghton Hall, Norfolk (sold at Christie's, London, on December 8, 1994). An identical clock, but with a fine scrolling frieze on the white marble base, was included in the sale of the collection of Viscount Beuret in 1924 (sold in Paris, Me Lair-Dubreuil, November 25, 1924); today it is in the collection of the Banque de France in Paris (illustrated in "L'ANCAHA à la Banque de France", in Bulletin de l'association nationale des collectionneurs et amateurs d'horlogerie ancienne et d'art, Summer 95, n° 73, p. 68).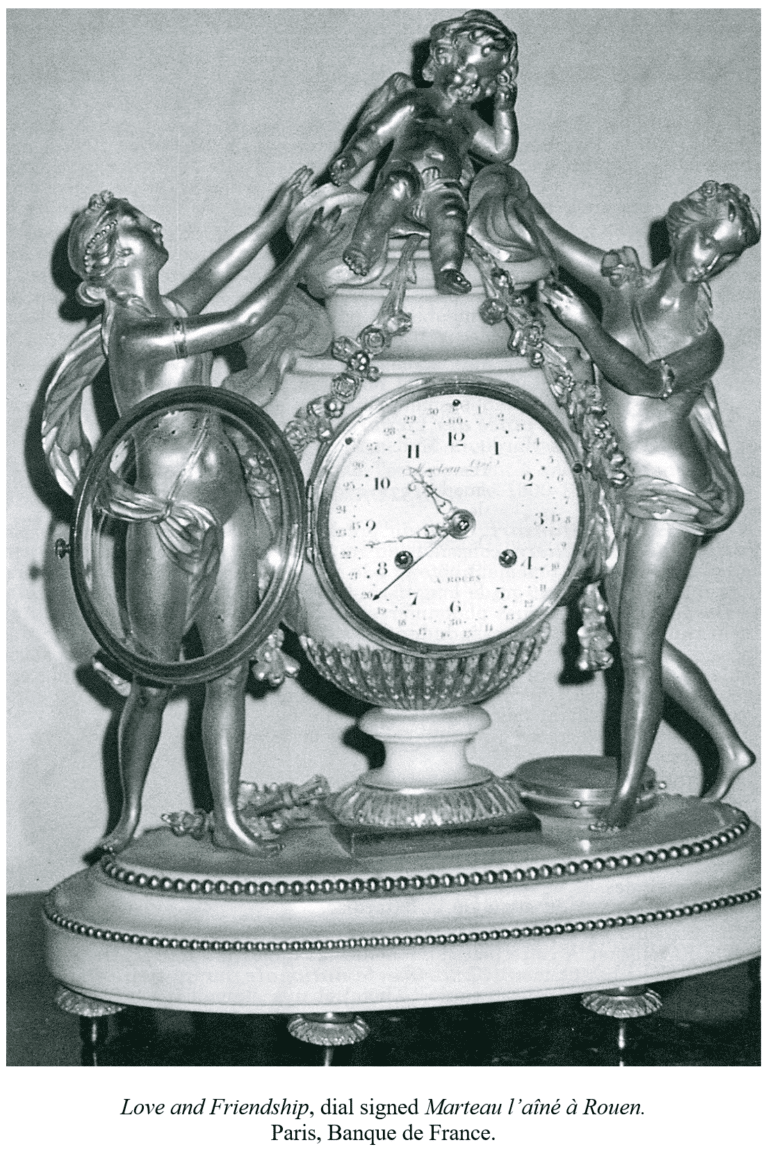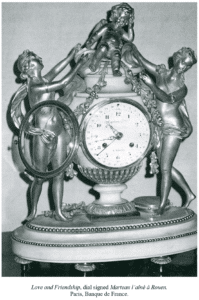 Nicolas-Alexandre Folin (circa 1750 - after 1815)

Nicolas-Alexandre Folin, called l'aîné, meaning "the elder" (circa 1750 – after 1815) was one of the best Parisian clockmakers of the late 18th and early 19th centuries. Initially working independently, after becoming a maître in 1789 he opened a workshop in the rue Salle-au-Comte. He won immediate renown and began specialising in skeleton clocks. Still prolific after the fall of Louis XVI and during the empire, he acquired his clock cases from the finest artisans of the day, including the enameller Merlet, the chasers Martincourt and Vion, and the cabinetmaker Schwerdfeger. His clocks are attested in important collections of the period, as for example in the 1790 probate inventory of Paul-Ambroise Chol de Torpanne de la Mottais and in the 1808 appraisal of the collections of banker and senator Jean-Frédéric Perregaux.
Photo gallery