Jean Antoine I Lépine
(1720-1814)
Rare Gilt Bronze Mantel Clock "Love Crowned by the Graces"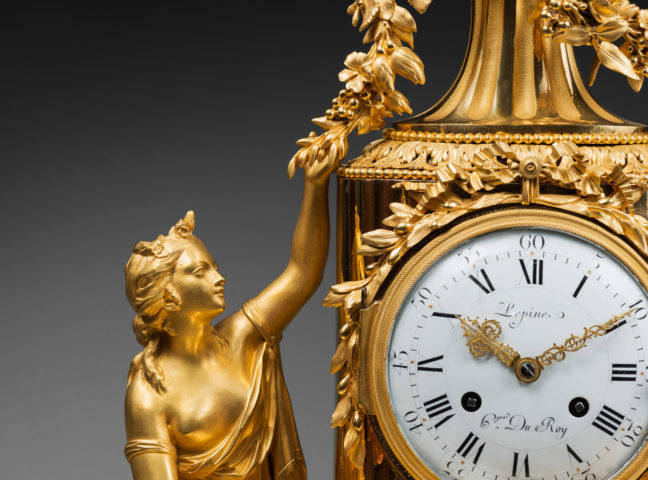 Paris, Louis XVI period, circa 1785
Height
60 cm
Width
51 cm
Depth
24 cm
The round white enamel dial, signed "Lepine Hger du Roy", indicates the Roman numeral hours and five-minute intervals by means of two pierced gilt bronze hands. The hour and half hour-striking movement is housed in a gilt bronze case with matte and burnished finishing. The bezel is framed by two ribbon-tied olive branches. The case, in the form of a neoclassical vase with a fluted neck, is adorned with a leaf frieze; its pedestal is decorated with wide acanthus leaves and a gadrooned knop. It is placed within an architectural entablature with alternating florally-decorated reserves and flowers, framed by beadwork. The clock is surmounted by a large leaf and flower garland that hangs down on either side. The garland is grasped by classically-dressed young women, one of whom is offering a wreath of roses to a Cupid that stands in front of her, holding out its arms. The shaped quadrangular base with rounded corners is adorned with beadwork friezes and scrolls that frame a low-relief panel depicting putti that are working in the Arts and Sciences. The clock is raised upon four feet that are adorned with laurel leaf toruses.
Discover our entire collection of antique mantel clocks for sale online or at the gallery.
Only a very few examples of this clock model, with its extremely fine chasing and gilding, were produced during the last quarter of the 18th century. Some of these clocks feature variations, including different combinations of materials and a different treatment of the base's decoration.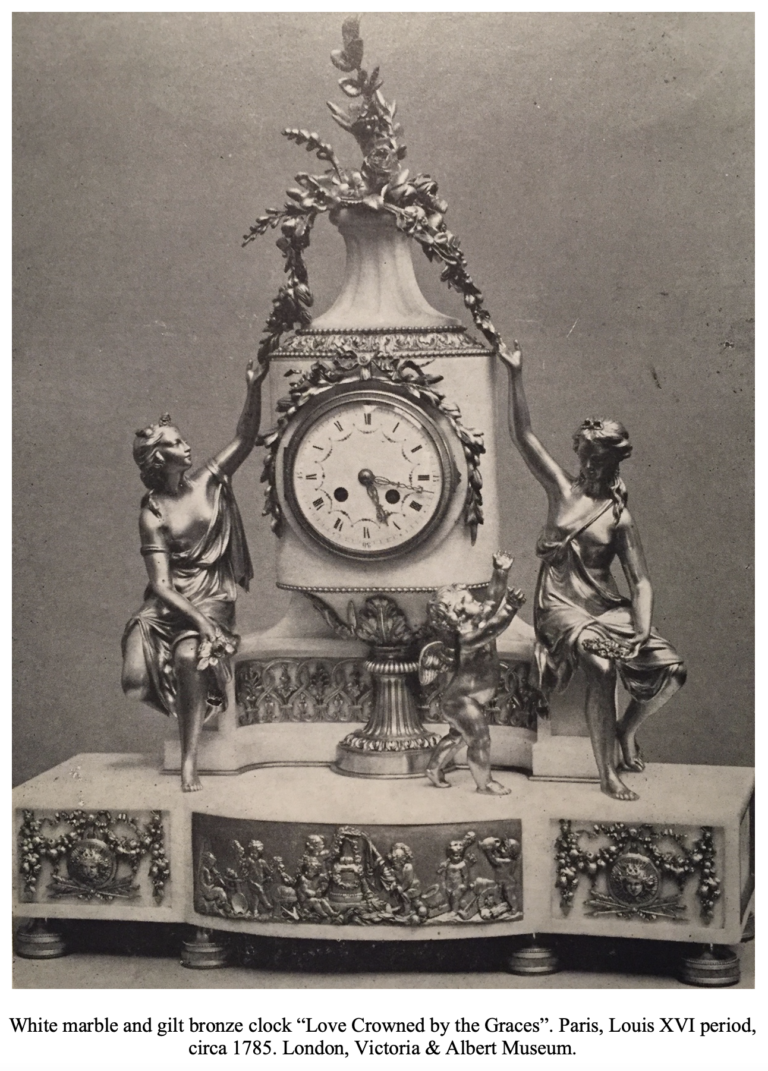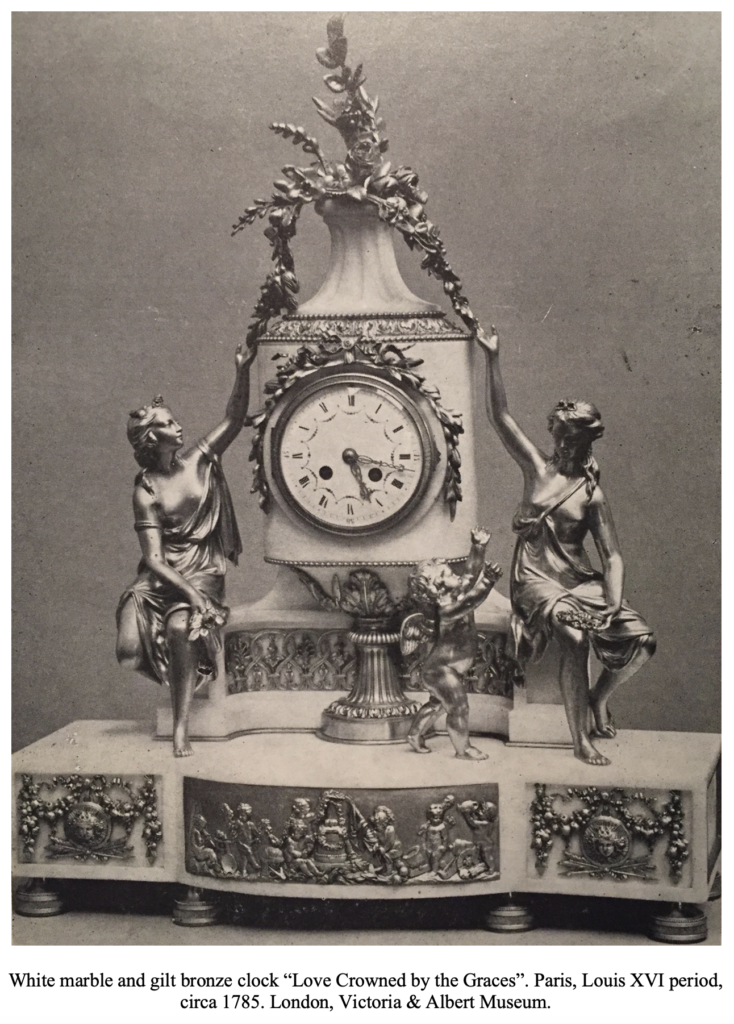 Among the few similar clocks known, one example is illustrated in P. Kjellberg, Encyclopédie de la pendule française du Moyen Age à nos jours, Paris, 1997, p. 256. A second clock is on display in the Victoria & Albert Museum in London (see Tardy, La pendule française, 2ème Partie: Du Louis XVI à nos jours, Paris, 1975, p. 250). One further such clock is in the Mobilier national, now on loan to the Musée national du Château de Fontainebleau (illustrated in E. Dumonthier, Les bronzes du Mobilier national, Pendules et cartels, Editions Massin, Paris, circa 1911, plate 23).
Jean Antoine I Lépine (1720 - 1814)

Signing his works "Lepine Hger du Roi/A Paris", Jean-Antoine I Lépine was one of the most important Parisian clockmakers of the second part of the 18th century. Lépine initially worked as an "ouvrier libre", then became a master on March 13, 1762, and taking over the stock of his colleague Caron, who held the title of Horloger du Roi et du Garde-Meuble de la Couronne. Having settled in the rue Saint-Denis in 1756, the place Dauphine in 1772, the rue des Fossés Saint-Germain-l'Auxerrois in 1777, and then the rue des Vieux-Augustins during the Revolutionary period, Lépine led one of the most productive and renowned workshops of the reign of Louis XVI. During the Revolution, an inventory was drawn up of the clocks that belonged to the Garde-Meuble de la Couronne and the royal family; it contained no fewer than thirty-two clocks by Lépine. In addition to the clocks made for the king and his entourage, Lépine made many luxury horological pieces for the important collectors of the time, including Prince Charles of Lorraine and the Marquis de Montesquieu.
Photo gallery