Jean-Baptiste-André Furet
(circa 1720-1807)
Joseph Coteau
(1740-1801)
Rare Gilt Bronze and White Marble Mantel Clock
"The Vestal Virgins"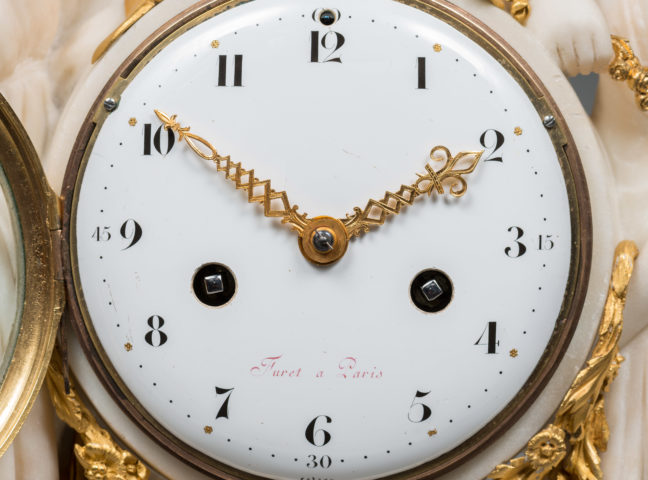 "Furet à Paris"
The Enamel Dial by Joseph Coteau
Paris, Louis XVI period, circa 1785
The round white enamel dial, signed "Furet à Paris" and "Coteau", indicates the Arabic numeral hours and fifteen-minute intervals by means of two pierced gilt bronze hands. The hour and half hour striking movement, whose pendulum is adorned with a sun mask, is housed in a magnificent case sculpted from a block of white Carrara marble, which is adorned with matte-finished gilt bronze mounts. The clock is surmounted by a Cupid with warrior's attributes, including a helmet, lance, shield, and quiver of arrows. On either side stand two female figures that represent vestal virgins. One, who is wearing a crown of roses, seems to be touching Cupid's wing, while the other holds a flowering branch in her right hand. The quadrangular base, with rounded corners, features reserves that are adorned with laurel branches. On the façade there is a low-relief panel depicting putti musicians among the clouds. The clock is raised upon six sloping, molded feet.
The remarkable composition of the present rare clock, and the exceptional quality of its sculptural group, make it one of the most elaborate and finest white marble clocks of its time. Sculpted from a single block of flawless Carrara marble, which was carefully selected by the sculptor, the group and the terrace form a single piece. This was a technical feat at the time and proves the artist's great skill. The clock was probably sculpted by two artists, for we attribute it to the brothers Joseph (circa 1740-1807) and Jean-Baptiste-Ignace Broche (1741-1794). These renowned Parisian sculptors worked for several years at the Sèvres Porcelain Manufactory under the direction of Etienne-Maurice Falconet (1716-1791), who was one of the main proponents of neoclassicism during the second third of the 18th century (see the exhibition catalogue Falconet à Sèvres ou l'Art de plaire 1757-1766, Musée national de Céramique, Sèvres, RMN, Paris, 2001).
Jean-Baptiste-André Furet (circa 1720 - 1807)

One of the most important Parisian clockmakers of the reign of Louis XVI, he signed his work "Furet à Paris". The son and grandson of clockmakers, he became a master on November 18, 1746 as a master's son. He opened a workshop in the rue Saint-Honoré. He initially went into partnership with his father, subsequently taking over his father's workshop, and soon gained renown among influential Parisian collectors of luxury horology. This allowed him to receive the title of Horloger Ordinaire du Roi pour sa Bibliothèque. Like other important Parisian clockmakers of the period, Furet worked with the finest artisans of the day, including the bronze casters Thomire, Vion and Blavet, the enameller Coteau, and the Broche brothers for sculpture.
Joseph Coteau (1740 - 1801)

The most renowned enameller of his time, he worked with most of the best contemporary Parisian clockmakers. He was born in Geneva, where he was named master painter-enameler of the Académie de Saint Luc in 1766. Several years later he settled in Paris, and from 1772 to the end of his life, he was recorded in the rue Poupée. Coteau is known for a technique of relief enamel painting, which he perfected along with Parpette and which was used for certain Sèvres porcelain pieces, as well as for the dials of very fine clocks. Among the pieces that feature this distinctive décor are a covered bowl and tray in the Sèvres Musée national de la Céramique (Inv. SCC2011-4-2); a pair of "cannelés à guirlandes" vases in the Louvre Museum in Paris (see the exhibition catalogue Un défi au goût, 50 ans de création à la manufacture royale de Sèvres (1740-1793), Musée du Louvre, Paris, 1997, p. 108, catalogue n° 61); and a ewer and the "Comtesse du Nord" tray and bowl in the Pavlovsk Palace in Saint Petersburg (see M. Brunet and T. Préaud, Sèvres, Des origines à nos jours, Office du Livre, Fribourg, 1978, p. 207, fig. 250). A blue Sèvres porcelain lyre clock by Courieult, whose dial is signed "Coteau" and is dated "1785", is in the Musée national du château in Versailles; it appears to be identical to the example mentioned in the 1787 inventory of Louis XVI's apartments in Versailles (see Y. Gay and A. Lemaire, "Les pendules lyre", in Bulletin de l'Association nationale des collectionneurs et amateurs d'Horlogerie ancienne, autumn 1993, n° 68, p. 32C).
Photo gallery