Joseph-Léonard Roque
(?-after 1789)
Marcel-François Noël
(active circa 1748-1787)
Important Gilt Bronze Mantel Clock with Matte and Burnished Finishing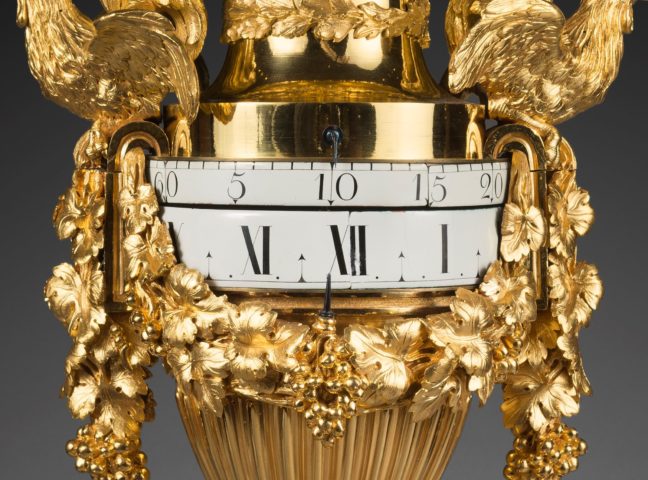 The Bronzes Attributed to Marcel-François Noël
Paris, early Louis XVI period, circa 1775
Height
70.5
Width
30
Depth
30
The movement, signed "Roque à Paris", strikes the hours and half hours. It is housed in a covered oval vase made of finely chased gilt bronze with matte and burnished finishing. The vase is divided in two by two cadrans tournants with enamel cartouches; they indicate the Roman numeral hours and the Arabic numeral five-minute intervals by means of two blued steel pointers. The simulated cover is adorned with gadrooning and has a leaf-decorated finial. The applied handles are surmounted by roosters, symbols of Vigilance, and are adorned with vine leaf garlands.
The lower portion of the vase is gadrooned and rests on an interlace-decorated knop with cabochons; the spreading pedestal is decorated with acanthus leaves. The tall, round base, with concave molding, is decorated with a laurel torus and a garland of grapes and vine leaves. On one of the sides, there are small winding holes, hidden behind two sliding panels, for the movement and the striking. The square shaped base is made of black marble and gilt bronze; it features rosettes and pierced friezes with alternating ovals and flowers against burgundy-colored cloth. The clock is raised upon four chased feet.
The present monumental vase-shaped clock, which is based on an allegorical theme, is one of the most characteristic models of Parisian neoclassicism from the early years of the reign of Louis XVI. It stands out from among the numerous other vase-shaped clocks due to its originality, perfectly balanced composition, and the high quality of the treatment of its bronze mounts. With its sober juxtaposition of bronze and marble, it may be compared to the small number of known similar cadrans tournant clocks, which were often one-of-a-kind pieces. One clock housed in a blue porcelain vase with gold veins, in imitation lapis lazuli, is in the Louvre Museum in Paris (illustrated in J. Durand, M. Bimbenet-Privat and F. Dassas, Décors, mobilier et objets d'art du Musée du Louvre de Louis XIV à Marie-Antoinette, Paris, 2014, p. 452, catalogue n° 189). A second example, in alabaster, was made by clockmaker Antide Janvier around 1788 (see M. Hayard, Antide Janvier 1751-1835, Horloger des étoiles, Villeneuve-Tolosane, 1995, p. 64-65). One further clock, with a movement by Roque, along with a pendant calendar of the same model, is in Waddesdon Manor; during the 18th century it was in the collection of the Marquis de Brunoy (illustrated in J-D. Augarde, Les ouvriers du Temps, La pendule à Paris de Louis XIV à Napoléon Ier, Genève, 1996, p. 395, fig. 289).
The attribution of the finely chased bronze case to Parisian artisan Marcel-François Noël is based on the fact that a clock of the same model was mentioned in July 1778 as being in the shop of that artisan (see J-D. Augarde, Les ouvriers du Temps, La pendule à Paris de Louis XIV à Napoléon Ier, Genève, 1996, p. 187, fig. 149). An identical clock, also by Roque, was described in a Paris sale in the mid 1770s: "Another clock, made by Roque, in the shape of a vase, marking the hours and minutes on two mobile dials, with a rooster on each side, (symbolizing vigilance), decorated with garlands of grape leaves and grapes, a rhinestone star marking the hours, all in gilt ormolu bronze, being two feet tall".
Among the very small number of identical models known, one example with a movement by Barancourt in Paris, is illustrated in P. Kjellberg, Encyclopédie de la pendule française du Moyen Age au XXe siècle, Les éditions de l'Amateur, Paris, 1997, p. 287, fig. D (see also E. Niehüser, Die französische Bronzeuhr, Eine Typologie der figürlichen Darstellungen, Munich, 1997, p. 262, fig. 1271).
Joseph-Léonard Roque (? - after 1789)

He became a master clockmaker on July 31, 1770, and was one of the most important Parisian horlogists of the second half of the 18th century. He probably trained initially with the mécanicien Alexis Magny, then entered the workshop of Claude-Siméon Passemant, where he remained until his death in 1769. The following year Roque was registered as a master and opened a workshop in the "column building of the Vieux Louvre, moving to the passage du Saumon as of 1772. Named Horloger du Roi, he quickly gained renown, specializing in luxury clocks, and working with the finest artisans in Paris. Among his clientele there were several influential aristocrats, such as Jean-René de la Tour du Pin, Marquis de la Charce, and François-Frédéric de Varennes, Marquis de Bouron, as well as important financiers, including Court banker Nicolas Beaujon, Farmer-General Tavernier de Boulongne, and banker Pierre Sévène. Several clocks made by Roque were mentioned in inventories during the Revolutionary period as being in the Royal French collections. These clocks had mostly been made for Louis XV, Louis XVI, and Marie-Antoinette.
Marcel-François Noël (active circa 1748 - 1787)

Marcel-François Noël was a Parisian gilder active circa 1748-1787.
Photo gallery