François Rémond
(circa 1747-1812)
Important Marble and Gilt, Patinated and Silvered Bronze Mantel Clock, known as "L'Étude" (Study)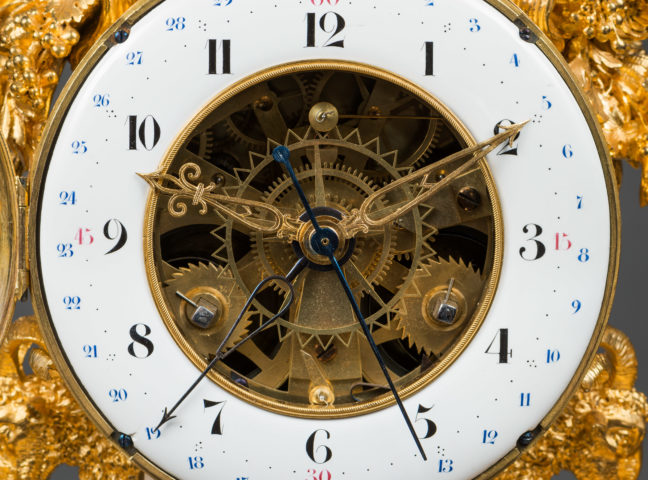 The Case attributed to Bronze Caster François Rémond
The Figures After Models by Sculptor Louis-Simon Boizot
Probably made under the Supervision of Dominique Daguerre
Paris, Louis XVI period, circa 1785
The white enamel ring dial indicates the hours, fifteen-minute intervals and Arabic numeral date by means of three hands, two of which are made of pierced and gilt bronze. It also indicates the seconds by means of a central blued steel seconds hand. The visible skeleton movement is fitted in a finely chased case of gilt and patinated and bronze, and white Carrara marble; the case is also partially silvered, and features matte finishing. The arched summit of the case is adorned with two cornucopias and an allegorical group depicting the abduction of Ganymede by Zeus, in the form of an eagle. The drum case housing the movement is supported on a truncated fluted column whose base is adorned with laurel leaves; it is flanked by two consoles with rams' heads emerging from acanthus leaf scrolls. Two figures are seated on either side on rectangular terraces. They depict a young man writing on a tablet with a stylus, and opposite, a young woman reading a book that she holds open on her knees. The beautiful quadrangular shaped architectural base is adorned with applied motifs including mascarons from which hang ribbon-tied garlands of leaves and flowers, as well as leaves, rosettes, spiral friezes, and bead and waterleaf friezes. On the façade, a covered urn decorated with gadrooning, whose handles are decorated with the heads of fantastic animals stands in a niche; it is embellished with interlacing silvered snakes. The clock is raised upon six knurled feet.
Often erroneously called "Arts and Letters", "Study and Philosophy", "aux Maréchaux" or "The Readers", this clock model is referred to exclusively as "L'Etude" ("Study") in the commercial correspondence between the chaser-gilder François Rémond and the marchand-mercier Dominique Daguerre (the most important merchant of luxury objects during the reign of Louis XVI). The preparatory drawing for the clock, annotated by Rémond, was offered at auction in Paris in February 1981 (illustrated in H. Ottomeyer and P. Pröschel, Vergoldete Bronzen, Die Bronzearbeiten des Spätbarock und Klassizismus, Band I, Munich, 1986, p. 295, fig. 4.17.5). The composition, created as of 1784, derived directly from two figures executed in 1776 by sculptor Louis-Simon Boizot (1743-1809) for the Royal Sèvres Manufactory, which represented a young woman reading and a young man writing, known as "study" and "philosophy"; see a Sèvres bisque piece that is now part of the Jones collection in the Victoria & Albert Museum in London (illustrated in H. Ottomeyer and P. Pröschel, op.cit., Band I, Munich, 1986, p. 294, fig. 4.17.2). These figures were used by Daguerre, who asked Rémond to depict them leaning against a case containing a horological movement that was surmounted by an eagle; this became one of the most successful neoclassical clocks, which was characteristic of the Parisian decorative arts during the latter part of the reign of Louis XVI. It met with immediate success among influential collectors of the time.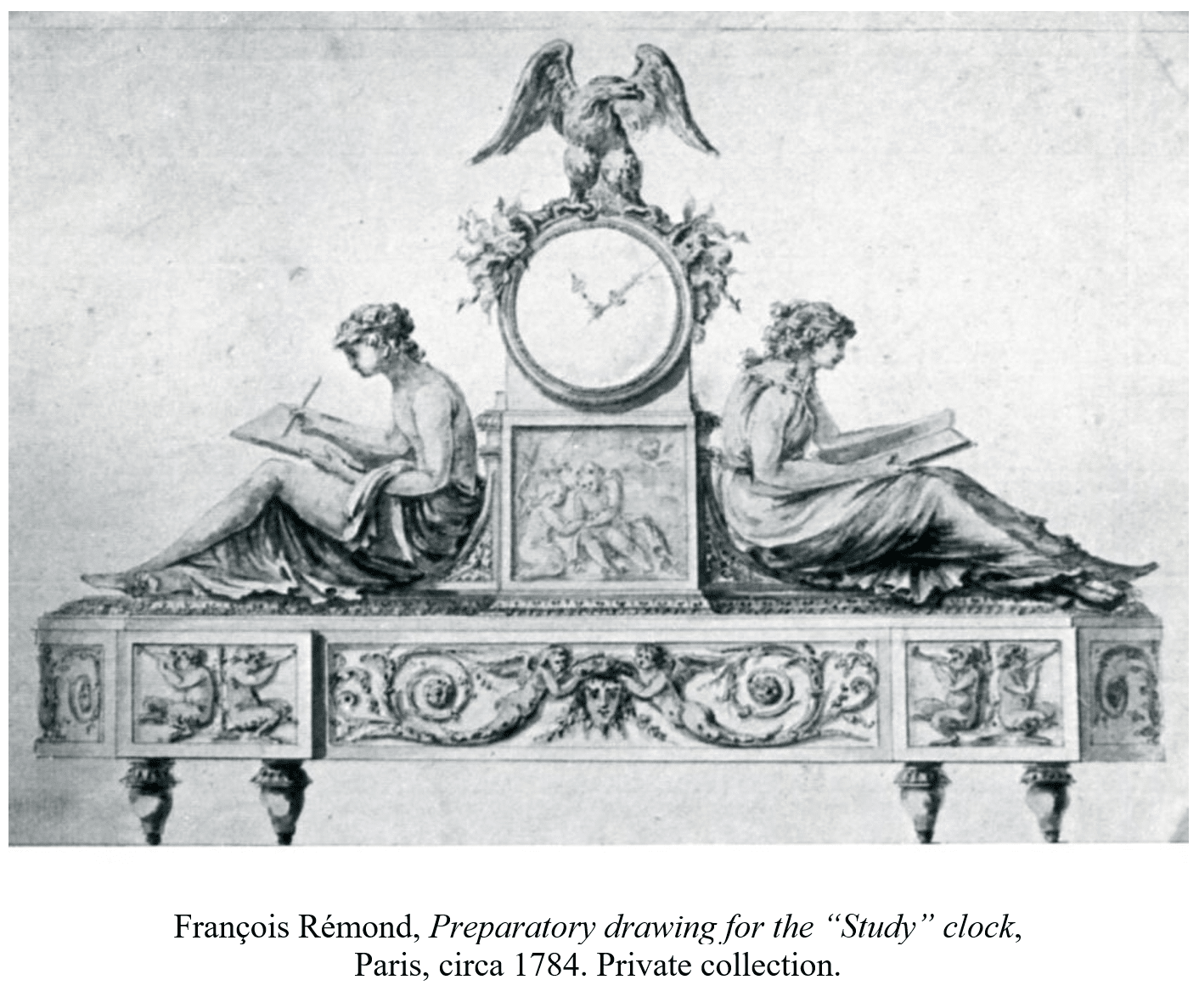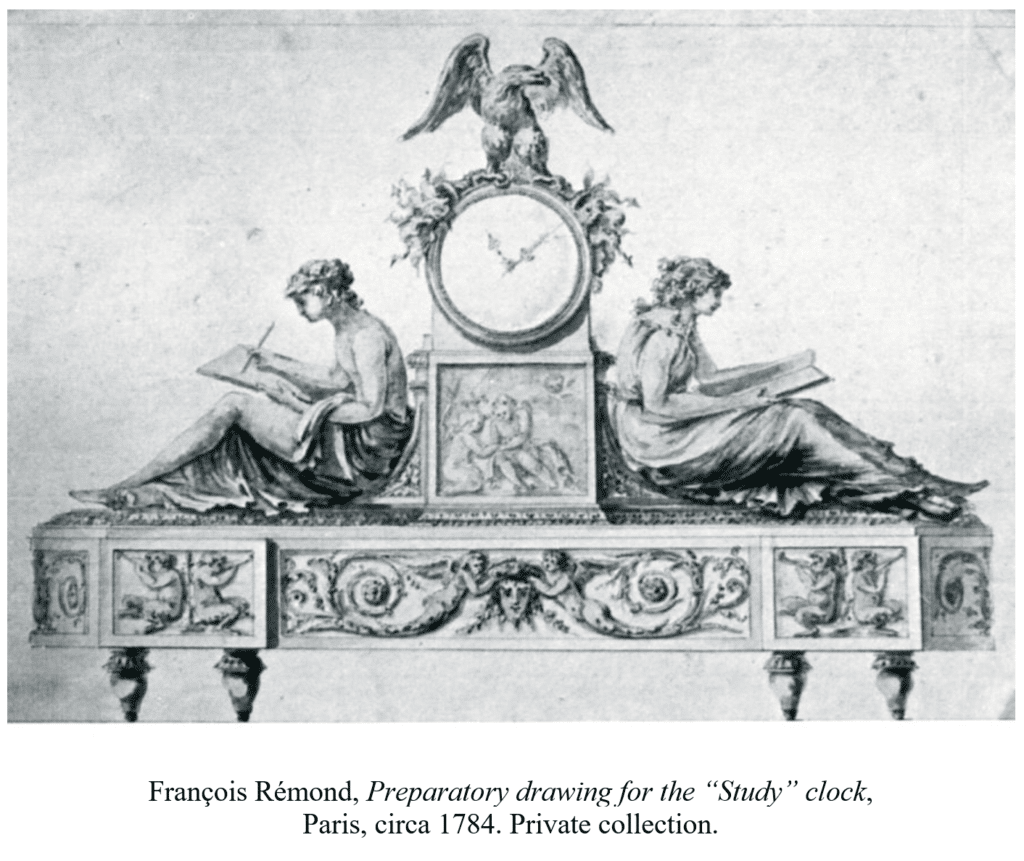 Today, the known examples of this model include many variations in the general composition; they may be found in many important public and private collections around the world. Among them, one example, whose dial is signed "Dubuc jeune", is in the Quirinal Palace in Rome (illustrated in A. Gonzales-Palacios, Il patrimonio artistico del Quirinale, Gli Arredi francesi, Milan, 1996, p. 308, n° 89). A second is in the Salon des Aides de camp in the Elysée Palace (see M. and Y. Gay, "Du Pont d'Iéna à l'Elysée", in Bulletin de l'association nationale des collectionneurs et amateurs d'horlogerie ancienne (ANCAHA), summer 1993, n° 67, p. 12). A third, whose dial is signed "Mercier à Paris", was in the collection of the Banque de France in Paris (illustrated in M. and Y. Gay, "L'ANCAHA à la Banque de France", in Bulletin ANCAHA, summer 1995, n° 73, p. 76). A fourth, which was probably formerly in the collection of King Louis XVI, is illustrated in C. Baulez, "Les bronziers Gouthière, Thomire et Rémond", in the exhibition catalogue Louis-Simon Boizot 1743-1809, Sculpteur du roi et directeur de l'atelier de sculpture à la Manufacture de Sèvres, Paris, 2001, p. 287, fig. 9. Three similar clocks are in the Royal Spanish Collection (see J. Ramon Colon de Carvajal, Catalogo de relojes del Patrimonio nacional, Madrid, 1987, p. 62, 64 and 92), while three other examples are in the Royal British Collection (shown in C. Jagger, Royal Clocks, The British Monarchy and its Timekeepers 1300-1900, London, 1983, p. 211-212).
François Rémond (circa 1747 - 1812)

Along with Pierre Gouthière, he was one of the most important Parisian chaser-gilders of the last third of the 18th century. He began his apprenticeship in 1763 and became a master chaser-gilder in 1774. His great talent quickly won him a wealthy clientele, including certain members of the Court. Through the marchand-mercier Dominique Daguerre, François Rémond was involved in furnishing the homes of most of the important collectors of the late 18th century, supplying them with exceptional clock cases, firedogs, and candelabra. These elegant and innovative pieces greatly contributed to his fame.
Dominique Daguerre

Dominique Daguerre is the most important marchand-mercier (i.e. merchant of luxury objects) of the last quarter of the 18th century. Little is known about the early years of his career; he appears to have begun to exercise his profession around 1772, the year he went into partnership with Philippe-Simon Poirier (1720-1785), the famous marchand-mercier who began using porcelain plaques from the Manufacture royale de Sèvres to adorn pieces of furniture. When Poirier retired around 1777-1778, Daguerre took over the shop in the rue du Faubourg Saint-Honoré, keeping the name "La Couronne d'Or". He retained his predecessor's clientele, and significantly increased the shop's activity within just a few years. He played an important role in the renewal of the Parisian decorative arts, working with the finest cabinetmakers of the day, including Adam Weisweiler, Martin Carlin and Claude-Charles Saunier, cabinetmaker of the Garde-Meuble de la Couronne, Georges Jacob, the bronziers and chaser-gilders Pierre-Philippe Thomire and François Rémond, and the clockmaker Renacle-Nicolas Sotiau. A visionary merchant who brought the level of French luxury goods to its highest point, Daguerre settled in England in the early 1780's, having gone into partnership with Martin-Eloi Lignereux, who remained in charge of the Paris shop. In London, where he enjoyed the patronage of the Prince Regent (the future King George IV), Daguerre actively participated in the furnishing and decoration of Carlton House and the Brighton Pavilion. Taking advantage of his extensive network of Parisian artisans, he imported most of the furniture, chairs, mantelpieces, bronze furnishings, and art objects from France, billing over 14500£, just for 1787. Impressed by Daguerre's talent, several British aristocrats, called on his services as well. Count Spencer engaged him for the decoration of Althorp, where Daguerre worked alongside architect Henry Holland (1745-1806). In Paris, Daguerre and his partner Lignereux continued to supply influential connoisseurs and to deliver magnificent pieces of furniture to the Garde-Meuble de la Couronne, which were placed in the apartments of Louis XVI and Marie-Antoinette. Daguerre retired in 1793, no doubt deeply affected by the French Revolution and the loss of many of his most important clients.
Photo gallery