Fine and Large Malachite and Chased Gilt Bronze Tazza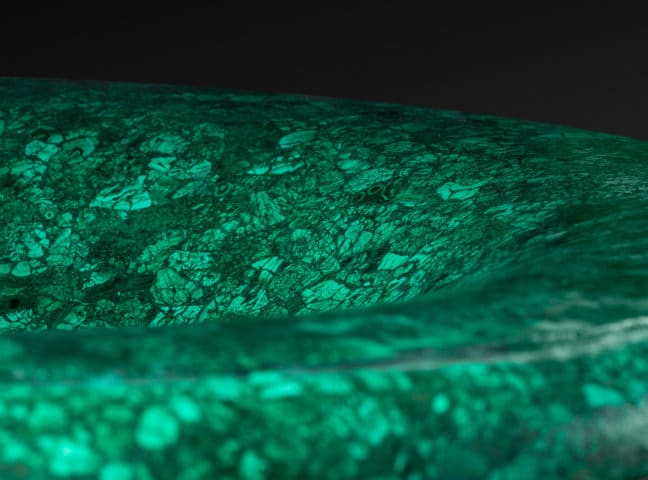 Attributed to the Imperial Lapidary Workshop in Ekaterinburg
Russia, first third of the 19th century, circa 1815
The round tazza is composed of exceptional malachite stones of varying shades of green, very skilfully assembled and polished so as to create the illusion that the piece is carved from one block. The circular dish has a moulded, rounded rim, with a curved mid-portion elegantly highlighted by a double band. The sloping foot rests on a quadrangular plinth. The bronze mounts are very finely chased and gilt, with a frieze of alternating foliage and acanthus leaves on the lower portion, and the upper portion with a capital decorated with flower stems and stylised leaves, bordered by an egg and dart frieze and gold beading.
Made by the remarkable Russian master lapidaries of the early 19th century, this tazza is a superb example of the skill with which they made use of their country's rich mineral resources, fashioning marble and semi-precious stones. Malachite was mined as of the late 17th century, but it was not until the early 19th century that certain entrepreneurs, in particular the Demidoffs, fully exploited the quarries. Malachite, like lapis-lazuli and certain types of jasper, has many inclusions, making it very difficult to cut. The Russian lapidaries cut the malachite into thin portions, sorted them by colour, and mounted them in mosaic form, as artisans in Florence had formerly done. This technique required a smooth iron or copper base that was covered with warm putty, to which the thin sheets of malachite, carefully chosen for their colour and design, adhered. The piece was then polished, giving the illusion that the piece was made from a single block of stone. Malachite soon became the preferred material of sovereigns and tsars, who commissioned many decorative objects, in particular for the Malachite Salon of the Winter Palace in Moscow and the Hermitage.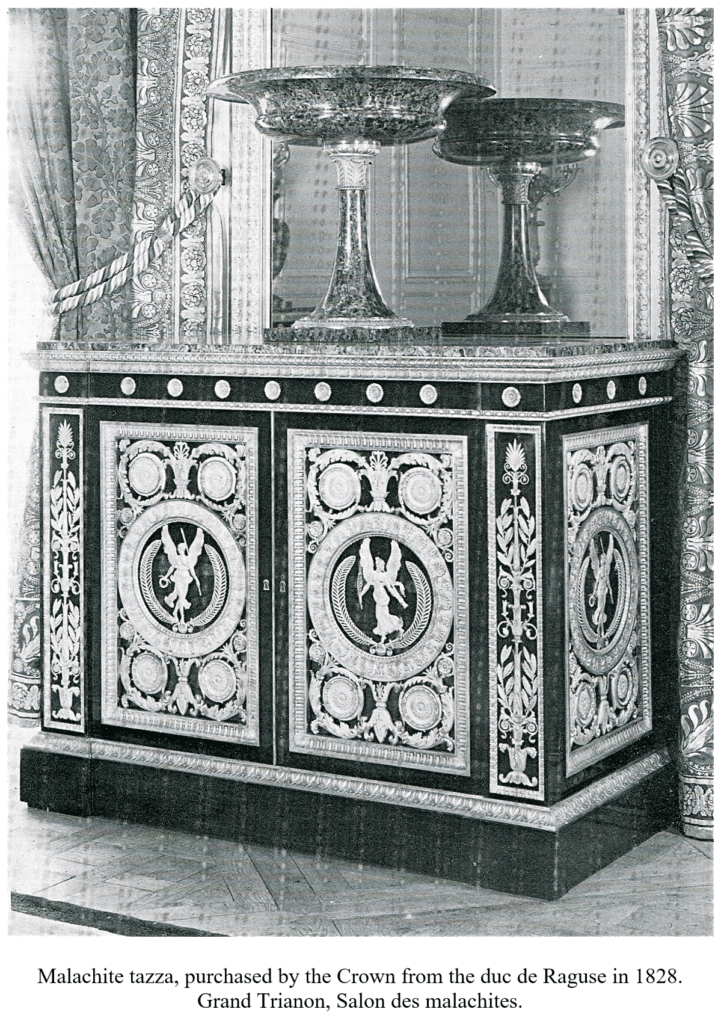 The present tazza was made within this context. Its gilt bronze mounts demonstrate the virtuosity of the Russian bronziers, who took their inspiration directly from Parisian models of the period, as well as from the many French decorative bronzes imported into Russia at the time. Its composition is similar to that of the very few similar malachite pieces known, including two tazze made at a later period, around 1840. The first was formerly in the collection of the marquis of Bath in Longleat (see Country Life, April 29, 1949, p. 992, fig.7); while the second was given by Tsar Nicholas I to the Infante Luis of Spain (illustrated in the catalogue of the exhibition Trésors des Tzars, 1998, fig. 297). An identical tazza is in the Palais du Grand Trianon in the gardens of Versailles; in May 1828 the Crown purchased it from the Maréchal duc de Raguse, who had returned from a diplomatic journey to Russia (illustrated in D. Ledoux-Lebard, Le Grand Trianon, Meubles et objets d'art, RMN, Paris, 1975, p.107 and 112).
Photo gallery