Manufactory Dagoty et Honoré
Rare Pair of Paris Porcelain "Péliké" Vases with Orange, Brown, and Gold Decoration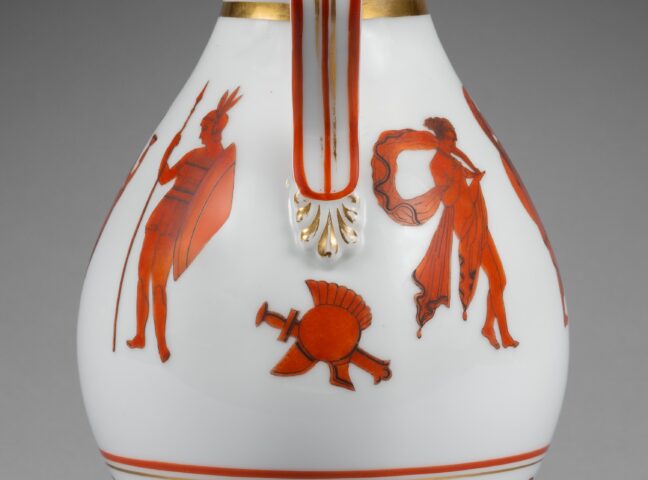 Attributed to the Maison Dagoty et Honoré
Paris, Restoration period (Charles X), circa 1828
Height
24 cm
Diamètre
15.5 cm
The elegantly shaped vases have a swelling belly, a flared neck, a slightly protruding lip and applied curved handles. The white ground sets off the classically inspired orange and brown decorative motifs and figures, with gold highlights. The neck is adorned with a frieze of alternating stylized palmettes and foliage, and the foot is embellished with a sinuous frieze of grape vines. On each side of the belly there are three figures inspired by classical mythology including warriors, vestal virgins, goddesses and bacchantes.
This pair of two vases goes perfectly with the clock that can be viewed here. They originally came as a set with the clock, but can be purchased separately as well.
The unusual shape of this rare pair of vases was inspired by a type of classical Greek vases called "péliké" that were used during antiquity to store food. Their beautiful decoration, which  derived from the known models of black-figure pottery on a red ground, was characteristic of the pieces created by the Maison Dagoty, (later Dagoty et Honoré), from 1810 to 1820. Throughout its existence the factory continued to create new models, specializing in pieces inspired by Greek vases whose bellies were often adorned with figures inspired by classical Greek mythology. This may be seen on a pair of baluster vases with a matte black ground,  now in a private collection; it is illustrated in R. de Plinval de Guillebon, Faïence et porcelaine de Paris XVIIIe-XIXe siècles, Editions Faton, Dijon, 1995, p. 343, fig. 326.
Manufactory Dagoty et Honoré

Founded in 1798 by the two Dagoty brothers, this Parisian porcelain factory is considered one of the most successful of the early 19th century. The two brothers, grandsons of the painter Jacques Dagoty and sons of the engraver Jean-Baptiste Gauthier Dagoty, took over a failing company, the Bougon factory in the rue de Chevreuse. One of the brothers, Etienne, died in 1800; the remaining brother Pierre-Louis (1771-1840) ran the factory alone as of 1804. He successfully developed the business and during the Empire period the firm employed 100 workers.
After the fall of the Emperor, Dagoty went into partnership with the Honoré père et fils manufactory, which was also very prosperous, using the name "Dagoty et Honoré" until 1820. Afterwards Edouard Honoré took over the company in Paris. Throughout the factory's existence, it distinguished itself for to the quality and originality of its creations. The maison received orders from the Imperial Garde-Meuble as of 1804. It took part in the Exposition des produits de l'Industrie in 1819, where it received a silver medal for "Wedgwood type" bas-reliefs, a tripod and a model of the Fontaine des Innocents.
Photo gallery