Jean-Charles-Nicolas Brachard
Rare Pair of Hard Paste Porcelain Lidded Ice Pails by the Royal Sèvres Manufactory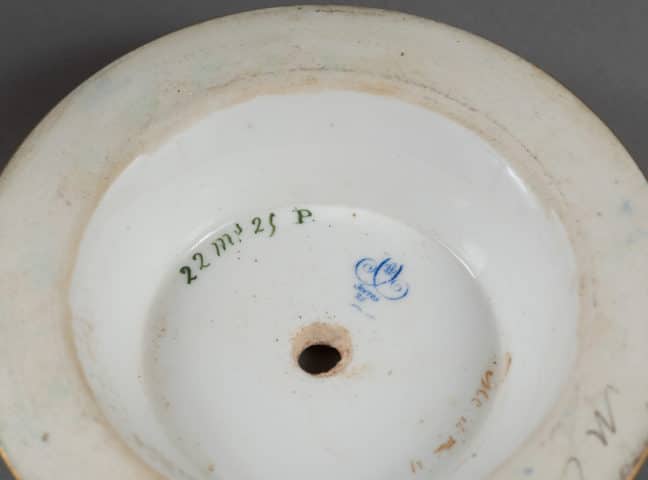 Design by Sculptor Jean-Charles-Nicolas Brachard
Royal Sèvres Manufactory, Charles X period, dated 1825
Marks: Blue Royal Sèvres Manufactory marks: two interlacing "Ls" with a fleur de lys and above the indication "Sèvres 25" for 1825. In addition, the indications "30 At 25 P", "MC 23 Mai", "22 Mi 25 P" and "MC 24 Mai 25" referring to dates of gilding and/or de painting.
The vases, made of hard paste porcelain by the Royal Sèvres Manufactory, feature a particularly elegant neoclassical shape inspired by the krater vases of ancient Greece. The lids, with a button finial, may be taken off to reveal the interiors; one vase retains its inner liner. The necks, lower portions, and pedestals are adorned with Greek friezes and alternating stylized palmettes within reserves and C-scrolls with fleurs de lys, all against a blue ground imitating lapis-lazuli. The applied handles are in the form of scrolling reeds that are attached to the sides of vases by masks of bearded men coiffed with reeds – allegorical figures on an aquatic theme. The bellies are adorned with beautiful still lifes of fruits including peaches, currant berries, hazelnuts, strawberries, plums, grapes, walnuts, figs, chestnuts, raspberries, and pears. The still lifes appear to be suspended from vines attached behind the masks. A plain torus separates the lower portion of the vase and the round pedestal, which features convex molding. The vases are supported on square gilt bronze bases.
Ice pails were indispensable table accessories used at all important summer meals during the first few decades of the 19th century. They were used to keep ice cream and sherbet cold. As concerns the present vases, their particularly successful design, known as "type B" in the Manufactory's archives, was created by Jean-Charles Nicolas Brachard, a sculptor mentioned as working at the Royal or Imperial Sèvres Manufactory from 1782 to 1824. Today, several identical ice pails with various types of decoration, are in public collections in France. Among these, one example is in the Musée national du Château de Fontainebleau (Inv. F903C). A pair of vases adorned with medallions showing landscapes in perspective are in the Sèvres Musée national de Céramique (Inv. MNC25298/25299). One further ice pail with a white ground and no painted decoration is also in the Musée national de Céramique à Sèvres (Inv. MNC16191).
Sèvres Royal Manufactory

The Vincennes porcelain factory was created in 1740 under the patronage of Louis XV and the Marquise of Pompadour. It was created to rival with the Meissen porcelain factory, and became its principal European rival. In 1756 it was transferred to Sèvres, becoming the Royal Sèvres porcelain factory. Still active today, during the course of its existence it has had several periods of extraordinary creativity and has called on the finest French and European artisans. Kings and emperors considered it an exemplary showcase for French know-how. Most of the pieces created in the manufactory workshops were intended to be given as diplomatic gifts or to decorate the castles and royal palaces of the 18th and 19th centuries.
Jean-Charles-Nicolas Brachard

Was a sculptor who was active at the Royal Sèvres Manufactory from 1782 to 1824.
Photo gallery