Important Pair of Etruscan Style Vases with Neoclassical Gold and Platinum Motifs on a Blue Ground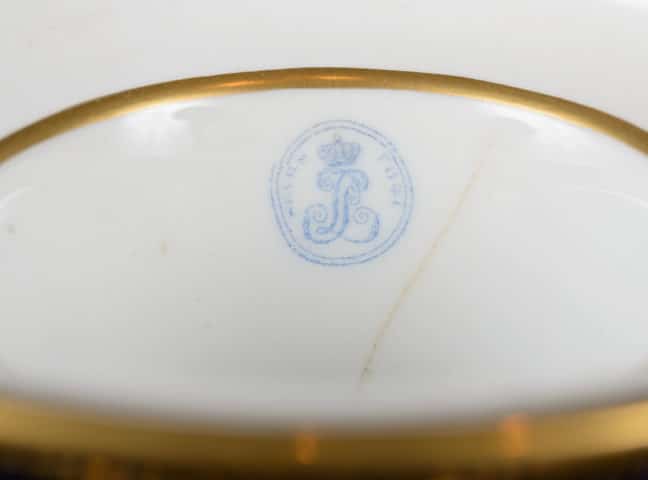 Royal Sèvres Porcelain Manufacture, Louis-Philippe period, dated 1841
The oval vases have high necks, whose rim bears the mark of the Royal Sèvres Porcelain factory: a medallion centered by the royal monogram "LP" surmounted by a crown framed by the word "SEVRES" and the date "1841". The vases are elaborately decorated with gold and silver classical motifs against a blue ground. The frieze décor features motifs such as flowers, scrolls, volutes, zigzags, palmettes, large rosettes within scrolls adorned with flowers, Greek key motifs punctuated by squares adorned with dots, waves, and branches of ivy. The vases are supported on round molded bases engraved "LP" on the underside – the mark of Louis-Marie Lapierre, known as Lapierre père (active in Sèvres 1813-1841), and the signature "B.F" – that of an unidentified gilder.
These unusual vases, with their remarkable sober and perfectly balanced design – were created at the Royal Sèvres factory during the final years of the 18th century. The model continued to be produced for several decades, with varying motifs that reflected the changing taste of collectors and connoisseurs. Their extremely inventive classically influenced decorative motifs were inspired by the collection of antique Etruscan vases that Baron Vivant-Denon donated to the Sèvres Manufacture, which would, in turn, influence artists such as Antoine-Gabriel Willermet, the Manufacture's head painter from 1825 to 1848, as can be seen in his preparatory sketches.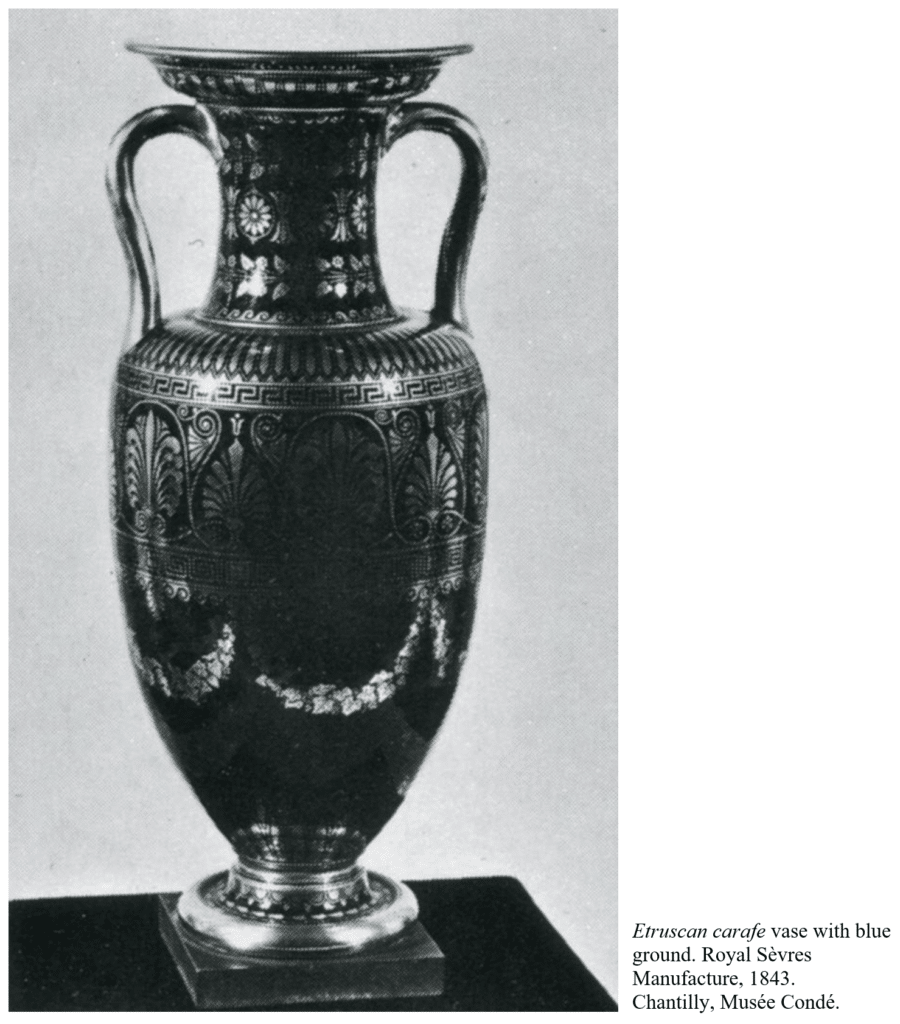 Today, only a small number of pairs of Sèvres vases with similar shapes and motifs are known. Among them one pair, known as "étrusque Turpin", was delivered in May 1843 to the Palais de Saint-Cloud and is today in the Musée national du Château de Fontainebleau (illustrated in B. Chevallier, Les Sèvres de Fontainebleau, Porcelaines, terres vernissées, émaux, vitraux (pièces entrées de 1804 à 1904), RMN, Paris, 1996, p. 117, catalogue n° 79). In 1852 a second pair, known as "étrusque carafe", stood in the Grand Salon of the apartment of Emperor Napoleon III in Saint-Cloud (illustrated in B. Ducrot, Musée national du Château de Compiègne, Porcelaines et terres de Sèvres, RMN, Paris, 1993, p. 154, catalogue 100). A further similar vase is in the Chantilly Musée Condé (illustrated in M. Brunet and T. Préaud, Sèvres, Des origines à nos jours, Fribourg, 1978, p. 294, fig. 375).
Sèvres Royal Manufactory

The Vincennes porcelain factory was created in 1740 under the patronage of Louis XV and the Marquise of Pompadour. It was created to rival with the Meissen porcelain factory, and became its principal European rival. In 1756 it was transferred to Sèvres, becoming the Royal Sèvres porcelain factory. Still active today, during the course of its existence it has had several periods of extraordinary creativity and has called on the finest French and European artisans. Kings and emperors considered it an exemplary showcase for French know-how. Most of the pieces created in the manufactory workshops were intended to be given as diplomatic gifts or to decorate the castles and royal palaces of the 18th and 19th centuries.
Photo gallery