Rare Gilt and Blue-Lacquered Bronze or Metal Six-Light Chandelier
"The Starry Sphere"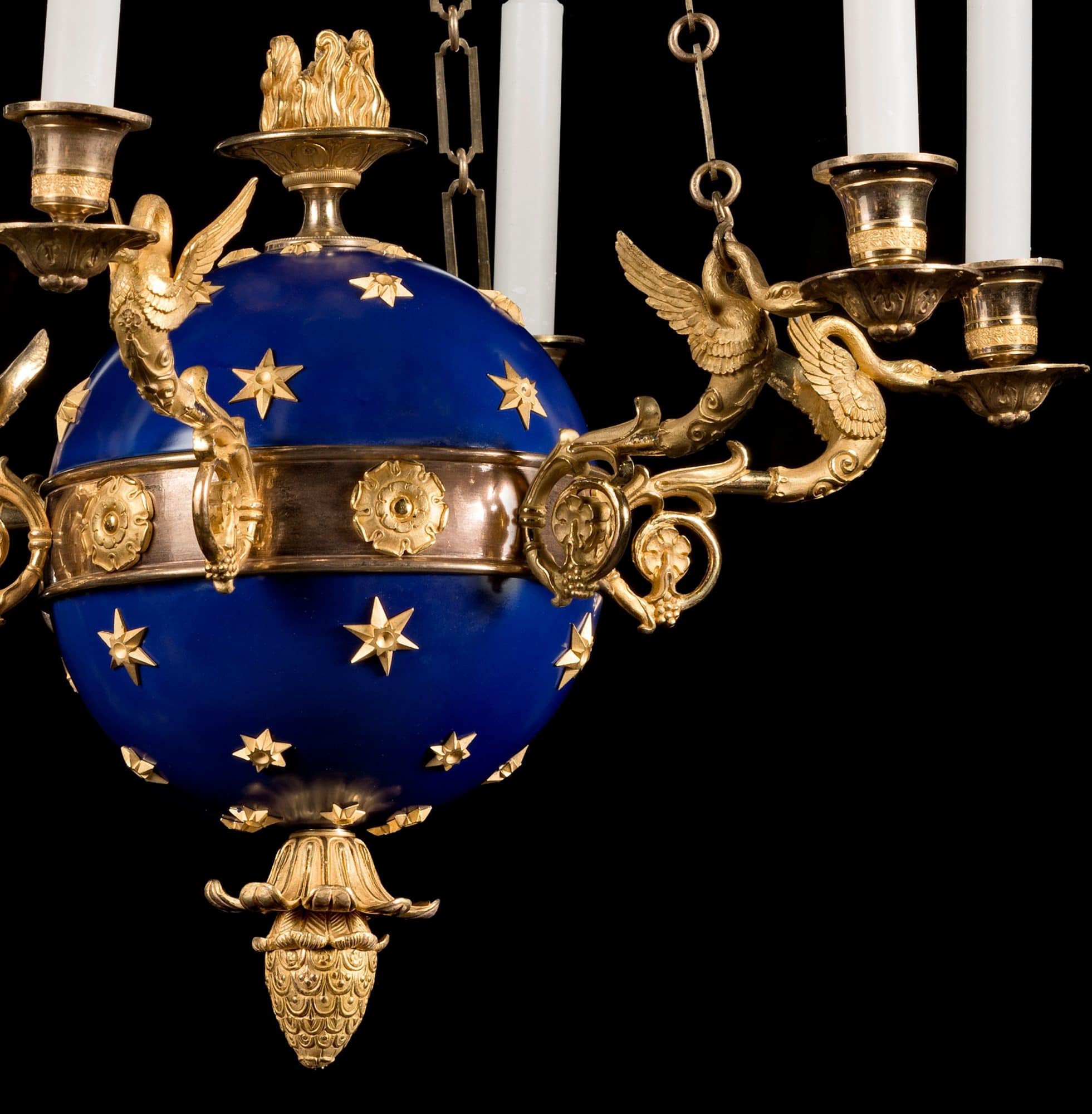 This rare chandelier, made entirely of gilt and lacquered bronze or metal, features a blue-lacquered metal sphere that is adorned with stars and a plain molded band decorated with stylized rosettes from which issue the six scrolling light branches, decorated with swans with outstretched wings and long, curving necks, that hold in their beaks the leaf-decorated drip pans with knurled friezes. The sphere is surmounted by a classical flaming urn that is set on a pedestal and features a pinecone finial emerging from a bouquet of waterleaves. The sphere hangs from three robust chains made up of links and rings; they are attached to a disc decorated with an interlace frieze and a pinecone finial, which is adorned with palms, flowerets, and stylized palmettes.
The unusual design of the present chandelier was inspired by the work of Parisian designers and architects of the early 19th century. The exceptional quality of its chasing and gilding supports our attribution to Claude Galle, one of the most talented Parisian bronziers of the Empire period. Today only a few comparable models are known. Among them, one example, featuring minor variations, is in the Wilhelmshöhe Palace in Kassel; it is illustrated in H. Ottomeyer and P. Pröschel, Vergoldete Bronzen, Die Bronzearbeiten des Spätbarock und Klassizismus, Band I, Munich, 1986, p. 359, fig. 5.11.5. A second example with swans, but made entirely of chased and gilt bronze, is in the Paris Musée des Arts décoratifs (see L. Hautecoeur, L'art sous la révolution et l'empire en France, 1789-1815, Paris, 1953). A third chandelier, with a cut crystal sphere and light branches in the form of swan necks, is in a private collection (shown in G. Henriot, Le luminaire de la Renaissance au XIXe siècle, planche 221, fig. 2). A fourth example, without stars and with light branches in the form of hunting horns, is on display in the Musée Nissim de Camondo in Paris (illustrated in P. Jullian, Le style Louis XVI, Editions Baschet et Cie, Paris, 1983, p. 166, fig. 2). One further similar chandelier, with nine light branches, was valued at 300 francs in 1815 in the probate inventory of Michel Ney, Prince of the Moskva, the well-known Napoleonic Marshal: "A chandelier in the form of a blue lacquered copper ball decorated with stars, garnished with 9 lights held by birds and garnished with drip pans, chains and chapters; all in gilt copper, 300 francs".
Claude Galle (1759 - 1815)

One of the foremost bronziers and fondeur-ciseleurs of the late Louis XVI and Empire periods, Claude Galle was born at Villepreux near Versailles. He served his apprenticeship in Paris under the fondeur Pierre Foy, and in 1784 married Foy's daughter. In 1786 he became a maitre-fondeur. After the death of  his father-in-law in 1788, Galle took over his workshop, soon turning it into one the finest, and employing approximately 400 craftsmen. Galle moved to Quai de la Monnaie (later Quai de l'Unité), and then in 1805 to 60 Rue Vivienne.
The Garde-Meuble de la Couronne, under the direction of sculptor Jean Hauré from 1786-88, entrusted him with many commissions. Galle collaborated with many excellent artisans, including Pierre-Philippe Thomire, and furnished the majority of the furnishing bronzes for the Château de Fontainebleau during the Empire. He received many other Imperial commissions, among them light fittings, figural clock cases, and vases for the palaces of Saint-Cloud, the Trianons, the Tuileries, Compiègne, and Rambouillet. He supplied several Italian palaces, such as Monte Cavallo, Rome and Stupinigi near Turin.
In spite of his success, and due in part to his generous and lavish lifestyle, as well as to the failure of certain of his clients (such as the Prince Joseph Bonaparte) to pay what they owed, Galle often found himself in financial difficulty. Galle's business was continued by his son after his death by his son, Gérard-Jean Galle (1788-1846). Today his work may be found in the world's most important museums and collections, those mentioned above, as well as the Musée National du Château de Malmaison, the Musée Marmottan in Paris, the Museo de Reloges at Jerez de la Frontera, the Residenz in Munich, and the Victoria and Albert Museum in London.
Photo gallery