Ladouèpe du Fougerais
(1766-1821)
Important Gilt Bronze Twelve-Light Chandelier with Crystal by the Mont-Cenis Manufacture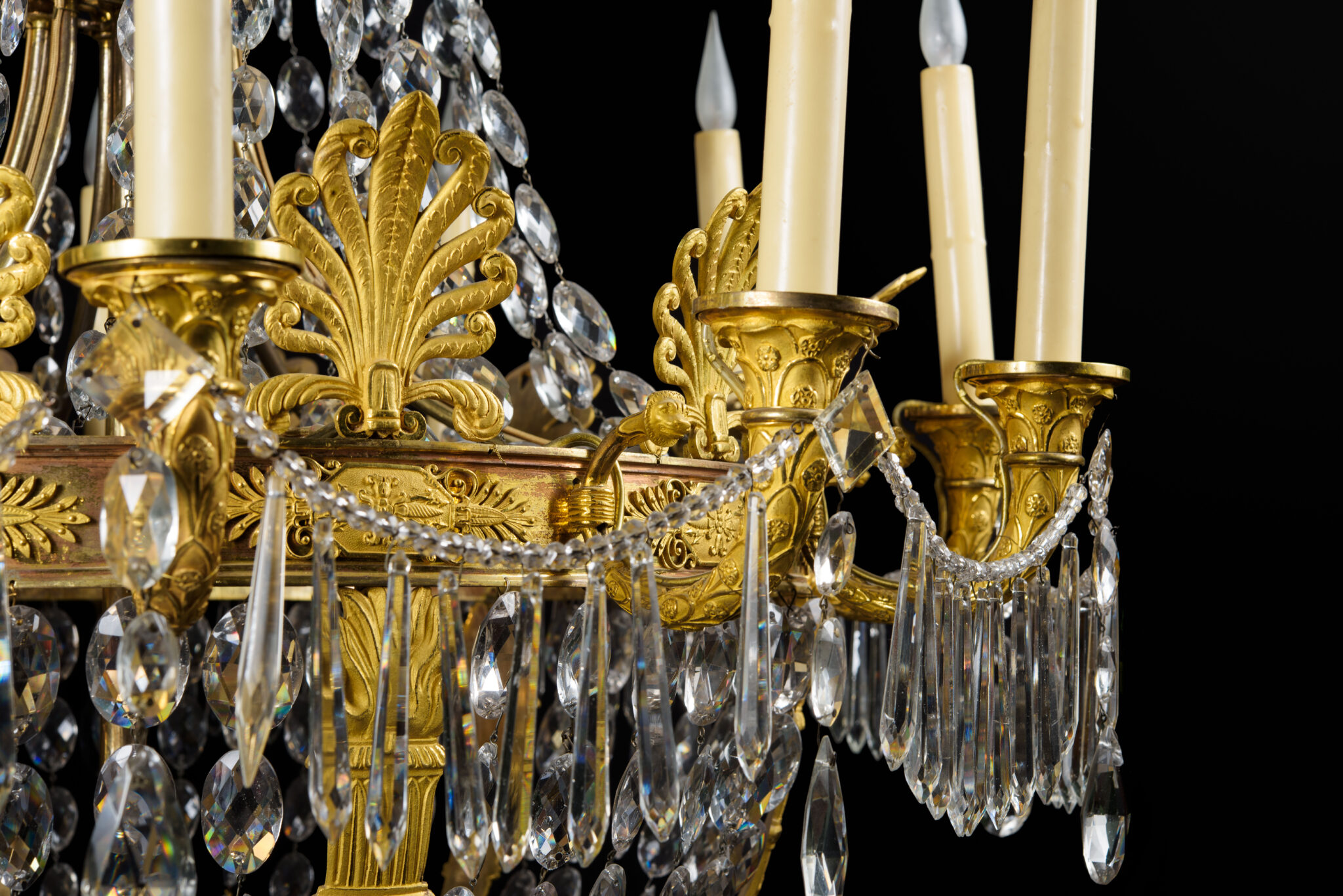 Most Likely Made under the Supervision of Benjamin-François Ladouèpe du Fougerais
Paris, Empire period, circa 1810
The present "basket form" chandelier is typical of the finest Parisian chandeliers of the early 19th century. Its gilt bronze structure is elaborately decorated with Neoclassical motifs. The upper portion is comprised of a chased circular corona that is decorated with cabochons and surmounted by Zephyr heads with large stylised palmette headdresses. The lower portion, attached to the central stem, is chased with palmettes and pinecones, with a stylised seed finial that is maintained in place by a ring chased with interlace motifs. The middle portion is attached to the central stem by curving arms, and to the lower portion by arms chased with flaming torches, gadrooning and palmettes. The corona ring is adorned with applied matted hexagonal reserves that are centred by ribbon-tied thunderbolts and flanked by leaf motifs. It issues large palmettes to which are attached the twelve horn-shaped candle branches. The leaf and rosette-decorated branches terminate in lions' heads. The chandelier is mounted with faceted and bayonet-cut crystal drops from the Mont-Cenis Manufacture.
Inspired by late 18th century chandeliers, this type of chandelier creates a subtle play of light that was greatly appreciated by collectors. Such chandeliers became extremely popular during the Empire period. The quality of the chasing and the unusual design of the present piece, as well as its Zephyr mask motifs, suggest that an influential specialist – most likely Benjamin-François Ladouèpe du Fougerais – was involved in its creation. Ladouèpe du Fougerais was the owner of the Mont-Cenis Crystal Manufacture, which supplied many chandeliers to Empire and Restoration period châteaux and palaces.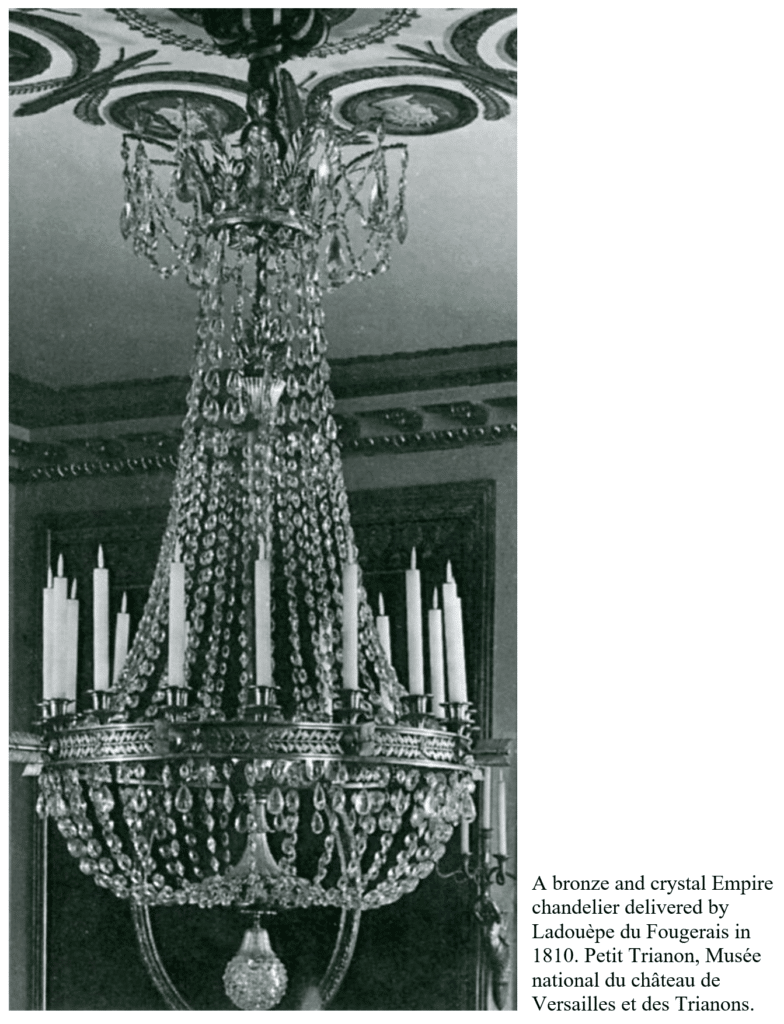 Ladouèpe du Fougerais is known to have furnished two similar chandeliers to the Imperial Garde-Meuble. One was delivered to Napoleon's Salon in the Grand Trianon in 1809, and the other to the Grand Trianon's "Salon de  famille" in 1810. These chandeliers are illustrated respectively in P. Arrizoli-Clémentel and J-P. Samoyault, Le mobilier de Versailles, Chefs-d'œuvres du XIXe siècle, Editions Faton, Dijon, 2009, p. 247, and in D. Ledoux-Lebard, Le Grand Trianon, Meubles et objets d'art, RMN, Paris, 1975, p. 89. A third chandelier is in the Mobilier national in Paris (illustrated in M-F. Dupuy-Baylet, L'Heure, Le Feu, La Lumière, Les bronzes du Mobilier national 1800-1870, p. 210, catalogue n° 116). One further example was delivered to the Petit Trianon in 1810; it is illustrated in D. Ledoux-Lebard, Versailles, Le Petit Trianon, Le mobilier des inventaires de 1807, 1810 et 1839, Paris, 1989, p. 95.
Ladouèpe du Fougerais (1766 - 1821)

Benjamin-François Ladouèpe du Fougerais was a French politician and entrepreneur who was active during the Empire period and the early years of the Restoration. The owner of the Mont-Cenis crystal Manufacture, in 1811 he became a deputy from the Vendée region, and then a member of the Council of the Minister of Manufacturing and Commerce. In 1813 he received the title of Chevalier de l'Empire and on June 16, 1818 the King made him a baron.
Photo gallery