Rare Pair of Gilt Bronze Rococo Candlesticks with Matte and Burnished Finishing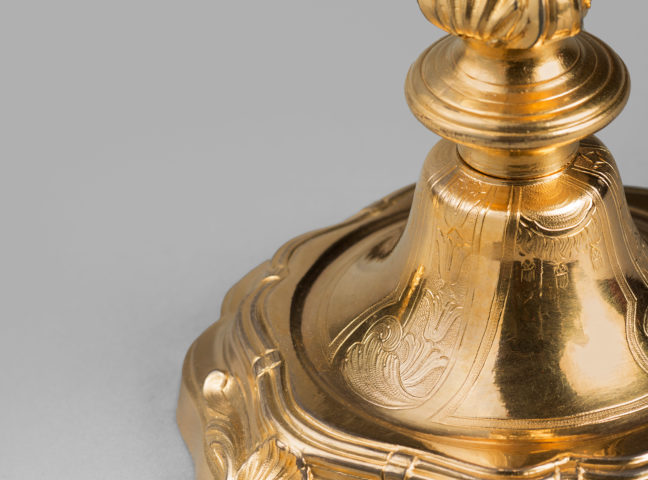 Paris, Louis XV period, mid-18th century, circa 1750
The candlesticks are made of finely chased, engraved, and gilt bronze with matte and burnished finishing, and present a rococo design that is characteristic of the finest Parisian creations of the mid-18th century. The curved stems, adorned with a pattern of leaves and C-scrolls, are further embellished with palmettes and engraved leaves and fruits. They rest on molded knops and support nozzles and drip pans decorated with leaves and sinuous reserves. The bell-shaped bases feature wide reserves with matted frames; they are decorated with festoon and tassel motifs, as well as designs of ribbon-tied reeds and acanthus leaves terminating in volutes, framed by stylized shells.
The rococo design of the present rare and remarkable pair of candlesticks was inspired by the designs of contemporary goldsmiths, as well as by the work of Parisian designers of the first half of the 18th century. The accentuation of the motifs' sinuous nature, the general tendency toward asymmetry displayed by the bronzier and no doubt appreciated by the person who commissioned the candlesticks, the exceptional quality of the chasing, engraving, and gilding, are all ornamental, decorative, and technical characteristics favored by the important designers of the early years of the reign of Louis XV. One of the most influential of these, Juste-Aurèle Meissonnier (1693-1750), was the creator of a design for candlesticks that is considered archetypical; the quintessence of the rococo spirit favored by the Parisian artists, artisans and influential collectors of the late Regency period when the Duke d'Orléans ruled the kingdom (see H. Ottomeyer and P. Pröschel, Vergoldete Bronzen, Die Bronzearbeiten des Spätbarock und Klassizismus, Band I, Munich, 1986, p. 104, fig. 2.1.5).
The present pair of candlesticks was thus created in that particular context. Their design, nevertheless, presents a sober manner, with precisely chased motifs and a more balanced general composition, suggesting they are posterior to Meissonnier's design, perhaps by several decades. Today, only a small number of similar models are known. Among them are rococo candlesticks that may be dated to the 1730s, including one example that is in the Louvre Museum in Paris (illustrated in G. Mabille, Le style Louis XV, Editions Baschet et Cie, Paris, 1978, p. 173, fig. 7). A second example, formerly in the David-Weill collection, is illustrated in G. Henriot, Le luminaire de la Renaissance au XIXe siècle, Paris, 1933, plate 161, n° 5. Several models from the mid-18th century are comparable to the present candlestick: one example is illustrated in Collection Connaissance des Arts, Le Dix-Huitième Siècle français, Hachette, 1956, p. 129; a second one, bearing the crowned C-stamp (1745-1749) was in the Château de Versailles during the 19th century; it is now in the Louvre Museum in Paris (see D. Alcouffe, A. Dion-Tenenbaum and G. Mabille, Les bronzes d'ameublement du Louvre, Editions Faton, Dijon, 2004, p. 58, catalogue n° 22).
Photo gallery