Rare Gilt and Patinated Bronze Mantel Clock with Matte and Burnished Finishing
"Young Black Man Pushing a Barrel"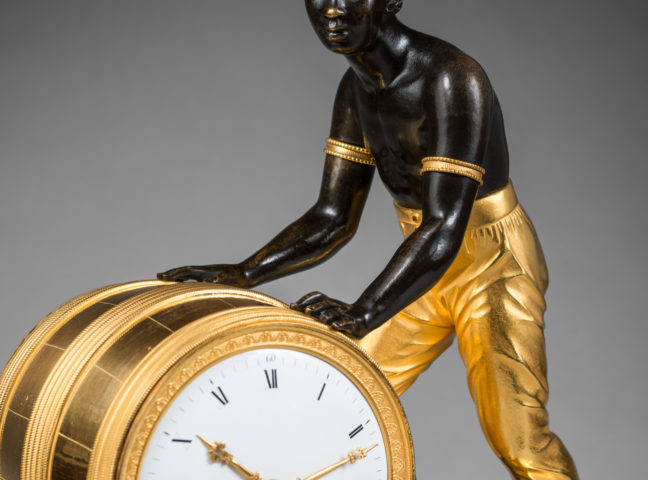 Paris, Consulate-Empire period, circa 1800-1805
Height
32.5
Width
27
Depth
10.5
The round white enamel dial, bearing the words "à Paris", indicates the Roman numeral hours and the Arabic numeral fifteen-minute intervals by means of two hands. The case is made of finely chased bronze that is patinated and gilt, with both matte and burnished finishing. The bezel is adorned with a frieze of palmettes and mille raie motifs; the movement is housed in a barrel that is being rolled by the magnificent figure of a young black man made of patinated bronze; he has enamel eyes and is wearing armbands with bead decoration, and a pair of trousers. The quadrangular base with canted corners is elaborately adorned with applied motifs of birds of prey and ribbon-tied wreaths and, on the façade, a trophy representing Commerce that is comprised of package tied with string, palmettes, an anchor, a basket, a barrel, and a coffer on which a parrot is perched. The clock stands on four bell-shaped feet that are decorated with knurled friezes and stylized motifs.
Discover our entire collection of antique french empire mantel clocks for sale online or at the gallery.
Toward the end of the 18th century, the philosophical writings of Jean-Jacques Rousseau extolled the moral benefits of a return to Nature through the myth of the "noble savage". The taste for exoticism, conveyed by popular literature, became fashionable. The great success of  "Paul et Virginie" written by Bernardin de Saint-Pierre in 1788, which itself derived from the famous "Robinson Crusoe" by Daniel Defoe, Marmontel's novel "Les Incas", which appeared during the American Revolution, and Chateaubriand's "Atala", which was published in 1801, would profoundly influence Europeans' vision of other civilizations.  The Old World became imbued with a romantic nostalgia that was linked to the quest for a pagan Eden that could be regenerated by Christianity. As is often the case in the French decorative arts, this ideological movement was displayed in certain Parisian creations, whether artistic or of the decorative arts, including clocks and lighting instruments.
The present clock was created within that particular context. The "Young Black Man Pushing a Barrel" clock model is one of the rarest in Parisian horology. Today only a handful of such clocks are known. Among them, one example was presented in 1978 at the exhibition "La pendule au nègre" that was held at the Museum of the Hôtel Sandelin in Saint-Omer (illustrated in E. Niehüser, Die französische Bronzeuhr, Eine Typologie der figürlichen Darstellungen, Munich, 1997, p. 238, fig. 814 and in P. Kjellberg, Encyclopédie de la pendule française du Moyen Age au XXe siècle, Les éditions de l'Amateur, Paris, 1997, p. 344, fig. B). A second clock is illustrated in G. and A. Wannenes, Les plus belles pendules françaises de Louis XIV à l'Empire, Editions Polistampa, Florence, 2013, p. 308.
Photo gallery