Important Gilt Bronze Mantel Clock with Matte Finishing and Green Marble
Vase with Winged Naiads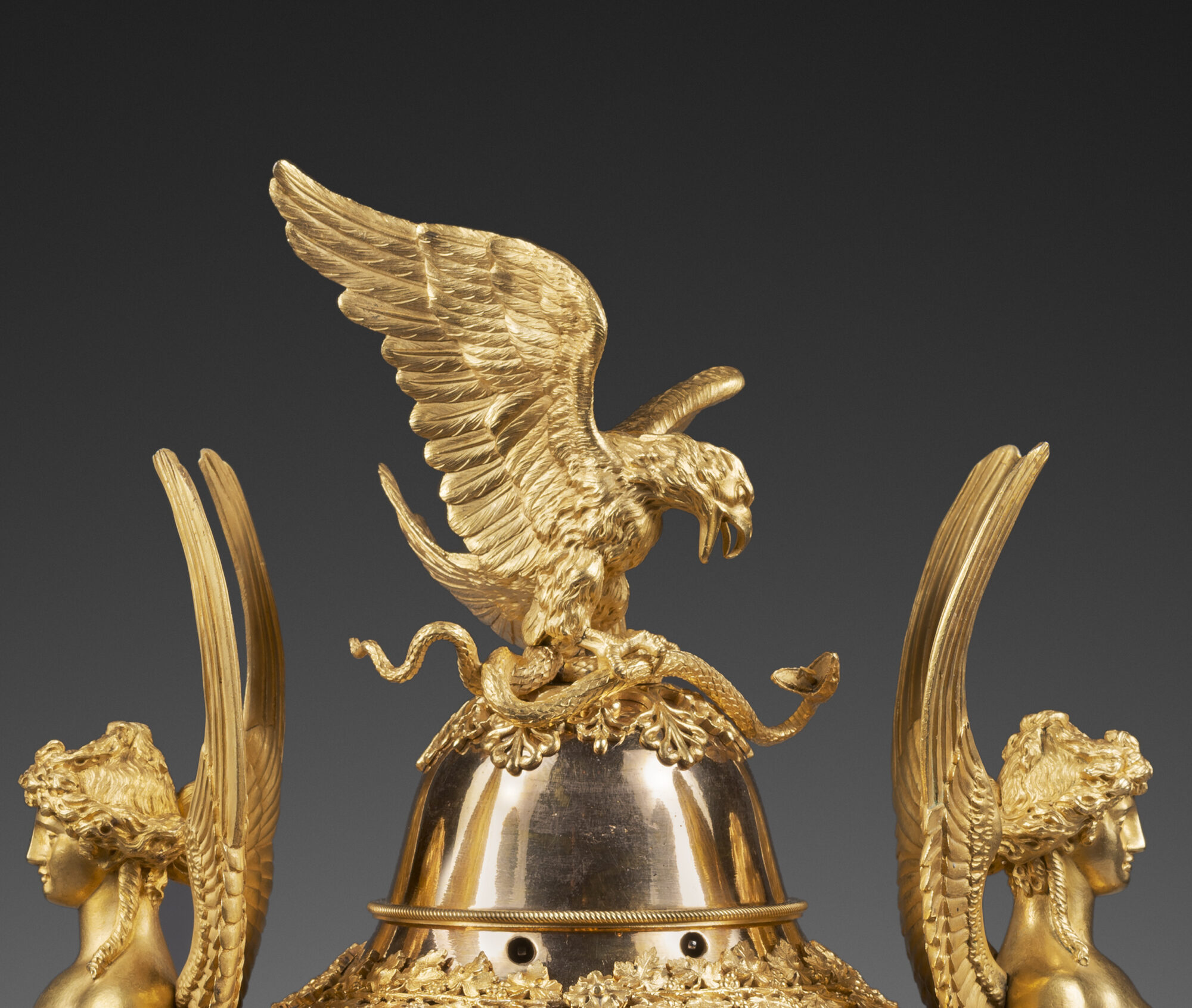 The rotating dial indicates the Roman numeral hours and the Arabic numeral minutes. It is fitted in a finely chased, matte gilt case in the form of a vase. The clock is surmounted by an eagle holding a snake in its claws. The handles are formed by two superb winged female figures whose bodies terminate in scrolling leaves; they hold flaming urns that are adorned with gadrooning. The vase is adorned with vine leaves, swans facing each other and drinking from a bowl, medallions centered by groups of child musicians, one of whom is holding music, which are surmounted by a lion's mask with snakes. The child musicians are surrounded by motifs of addorsed griffons, palmettes, and dancing putti holding a draperies that terminate in garlands of flowers and leaves on which a birds perch. The lower portion is adorned with a bouquet of large leaves and stylized palmettes. The tapering pedestal is decorated with a gadrooned knop and a torus of laurel leaves and seeds. The clock is raised on a quadrangular base with a cavetto frieze in green marble.
Discover our entire collection of antique mantel clocks for sale online or at the gallery.
The composition of this vase-form clock was inspired by neoclassical models of the second half of the 18th century. One of the most elaborate horological models of the Napoleonic period, during that time it was also produced as an ornamental vase. One such pair of vases may be seen in A. Kuchumov, Pavlovsk, Palace & Park, Leningrad, 1975, p. 52-53.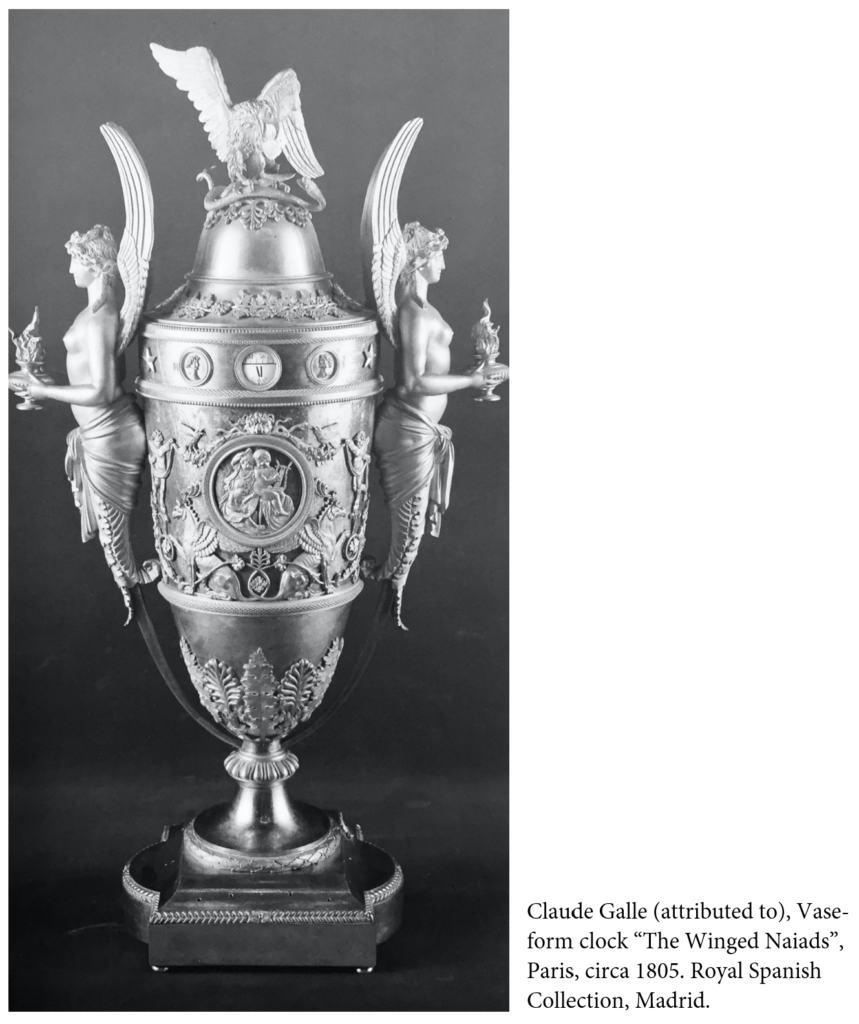 Among the few similar examples known to exist, one clock whose dial is signed "Thonissen à Paris" is in the Württembergisches Landesmuseum in Stuttgart (illustrated in R. Mühe and H. Vogel, Horloges anciennes, Fribourg, 1978, p. 116, fig. 154). A second example, once part of the collection of Empress Eugenie, was formerly in the Perez de Olaguer-Feliu collection in Barcelona (see Luis Monreal y Tejada, Relojes antiguos (1500-1850), Coleccion F. Perez de Olaguer-Feliu, Barcelona, 1955, plate 71, catalogue n° 90). A third example is in the Royal Spanish Collection (see J. Ramon Colon de Carvajal, Catalogo de Relojes del Patrimonio nacional, Madrid, 1987, p. 207, n° 189). Two further similar clocks, one with a round dial and the other with a cadrans tournants dial, are in the Musée François Duesberg in Mons (see Musée François Duesberg, Arts décoratifs 1775-1825, Bruxelles, 2004, p. 32-33).
Claude Galle (1759 - 1815)

One of the foremost bronziers and fondeur-ciseleurs of the late Louis XVI and Empire periods, Claude Galle was born at Villepreux near Versailles. He served his apprenticeship in Paris under the fondeur Pierre Foy, and in 1784 married Foy's daughter. In 1786 he became a maitre-fondeur. After the death of  his father-in-law in 1788, Galle took over his workshop, soon turning it into one the finest, and employing approximately 400 craftsmen. Galle moved to Quai de la Monnaie (later Quai de l'Unité), and then in 1805 to 60 Rue Vivienne.
The Garde-Meuble de la Couronne, under the direction of sculptor Jean Hauré from 1786-88, entrusted him with many commissions. Galle collaborated with many excellent artisans, including Pierre-Philippe Thomire, and furnished the majority of the furnishing bronzes for the Château de Fontainebleau during the Empire. He received many other Imperial commissions, among them light fittings, figural clock cases, and vases for the palaces of Saint-Cloud, the Trianons, the Tuileries, Compiègne, and Rambouillet. He supplied several Italian palaces, such as Monte Cavallo, Rome and Stupinigi near Turin.
In spite of his success, and due in part to his generous and lavish lifestyle, as well as to the failure of certain of his clients (such as the Prince Joseph Bonaparte) to pay what they owed, Galle often found himself in financial difficulty. Galle's business was continued by his son after his death by his son, Gérard-Jean Galle (1788-1846). Today his work may be found in the world's most important museums and collections, those mentioned above, as well as the Musée National du Château de Malmaison, the Musée Marmottan in Paris, the Museo de Reloges at Jerez de la Frontera, the Residenz in Munich, and the Victoria and Albert Museum in London.
Photo gallery