François Rémond
(circa 1747-1812)
Important Pair of Matte and Burnished Gilt and Patinated Bronze Neoclassical Four-Light Candelabra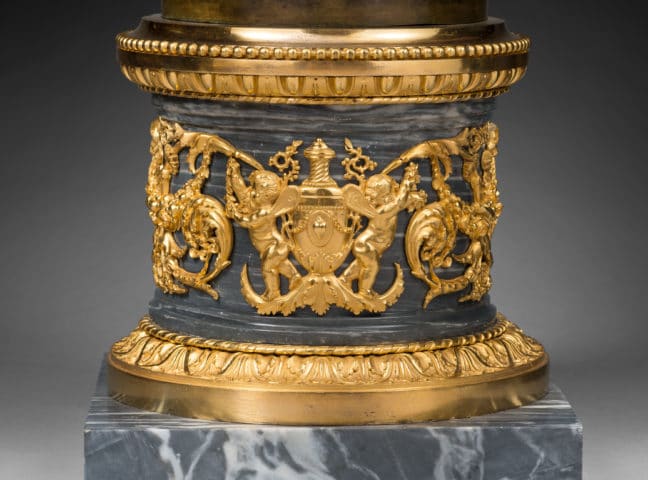 Attributed to François Rémond
Probably made under the supervision of Dominique Daguerre
Paris, Louis XVI period, circa 1785
The candelabra feature anthropomorphic stems depicting magnificent standing female figures made of patinated bronze. Their hair is braided and held in place by headbands; they wear long classical draperies that reveal their bodies. Each woman holds a wreath of flowers in one hand and has a wicker basket on her head. The baskets issue elaborate scrolling light bouquets comprising four lights; their ornate spiral-decorated branches are adorned with scrolls, rosettes, and seeds. The nozzles and drip pans are also finely cast and chased with leaves and foliage. The round terraces are decorated with beadwork and egg-and-dart friezes; they rest upon cylindrical blue turquin marble plinths that are adorned with friezes of volutes, ribbon-tied flower garlands, and putti flanking vases that are embellished with ribbon-tied bulrushes, alternating friezes of stylized foliage and a quadrangular base sculpted in the same marble.
The exceptional chasing and gilding of the present pair of candelabra allow us to confidently attribute them to François Rémond, one of the most important Parisian bronziers of the period. At the time Rémond worked for Dominique Daguerre, then the most influential merchant of luxury goods in France. Their unusual design appears to have been influenced by a similar model that Rémond had created around 1785, of which the first pair were in the collection of Princess Kinsky, and were part of the furnishings of her luxurious Parisian mansion in the rue de Grenelle (see C. Baulez, "Le luminaire de la princesse Kinsky", in L'Estampille/L'Objet d'art, n° 247, May 1991, p. 88), while a second pair was offered on the Parisian art market during the sale of the collection of Edwin-Marriott Hodgkins (1860-1932) (sold Me Lair-Dubreuil, May 16, 1927, lot 67).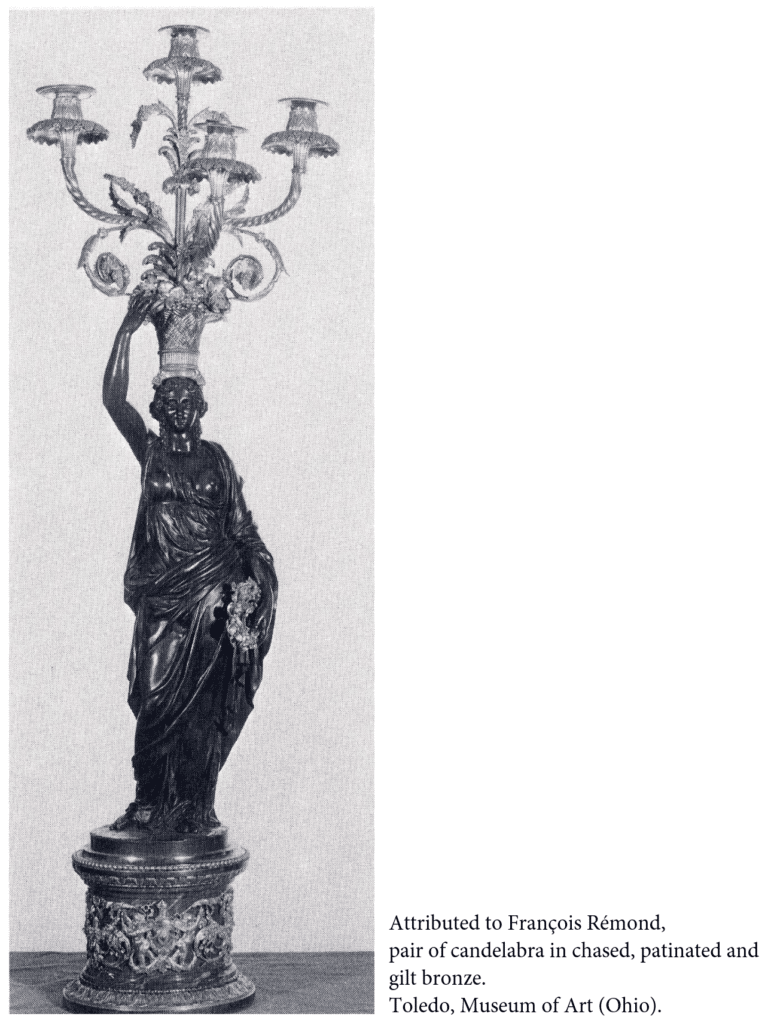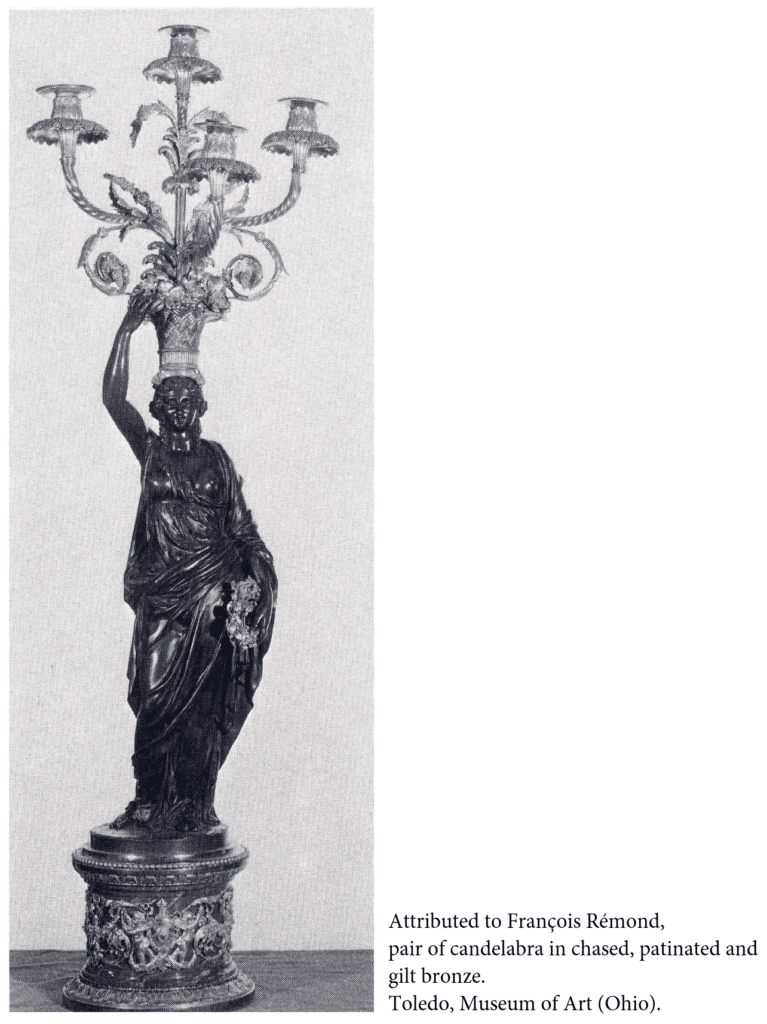 One further pair of candelabra, identical to the present pair but with white Carrara marble bases, were formerly in the collection of the Earls of Rosebery, Mentmore Towers, Buckinghamshire (Sale of the collections of the 6th Earl of Rosebery at Mentmore Towers, Sotheby's, London, on May 18, 1977, lot 92); another identical pair, with blue turquin marble bases, is in the Toledo Museum of Art (Ohio) (illustrated in H. Ottomeyer and P. Pröschel, Vergoldete Bronzen, Die Bronzearbeiten des Spätbarock und Klassizismus, Band I, Munich, 1986, p. 284, fig. 4.14.9).
François Rémond (circa 1747 - 1812)

Along with Pierre Gouthière, he was one of the most important Parisian chaser-gilders of the last third of the 18th century. He began his apprenticeship in 1763 and became a master chaser-gilder in 1774. His great talent quickly won him a wealthy clientele, including certain members of the Court. Through the marchand-mercier Dominique Daguerre, François Rémond was involved in furnishing the homes of most of the important collectors of the late 18th century, supplying them with exceptional clock cases, firedogs, and candelabra. These elegant and innovative pieces greatly contributed to his fame.
Dominique Daguerre

Dominique Daguerre is the most important marchand-mercier (i.e. merchant of luxury objects) of the last quarter of the 18th century. Little is known about the early years of his career; he appears to have begun to exercise his profession around 1772, the year he went into partnership with Philippe-Simon Poirier (1720-1785), the famous marchand-mercier who began using porcelain plaques from the Manufacture royale de Sèvres to adorn pieces of furniture. When Poirier retired around 1777-1778, Daguerre took over the shop in the rue du Faubourg Saint-Honoré, keeping the name "La Couronne d'Or". He retained his predecessor's clientele, and significantly increased the shop's activity within just a few years. He played an important role in the renewal of the Parisian decorative arts, working with the finest cabinetmakers of the day, including Adam Weisweiler, Martin Carlin and Claude-Charles Saunier, cabinetmaker of the Garde-Meuble de la Couronne, Georges Jacob, the bronziers and chaser-gilders Pierre-Philippe Thomire and François Rémond, and the clockmaker Renacle-Nicolas Sotiau. A visionary merchant who brought the level of French luxury goods to its highest point, Daguerre settled in England in the early 1780's, having gone into partnership with Martin-Eloi Lignereux, who remained in charge of the Paris shop. In London, where he enjoyed the patronage of the Prince Regent (the future King George IV), Daguerre actively participated in the furnishing and decoration of Carlton House and the Brighton Pavilion. Taking advantage of his extensive network of Parisian artisans, he imported most of the furniture, chairs, mantelpieces, bronze furnishings, and art objects from France, billing over 14500£, just for 1787. Impressed by Daguerre's talent, several British aristocrats, called on his services as well. Count Spencer engaged him for the decoration of Althorp, where Daguerre worked alongside architect Henry Holland (1745-1806). In Paris, Daguerre and his partner Lignereux continued to supply influential connoisseurs and to deliver magnificent pieces of furniture to the Garde-Meuble de la Couronne, which were placed in the apartments of Louis XVI and Marie-Antoinette. Daguerre retired in 1793, no doubt deeply affected by the French Revolution and the loss of many of his most important clients.
Photo gallery