Joseph-Marie Revel
(?-1811)
François Rémond
(circa 1747-1812)
Important White Marble and Gilt Bronze Sphinx Mantel Clock
"The Sacrifice to Love"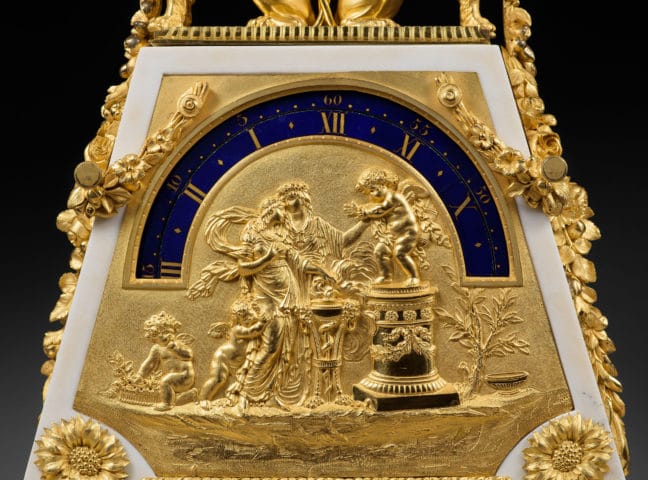 The Movement Attributed to Joseph-Marie Revel
The Bronzes Attributed to François Rémond
Paris, late Louis XVI period, circa 1785-1790
Height
51.5
Width
30.5
Depth
16
Provenance:
– Probably formerly in the collection of Gaston Menier (sold in Paris, Me Glandaz, November  24, 1936, lot 75).
The blue and gold enamel semi-circular dial apertures indicate the Roman numeral hours and Arabic numeral minutes; the movement is housed in a white marble and finely chased gilt bronze case. The clock is surmounted by two winged sphinxes that are wearing plumed nemes headdresses, on either side of a baluster vase that rests on a gilt bronze leg and is adorned with beadwork and a flower and leaf crown and bouquet. The clock is set upon a truncated pyramid that is decorated with flower and leaf garlands, sunflowers, and a central allegorical bas-relief representing "The Sacrifice to Love". The square moulded base, adorned with laurel garlands decorated with lyres and centred by a mask, is raised upon four large lion's feet that emerge from scrolling and acanthus leaves.
An early example of the Egyptomania that reigned in France during the reign of Louis XVI, this clock is one of the finest Parisian horological creations of its time. It is inspired by the work of contemporary designers, and particularly an engraving by Jean-François Forty which is illustrated in P. Kjellberg, Encyclopédie de la pendule française du Moyen Age au XXe siècle, Paris, 1997, p. 173, fig. C, as well as by a drawing by architect François-Joseph Bélanger (1744-1818) which depicts a clock that was delivered in 1781 for the Count d'Artois's Salon in the Bagatelle pavilion; an "Artois model" clock is in the Metropolitan Museum of Art in New York (see H. Ottomeyer and P. Pröschel, Vergoldete Bronzen, Die Bronzearbeiten des Spätbarock und Klassizismus, Band I, Munich, 1986, p. 280, fig. 4.13.4).
The present clock stands out for the quality of its chasing, which supports its attribution to François Rémond. It is also unusual for the seated position of the sphinxes, a position that is found on the other rare similar examples of the period. One of these was made by Godon for the King of Spain, which is in the Royal Spanish Collections (illustrated in J. Ramon Colon de Carvajal, Catalogo de Relojes del Patrimonio nacional, Madrid, 1987, p. 77, catalogue n° 61).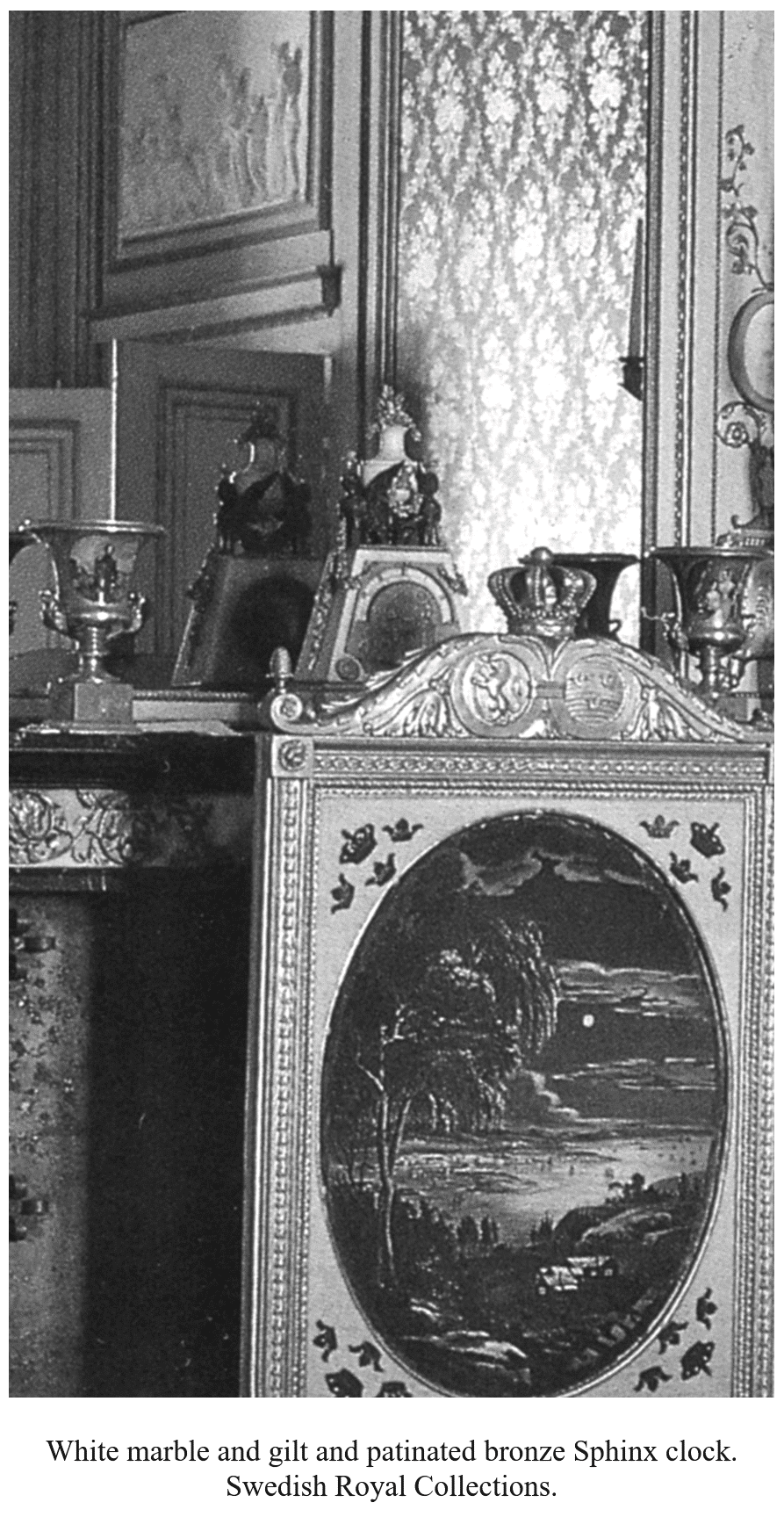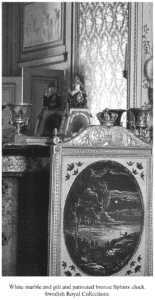 Only three other identical clocks are known to exist: the first, sold at auction in Paris in 1962, is illustrated in Tardy, La pendule française, 2ème partie: Du Louis XVI à nos jours, Paris, 1975, p. 359, fig. 1; the second is displayed in the red Salon of the Château de Rosersberg, the residence of the Swedish royal family (illustrated in H. Groth, Châteaux en Suède, intérieurs et mobilier néoclassiques 1770-1850, Paris, 1990, p. 140); the movement of the third clock is signed Revel, which supports our attribution of the present example to that well-known Parisian clockmaker. It is illustrated in E. Niehüser, Die französische Bronzeuhr, Eine Typologie der figürlichen Darstellungen, Munich, 1997, p. 251, fig. 1079.
Joseph-Marie Revel (? - 1811)

Very little is known about this clockmaker, who was nevertheless very famous during his lifetime. Briefly mentioned in the Tardy's Dictionnaire des horlogers under the name of Joseph Revel, he was actually named Joseph-Marie; he died in Paris in 1811. After becoming a master on August 12, 1775, he opened a workshop in the Vieille rue du Temple, and was mentioned in the Palais Royal from 1787 to 1790, in the Palais Egalité around 1800, and in the Palais Tribunat from 1804 to 1806. Several probate inventories dating from the early decades of the 19th century mention a number of his clocks; a clock by Revel was estimated in 1817 after the death of Adélaïde de Lespinasse-Langeac, the wife of the chevalier de Costalin; in 1821 another was in the collection of the Countess de Medem, Anne-Charlotte-Dorothée, the widow of the powerful Duke de Courlande.
François Rémond (circa 1747 - 1812)

Along with Pierre Gouthière, he was one of the most important Parisian chaser-gilders of the last third of the 18th century. He began his apprenticeship in 1763 and became a master chaser-gilder in 1774. His great talent quickly won him a wealthy clientele, including certain members of the Court. Through the marchand-mercier Dominique Daguerre, François Rémond was involved in furnishing the homes of most of the important collectors of the late 18th century, supplying them with exceptional clock cases, firedogs, and candelabra. These elegant and innovative pieces greatly contributed to his fame.
Photo gallery