Important Gilt Bronze and Première Partie Boulle Marquetry "Tête de poupée" Clock
Paris, Louis XIV period, final quarter of the 17th century, circa 1685
Height
47 cm
Width
24 cm
Depth
19 cm
The round gilt bronze dial indicates the Roman numeral hours on twelve white enamel cartouches; it is embellished with alternating scrolls and flowers and features outermost Arabic numeral minutes indicated by means of two blued steel hands. Its center is adorned with a rosette, scrolling, C-scrolls, and arabesques against a matted ground. The hour and half-hour striking movement, which, along with the plate, is signed "Jacques Hory à Paris", is housed in a magnificent waisted "tête de poupée" case in Boulle première partie marquetry with engraved copper and pewter motifs against a red-tinted tortoiseshell ground featuring an elaborate décor in the style of Bérain, including flowers, C-scrolls, and scrolls centered by a classical bust. The whole is further adorned with finely chased gilt bronze motifs. In the upper portion of the clock there is a terrace adorned with four oil lamps. The rounded pediment is decorated with convex molding; the curved sides and façade are embellished with seeded spiral rosettes. The tall, molded base is decorated with laurel friezes, stylized leaves and interlacing patterns centered by flowers. The clock stands on four lion's paw feet.
Discover our entire collection of antique mantel clocks for sale online or at the gallery.
The unusual composition of the present rare tête de poupée clock was inspired by the work of Parisian designers of the second half of the 17th century, and particularly by an engraved plate by Daniel Marot (1663-1752) drawn from his  "Nouveau Livre de boîte de pendules, de coqs et étuys de montres et autres nécessaires aux orlogeurs", which was published in Amsterdam (see P. Kjellberg, Encyclopédie de la pendule française du Moyen Age au XXe siècle, Les éditions de l'Amateur, Paris, 1997, p. 41, fig. B).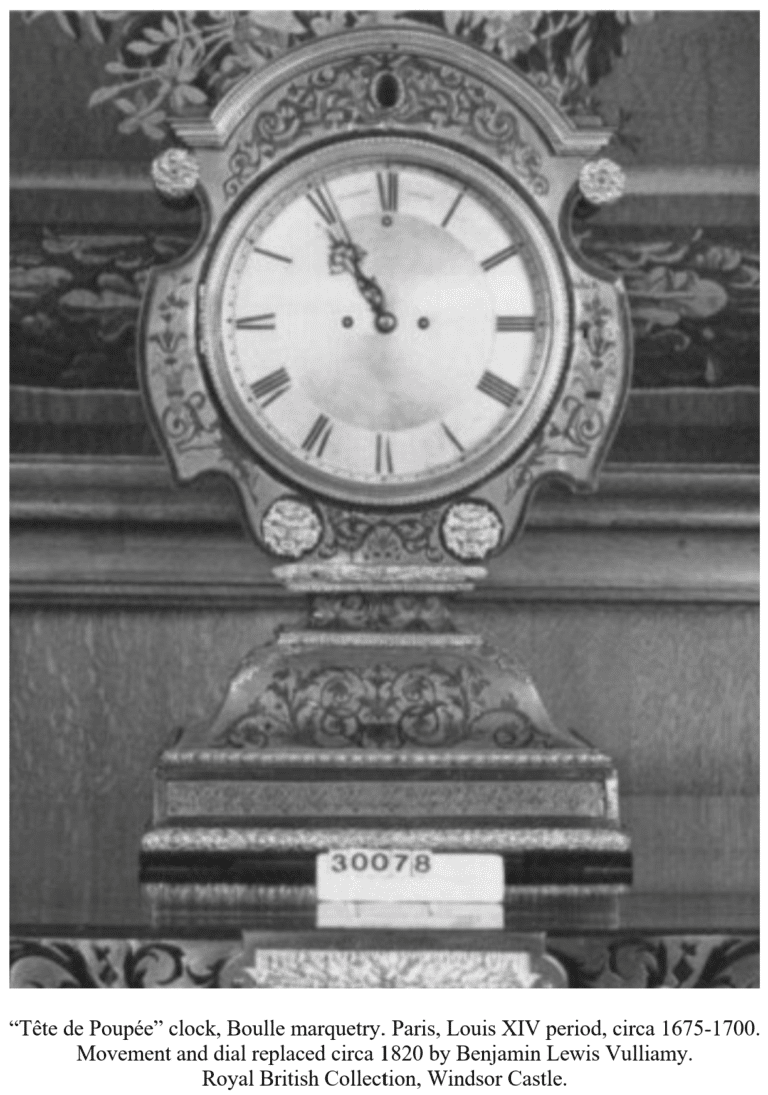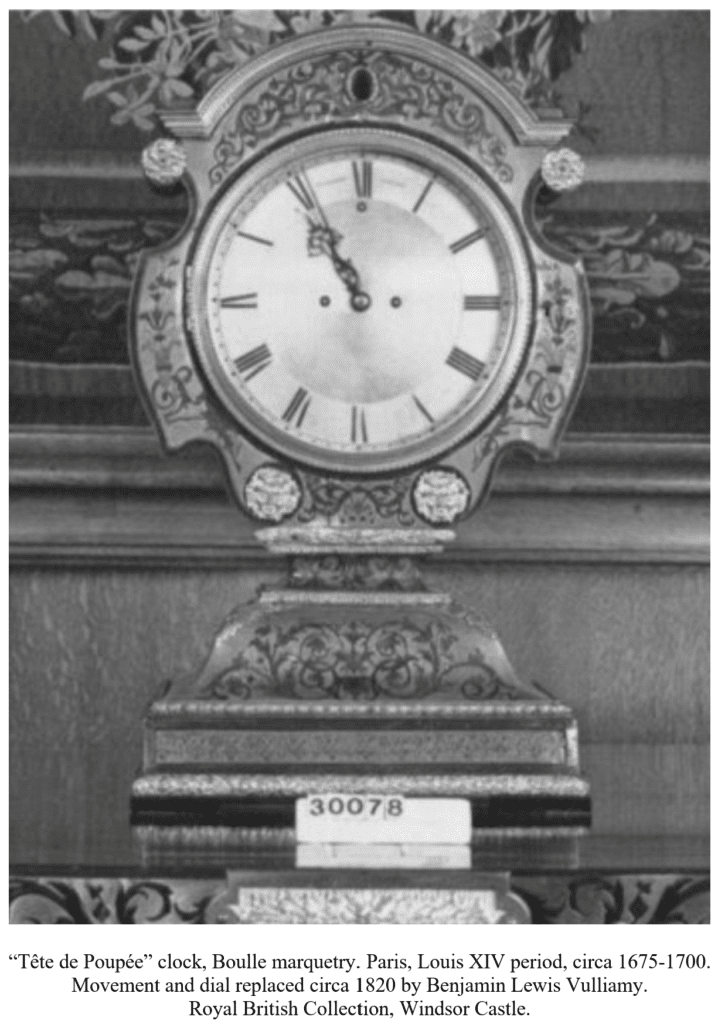 Today a small number of identical clocks are known; they feature variations in their decorative schemes, marquetry, and bronze mounts. One clock, signed "P. Du Chesne à Paris" (master in 1675) is in the Dijon Musée des Arts Décoratifs (illustrated in Tardy, La Pendule Française des origines à nos jours, Ier Partie de l'Horloge Gothique à la Pendule Louis XV, Paris, 1967, p. 105). A second clock, signed "Balthazar Martinot à Paris" (1636-1716), is in a private collection (see R. Mühe and Horand M. Vogel, Horloges anciennes, Manuel des horloges de table, des horloges murales et des pendules de parquet européennes, Bibliothèque des Arts, Paris, 1978, p. 95). One further example, whose movement and dial were replaced circa 1820 by Benjamin Lewis Vulliamy, in the Royal British Collection, is on display in Windsor Castle (Inv. RC 30078).
Jacques Hory

Probably a member of a Parisian clockmaking dynasty that was active in the early part of the 17th century, Jacques Hory was an important Parisian clockmaker. After opening a workshop in the Faubourg Saint-Germain in 1658, he soon gained renown and in 1675 he became a juror of his corporation. From 1673 to 1690 he was "Horloger ordinaire du Roi" (see Tardy, Dictionnaire des horlogers français, Paris, 1971, p. 494). Clocks signed "Hory", "Horry", or "Hourry" are known to have belonged to important 18th century European collectors. One was described in the 1764 sale of the Cologne Elector; a second was mentioned in the posthumous inventory of the belongings of the widow of Pierre-Charles Davoust; and a third example was briefly mentioned in the posthumous inventory of Hercule-Mériadec de Rohan, Prince de Guémené and Montbazon.
Photo gallery