André-Charles Boulle
(1642-1732)
Exceptional Tortoiseshell, Copper, and Bronze Marquetry Barometer Clock with Pedestal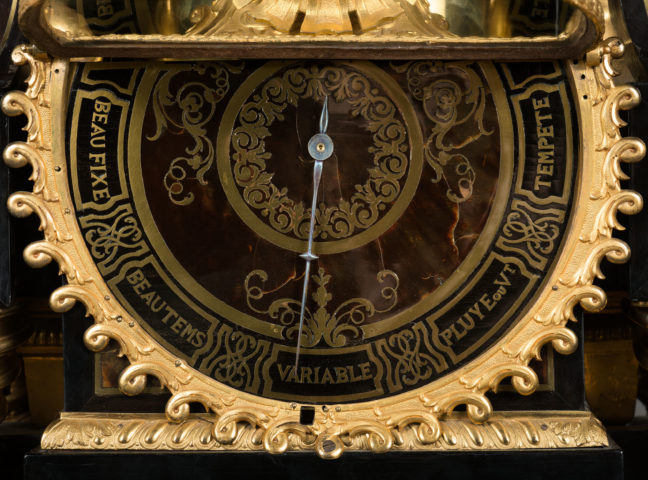 "Gaudron à Paris"
Case attributed to André-Charles Boulle
Paris, late Louis XIV period, circa 1710
Pendule :
Height
114
Width
59
Depth
23
Gaine :
Height
150
Width
59
Depth
30
The copper dial with twelve enamel hour cartouches, is fixed to a plate signed "Gaudron à Paris"; it indicates the Roman numeral hours and the outermost minutes graduations by means of two polished steel hands. Beneath it, a low-relief group depicts an allegory of The Abduction of Truth by Time. The movement is housed in a magnificent architectural case, which rests upon a pedestal; both are entirely decorated with Boulle marquetry, featuring brass inlays in the form of scrolls, flowers and flowerets against a brown tortoiseshell background, with finely chased, elaborate gilt bronze mounts. The case, with rounded cornice, is surmounted by a domed capital, whose sides are adorned with scroll consoles and grapevine swags; it is surmounted by a Grecian lamp finial. The sides of the case are adorned with volutes and shells, and lateral molding with reclining sphinxes with Egyptian nemes headdresses. They rest on leaf-decorated entablatures with straight tapering feet. The quadrangular base is centered by a barometer whose bezel is decorated with egg and dart and leaf friezes; it is flanked by two female masks wearing diadems and pearls. Four massive tapering spiral feet partially support the clock, which rests on a tapered pedestal that is elaborately decorated with flowers, scrolling, molding featuring cabochons, egg and dart friezes, and trophies depicting an allegory of time featuring a winged hourglass and a scythe. The upper portion, with grooved sides, is decorated with panels and wide, scrolling acanthus leaves. The base, with arcaded panels, rests upon spreading feet adorned with finely chased friezes.
Horological creations including cartels, mantel clocks, and regulators, were an important part of the work of André-Charles Boulle, making up approximately a third of his total production. A legal document (acte de délaissement) drawn up in 1715 in favor of Boulle's sons gave the estimates for a total of 300 pieces, including 63 clocks. Several years later, a fire led to an inventory of the workshop being drawn up in August 1720. It listed a total of 220 pieces, of which 75 were clocks. Boulle's work is noteworthy for its great originality; his movements were supplied by the finest clockmakers of the time. The present exceptional clock derives from a type of clock with decorative sphinxes that was created in the 1680's. To this, one of Boulle's best-known models, he added a barometer in the lower portion of the clock. The engraved image of this clock was included, as plate II, in Nouveaux Desseins de Meubles et Ouvrages de Bronze et Marqueterie Inventés et gravés par André-Charles Boulle, which Mariette published in Paris after 1707 (see J-P. Samoyault, André-Charles Boulle et sa famille. Nouvelles recherches. Nouveaux documents, Centre de recherches d'histoire et de philologie de la IVe Section de l'Ecole pratique des hautes études, Geneva, 1979). In that book, which was no doubt widely distributed, Boulle revealed his masterpieces and latest creations. The image bears the caption "Pendule propre pour une chambre" (clock suitable for a chamber). This indicates the original use of this type of clock, for during the following decades it was placed in much larger and less intimate rooms, indicating the high regard in which this spectacular model was held by the important collectors of the time.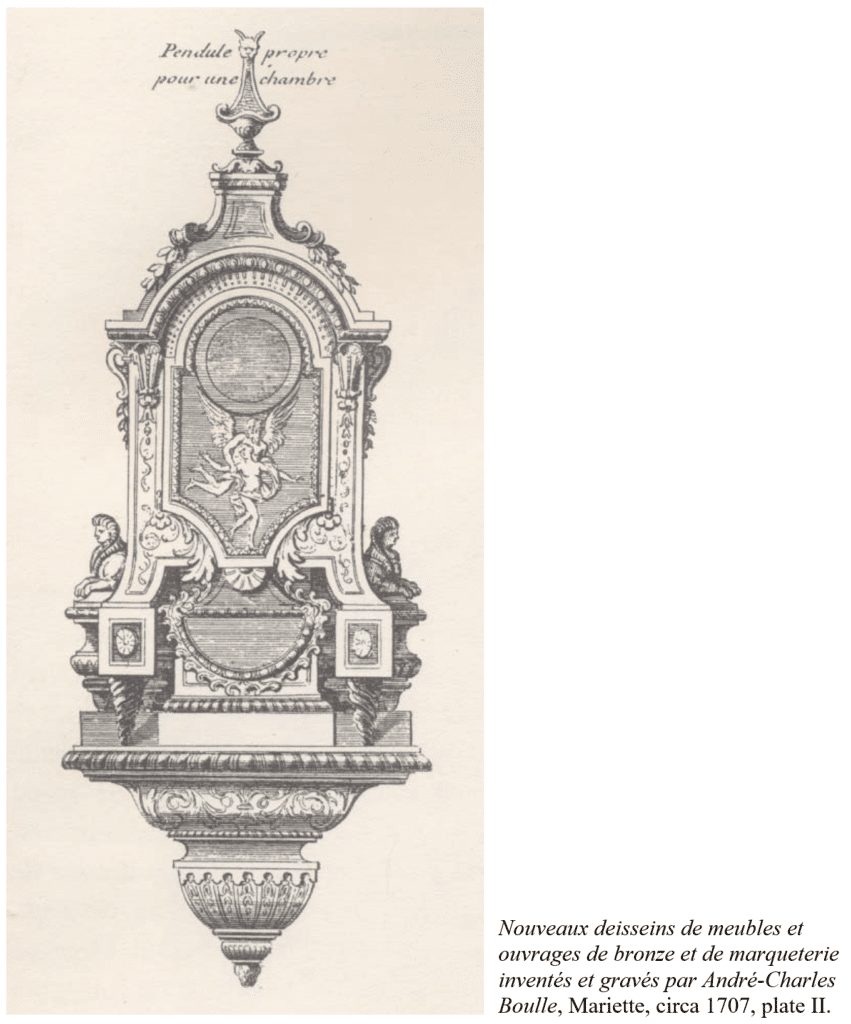 The main theme, which is treated in low relief under the dial, was inspired by a sculptural group that Thomas Regnaudin (1622-1706) created between 1675 and 1687 for the Orangerie of the Palace of Versailles; its subject was The Abduction of Cybele by Saturn or The Abduction of Truth by Time – that marble sculpture is today in the Louvre Museum in Paris. It is likely that Boulle based this model on a clock he had made around 1680 for the Marquis de Louvois, Minister of Louis XIV and Surintendant des Bâtiments du roi. The probate inventory of the Marquis, drawn up in August 1691, briefly describes the piece in the Minister's chambers in the Hôtel de la Surintendance in Versailles: "a striking clock made by Thuret with its case of tortoiseshell marquetry and ornaments of gilt copper", estimated at 200 livres. Several years later, that same clock was apparently mentioned in the probate inventory of the Minister's wife, Anne de Souvré, appearing as number 809: "a large striking clock with barometer by Thuret in a case of tortoiseshell marquetry and gilt copper, adorned with sphinxes and other gilt bronze ormolu ornaments in a case made by Boulle 400 livres".
During the 18th century and the early years of the following century, similar models are rarely mentioned in contemporary documents. A similar clock was offered at the sale of the famous collection of Randon de Boisset in February 1777: "802. A large clock, première partie marquetry, quarter-striking movement by Rabby, the dial adorned with a low relief group featuring two figures; the straight-sided case with grooved capital and an elaborate base with a barometer on the front, surmounted by an antique lamp, and on all sides consoles, molding and other decorative elements, on either side of the base a sphinx that supports the case; all in gilt bronze: height 44 pouces, by 21 wide". A second example was offered at the sale of the collection of banker Quentin Crawford in 1820: "459. A striking clock, indicating the hours and seconds, with the names Gaudron and Janvier, in a marquetry case by Boulle, tortoiseshell ground, inlaid copper on a console pedestal, with barometer, bearing this motto above: Diregit atque movet. Said clock richly decorated in the center with a group of figures depicting Time abducting Truth; two sphinxes and other ornaments in ormolu gilt bronze". A third example was purchased by the Marquis de Marigny from marchand-mercier Lazare Duvaux in December 1759 for 840 livres: "N° 2949. Clock and barometer together, with Boulle marquetry, garnished with ormolu gilt bronze" (see L. Courajod, Livre-Journal de Lazare Duvaux, Marchand-bijoutier ordinaire du Roy, 1748-1758, p. 340, n° 2949). One further example, perhaps the clock that today stands in Versailles, was delivered to Louis XIV by the clockmaker Thuret; it was mentioned in the 1729 Versailles inventory; in 1751 it stood in the Cabinet des jeux de l'appartement du Roi in Compiègne (illustrated in P. Verlet, Les bronzes dorés français du XVIIIe siècle, Paris, 1987, p. 107, fig. 123).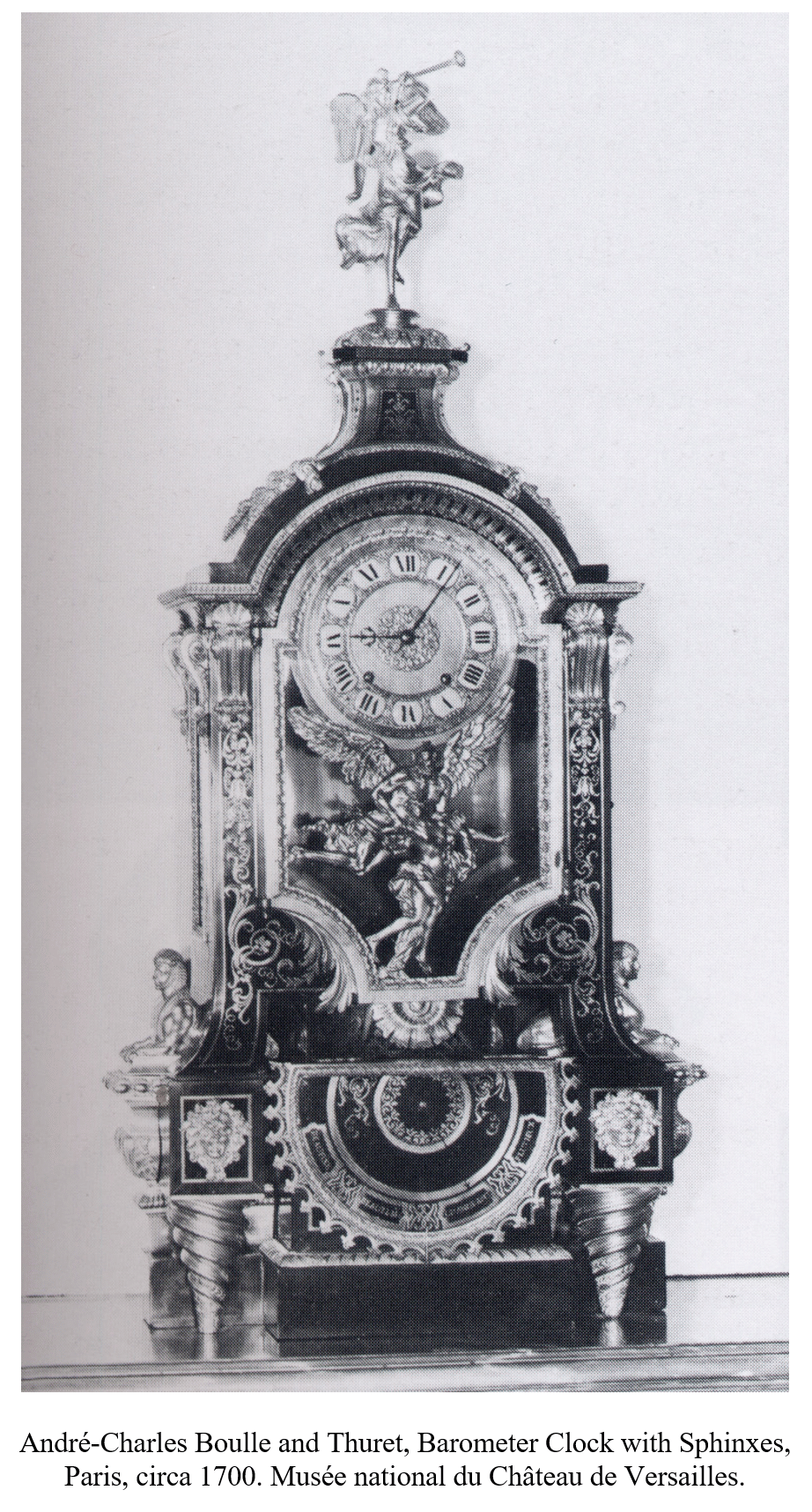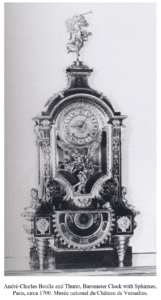 Today only a few comparable clocks are known to exist. One, in the Musée national du château de Versailles, is cited above; a second example, whose movement is signed "Thuret", is in the Frick Collection in New York (see K. Edey, French Clocks in North American Collections, exhibition catalogue, Frick Collection, New York, 1982, p. 41-44). A third example, with movement by Balthazard Martinot, is in the Cleveland Museum of Art (see H. Ottomeyer and P. Pröschel, Vergoldete Bronzen, Die Bronzearbeiten des Spätbarock und Klassizismus, Band I, Munich, 1986, p. 43, fig. 1.3.3). A fourth example, with a movement by Gaudron, is in the Brussels Musée royal d'Art et d'Histoire. A fifth example with bracket, originally from Stoneleigh Abbey in Warwickshire, was sold at the auction of the Hubert de Givenchy collection (sold Christie's, Monaco, December 4, 1993, lot 77). One further example, a cartonnier clock, is part of the collection of the Duke of Marlborough in Blenheim Palace (illustrated in the exhibition catalogue André-Charles Boulle 1642-1732, Un nouveau style pour l'Europe, Museum für Angewandte Kunst, Frankfurt, October 30, 2009-January 31, 2010, p. 150, fig. 8).
Gaudron

One of the most important Parisian horological workshops, active from the second half of the 17th century to the middle of the following century. Founded circa 1660 by Antoine I Gaudron (circa 1640-1714), the workshop rapidly grew, and Antoine I went into partnership with his two sons, Antoine II Gaudron de Sainte-Marthe (1675-1748) and Pierre Gaudron (circa 1677-1745), both clockmakers as well, who were awarded the prestigious titles of, respectively, "Conseiller, Secrétaire du Roi, Maison et Couronne de France près de la Chancellerie du Parlement de Metz" and "Horloger Ordinaire du duc d'Orléans". After the death of their father, the two brothers worked together from 1710 to 1730. The workshop became famous for its work with André-Charles Boulle, for whom the Gaudrons produced magnificent movements throughout the cabinetmaker-sculptor's career.
André-Charles Boulle (1642 - 1732)

André-Charles Boulle is the most important Parisian ébéniste-sculpteur of the reign of Louis XIV. Throughout his career, this incomparably talented artisan showed great inventiveness and creativity, which won him the patronage of the most important collectors of the time, including the King Louis XIV, for whom he produced some of the masterpieces of French furniture-making. A cabinetmaker, as well as a sculptor, Boulle created his bronze motifs himself. Today his work may be seen in the most important private and public collections throughout the world, including the Louvre and the Château de Versailles in France, the Victoria and Albert Museum in London, the Cleveland Museum of Art, the Metropolitan Museum of Art in New York and the Hermitage Museum in Saint Petersburg.
Photo gallery