Edme-Jean Causard
(circa 1720-1780)
Philippe Caffieri
(1714-1774)
Exceptional Gilt Bronze Wall Cartel
"Venus and Cupid" or "Day and Night"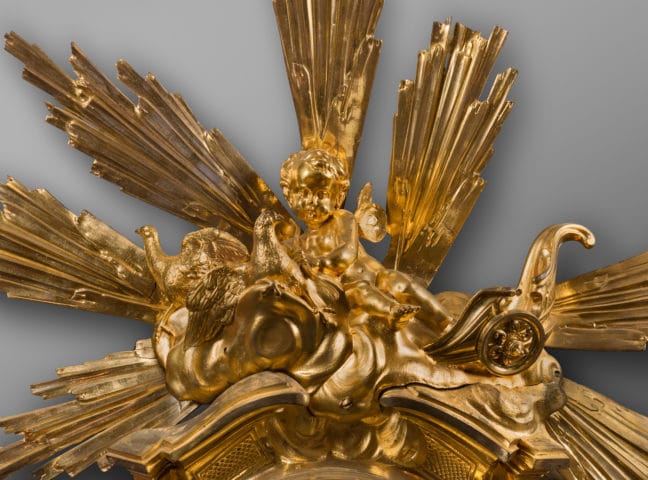 Case Attributed to Philippe Caffieri
Paris, Louis XV period, circa 1760
Height
118
Width
64
Depth
22
Provenance:
– Sold Paris, Maître Rheims, Galerie Charpentier, May 12, 1950, lot 125.
– Almost certainly purchased at that sale by Alberto Bruni Tedeschi (1915-1996).
– Sale of the Alberto Bruni Tedeschi collection for the benefit of the Virginio Bruni Tedeschi Foundation (Sotheby's, London, March 21, 2007, lot 84).
The round white enamel dial, signed, signed "Causard Her du Roy Suivt la Cour", indicates the Roman numeral hours and the Arabic five-minute intervals by means of two pierced and gilt bronze hands. The hour and half-hour striking movement is housed in a magnificent Rococo case with finely chased matte and burnished gilt bronze allegorical figures. The façade and sides are adorned with copper plaques that are cut out with flowering branches. The waisted case is adorned with C-scrolls, volutes, scrolling and branches with leaves and seeds. The clock is surmounted by a winged putto in his chariot drawn by doves, amongst clouds and sunrays. He symbolizes the Day or Daybreak. The lower portion, which terminates in acanthus leaves, is adorned with a group depicting Cupid who is about to cover the goddess Venus, who is shown lying on a drapery, with a veil; this is an allegory of the Night or Twilight.
Discover our entire collection of antique cartel clocks for sale online or at the gallery.
Created toward the middle of the 18th century, almost certainly by the Parisian bronze caster Philippe Caffieri, this large cartel was very successful among the influential Parisian collectors of the time. Today only a handful of identical models are known: one cartel by Ferdinand Berthoud is illustrated in the catalogue of the Exposition d'art français du XVIIIe siècle that was held in the Galerie Jamarin in Paris in 1916. A second example is in the Musée Carnavalet in Paris. A third clock, whose dial was probably modified, was in the Maurice Segoura collection (see P. Kjellberg, Encyclopédie de la pendule française du Moyen Age au XXe siècle, Paris, 1997, p. 103, fig. C). Another, whose dial is signed "Cronier à Paris", a gift of Mr. and Mrs. Richard C. Paine in 1950, is in the Museum of Fine Arts de Boston (illustrated in H. Ottomeyer and P. Pröschel, Vergoldete Bronzen, Die Bronzearbeiten des Spätbarock und Klassizismus, Band I, Munich, 1986, p. 117, fig. 2.5.11). A fifth clock, which was at the time in the Baguès collection, is pictured in J. de Hillerin, Plaisir de France, styles de France, objets et collections de 1610 à 1920. One further such cartel, whose dial is signed "Martinot à Paris", is in the Kunstindustrimuseet in Oslo (see Tardy, La pendule française, Ier Partie: De l'Horloge gothique à la Pendule Louis XV, Paris, 1975, p. 193).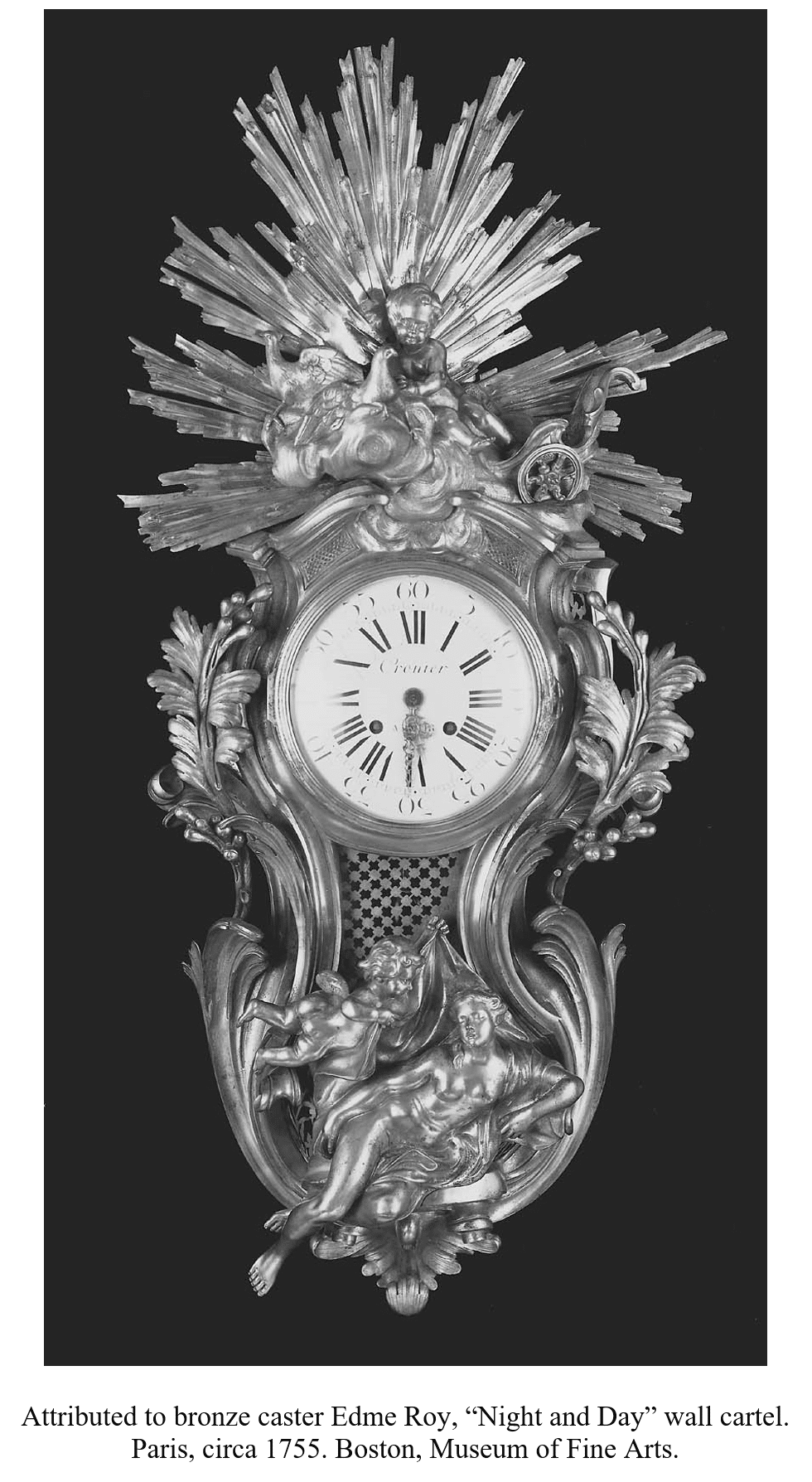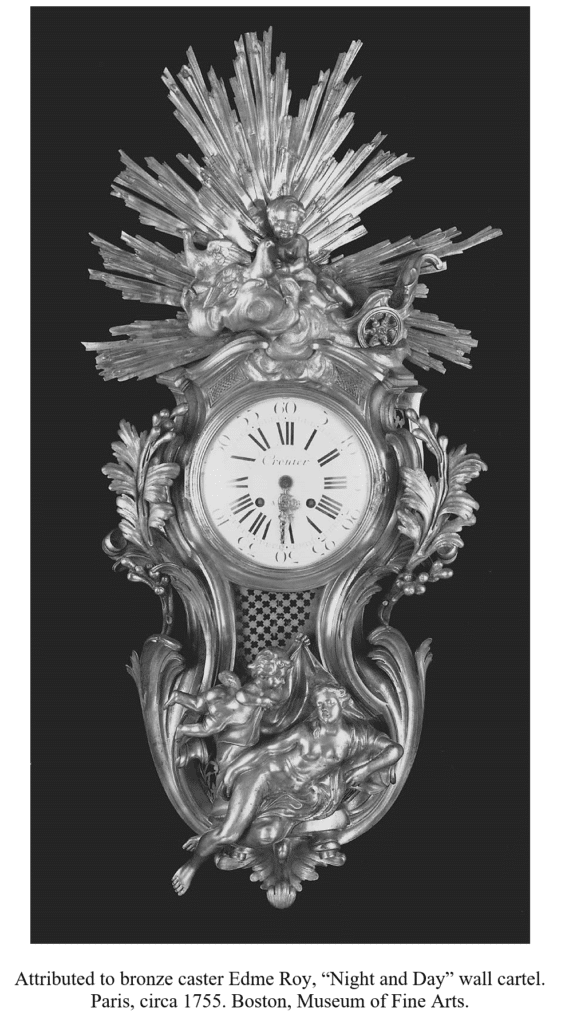 This model was also produced with certain variations: one such example, whose dial is signed "Guillaume Gilles", surmounted by a group of three putti and featuring a group of Venus and Cupid in the lower portion that is identical to the one on the present cartel, is in the British royal collections; in 1957 it was given to Queen Elisabeth II by French President René Coty (Inv. RCIN 30413). A second cartel, identical to that clock, whose dial was signed "Bunon à Paris", is illustrated in G. and A. Wannenes, Les plus belles pendules françaises, De Louis XIV à l'Empire, Florence, 2013, p. 131. A third example, whose upper portion is decorated with three putti and whose lower portion features a group symbolizing the courtship of Jupiter and Juno, was formerly in the collection of Boni de Castellane; Jean-Dominique Augarde attributes it to the bronze caster Edme Roy (see Les Ouvriers du Temps, Le pendule à Paris de Louis XIV à Napoléon Ier, Geneva, 1996, p. 156, fig. 124).
Edme-Jean Causard (circa 1720 - 1780)

Edme-Jean Causard is one of the most important Parisian clockmakers of the Louis XV period, signed his clocks in the following manner: "Causard Horloger du Roy suivant la Cour". During the early part of his career he was an "ouvrier libre", becoming "Horloger Privilégié du Roi" around 1753 and opening a workshop in the rue Saint Honoré. Like most of the best Parisian clockmakers of the period, Causard sourced his clock cases from the finest cabinetmakers and bronze casters, calling on Jean-Joseph de Saint-Germain, Nicolas Petit and the Osmonds. During the 18th century, his clocks were owned by influential people such as the Marshal de Duras, Blondel de Gagny and the Marquis de Langeac.
Philippe Caffieri (1714 - 1774)

Philippe Caffieri was no doubt the most important Parisian bronze caster of the late 18th century. The brother of sculptor Jean-Jacques Caffieri (1725-1792) and the son of Jacques Caffieri (1678-1755), "Sculpteur et ciseleur ordinaire du Roi", in 1747 he went into partnership with his father. He became a master sculptor in January 1754 and a member of the Académie de Saint-Luc.
Upon the death of his father the following year, he took over the family workshop in the rue Princesse, purchasing his brother's share of the workshop's rococo models. Several months later, as a master's son, he became a master caster "en terre et sable". Initially he continued in the rococo style his father had favored, but later developed new models in the neoclassical style. He worked on the first example of an antique-inspired piece of furniture that was commissioned by the wealthy financier Ange-Laurent Lalive de Jully. Throughout his career, Philippe Caffieri worked for the most important Parisian collectors of the time.
Photo gallery