Important Gilt Bronze Mantel Clock
"The Metamorphosis of Clytia"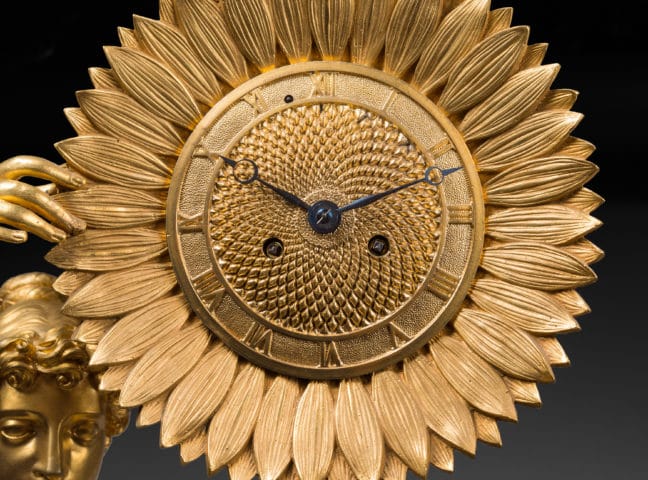 Attributed to Claude Galle (1759-1815)
Paris, Empire period, circa 1810
Height 92 cm; width of the figure 35 cm
Made entirely of finely chased and gilt bronze, this spectacular clock has a gilt metal chapter ring with Roman numeral hours; its hour and minute hands are of blued steel. It is fitted within a naturalistic sunflower whose petals are delicately arranged in two rows. The flower is held by a finely sculpted standing female figure; she is wearing a long belted toga whose clinging folds accentuate her sensuality. Her hair is arranged in a bun and her expressive face is treated in the French Neoclassical tradition, which was in turn directly influenced by antique Greco-Roman sculpture. She gracefully holds the sunflower upright so that it does not bend and break under its own weight. The tall cylindrical base is decorated with low-relief flaming torches linked by flower and leaf garlands; it is highlighted by two laurel toruses, one with stylised flower motifs and the other chased with oak leaves and acorns. An octagonal plinth supports the composition.
This clock is inspired by the Metamorphoses of Latin poet Ovid, which recounts the love affairs of the Olympian gods. The water nymph Clytia was jilted by Apollo, who preferred her older sister Leucothea. Despairing, she refused all nourishment except her own tears and the morning dew. From dawn to dusk she contemplated the path of the sun in the sky. After nine days, Apollo changed the young nymph into a heliotrope, or sunflower. The exceptional chasing and gilding of the present model demonstrate the skill of the Parisian artisans of the early 19th century.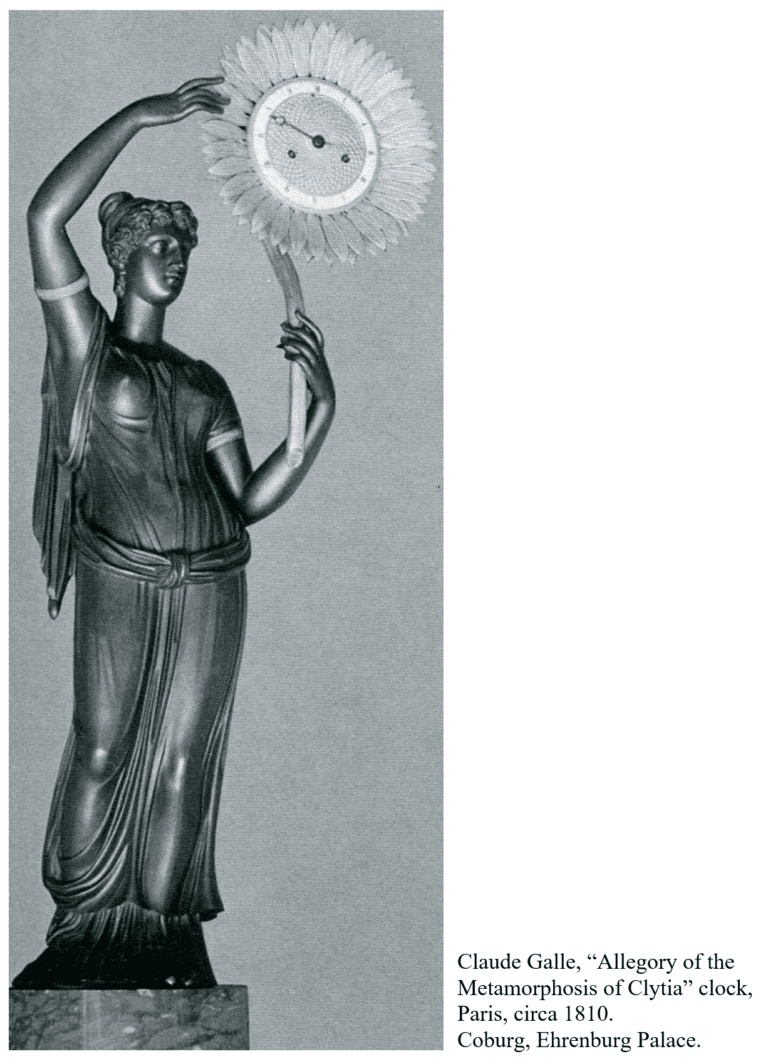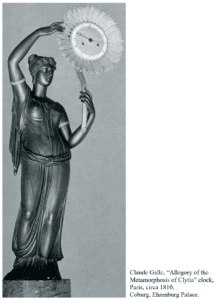 Similar examples are extremely rare; among the recorded pieces are a clock signed by Galle that is today in the collection of the Ehrenburg Palace in Cobourg (illustrated in H. Ottomeyer and P. Pröschel, Vergoldete Bronzen, Die Bronzenarbeiten des Spätbarock und Klassizismus, Munich, 1986, p. 397).
Claude Galle (1759 - 1815)

One of the foremost bronziers and fondeur-ciseleurs of the late Louis XVI and Empire periods, Claude Galle was born at Villepreux near Versailles. He served his apprenticeship in Paris under the fondeur Pierre Foy, and in 1784 married Foy's daughter. In 1786 he became a maitre-fondeur. After the death of  his father-in-law in 1788, Galle took over his workshop, soon turning it into one the finest, and employing approximately 400 craftsmen. Galle moved to Quai de la Monnaie (later Quai de l'Unité), and then in 1805 to 60 Rue Vivienne.
The Garde-Meuble de la Couronne, under the direction of sculptor Jean Hauré from 1786-88, entrusted him with many commissions. Galle collaborated with many excellent artisans, including Pierre-Philippe Thomire, and furnished the majority of the furnishing bronzes for the Château de Fontainebleau during the Empire. He received many other Imperial commissions, among them light fittings, figural clock cases, and vases for the palaces of Saint-Cloud, the Trianons, the Tuileries, Compiègne, and Rambouillet. He supplied several Italian palaces, such as Monte Cavallo, Rome and Stupinigi near Turin.
In spite of his success, and due in part to his generous and lavish lifestyle, as well as to the failure of certain of his clients (such as the Prince Joseph Bonaparte) to pay what they owed, Galle often found himself in financial difficulty. Galle's business was continued by his son after his death by his son, Gérard-Jean Galle (1788-1846). Today his work may be found in the world's most important museums and collections, those mentioned above, as well as the Musée National du Château de Malmaison, the Musée Marmottan in Paris, the Museo de Reloges at Jerez de la Frontera, the Residenz in Munich, and the Victoria and Albert Museum in London.
Photo gallery