Jean-Simon Deverberie
(1764-1824)
Rare Gilt and Patinated Bronze Mantel Clock
"The American Indian"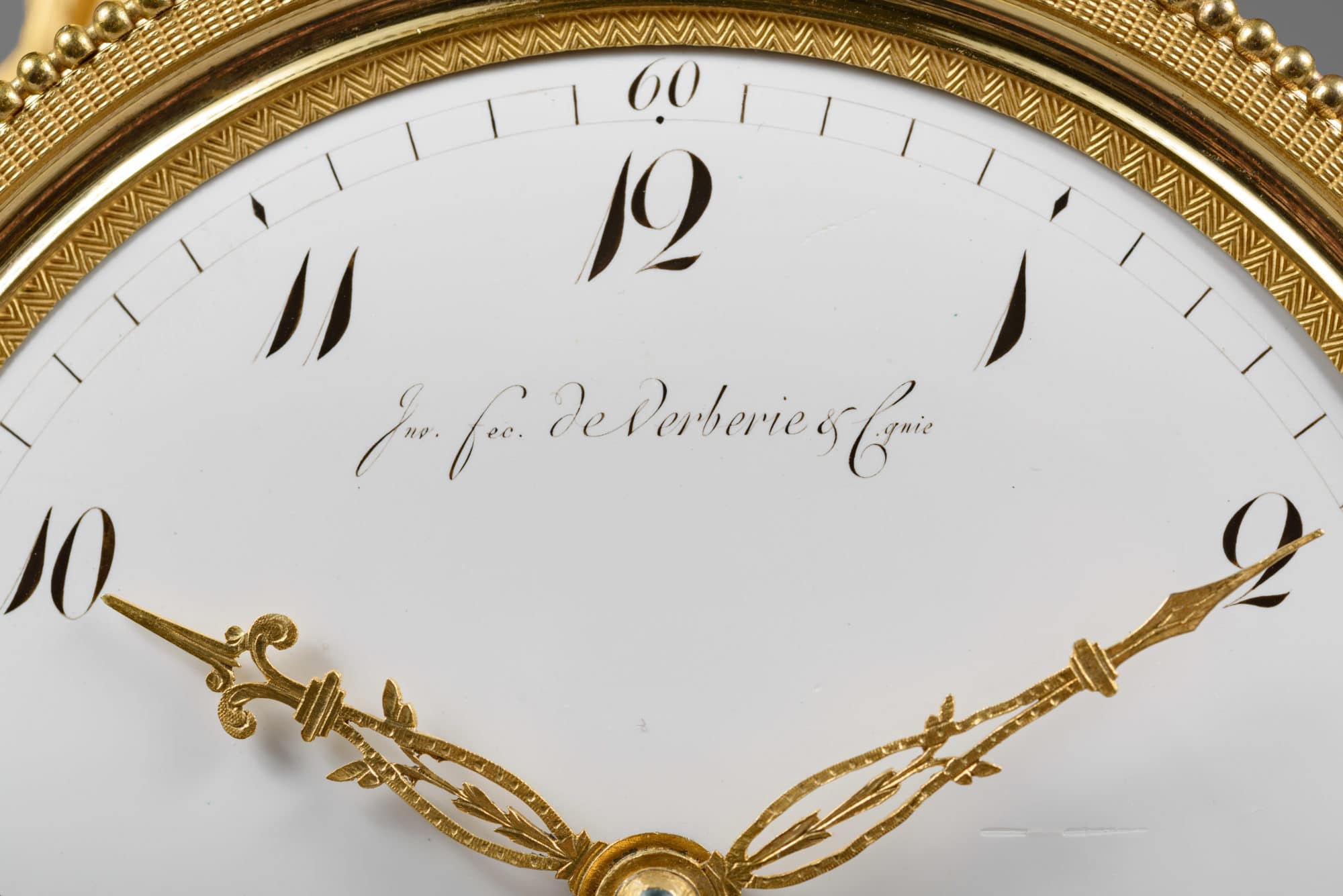 Dail signed "Inv. Fec. de Verberie & Cgnie/rue des fossés du Temple n°47/A Paris" by the bronzier Jean-Simon Deverberie
Paris, Empire period, circa 1812-1815
Height
59 cm
Width
41.5 cm
Depth
10 cm
The round enamel dial, signed "Inv. Fec. de Verberie & Cgnie/rue des fossés du Temple n°47/A Paris", indicates the Arabic numeral hours and fifteen-minute intervals by means of two pierced gilt bronze hands. The gilt and patinated bronze case is very finely chased. The bezel is adorned with stylized bead friezes. The clock is surmounted by a very fine female figure depicting a seated black huntress wearing a feather loincloth with a quiver containing feathered arrows slung across her chest. She is coiffed with a feather headdress and has naturalistic glass eyes. She is wearing jewelry including necklaces, ankle and arm bracelets and coral earrings. She holds a bow in her right hand and a lance in her left hand. Her left foot rests on the head of a snake whose tail is wrapped around a palm tree standing to the left. The figures are placed on an arch that is decorated with leaf motifs within reserves and features applied blue enamel pastilles that are decorated with star-shaped gold paillons. The arch rests upon four lion's paw feet and is supported by a quadrangular white marble base that is raised upon four flattened bun feet.
Discover our entire collection of antique mantel clocks for sale online or at the gallery.
Before the late 18th century, black figures were rarely used as a decorative theme in French and European horology. It was not until the end of the Ancien Regime, and more precisely, the final decade of the 18th century and early years of the following century, that the first  "au nègre" or "au sauvage" clocks were made. They made reference to a philosophical current that was conveyed by several important literary works, including Paul et Virginie by Bernardin de Saint-Pierre (published in 1787, it depicts the innocence of man), Atala by Chateaubriand, which restores the Christian ideal, and above all Daniel Defoe's masterpiece Robinson Crusoe, published in 1719. The original drawing of the present clock, known as "L'Amérique", was registered in the year VII by Jean-Simon Deverberie (1764-1824), one of the most important Parisian bronze caster-chasers of the late 18th century and the first two decades of the 19th century. His workshop was located in the rue Barbette in 1800, the rue du Temple in 1804, and the rue des Fossés du Temple from 1812 to 1820. The drawing appears in D. and P. Fléchon, "La pendule au nègre", in Bulletin de l'association nationale des collectionneurs et amateurs d'horlogerie ancienne, Spring 1992, n° 63, p. 32, photo n° 3.
Among the known similar clocks, two models stand on a high pedestal base. The first is in the Fondation Andrès de Ribera in Jerez de la Frontera (illustrated in Catalogo ilustrado del Museo de Relojes, 1982, p. 39). A second piece is in the Musée François Duesberg in Mons (illustrated in the exhibition catalogue "De noir et d'or, Pendules 'au bon sauvage'", Musées Royaux d'Art et d'Histoire, Brussels, 1993). Two other clocks exist, featuring figures that also stand upon arches – a very rare variation of the preceding model. The first is shown in E. Niehüser, Die französische Bronzeuhr, Eine Typologie der figürlichen Darstellungen, Munich, 1997, p. 237, fig. 809. The second features an arch that is also decorated with blue enamel pastilles with gold paillons (see P. Kjellberg, Encyclopédie de la pendule française du Moyen Age au XXe siècle, Paris, 1997, p. 352, fig. A).
Jean-Simon Deverberie (1764 - 1824)

Jean-Simon Deverberie was one of the most important Parisian bronziers of the late 18th century and the early decades of the following century.  Deverberie, who was married to Marie-Louise Veron, appears to have specialized at first in making clocks and candelabra that were adorned with exotic figures, and particularly African figures. Around 1800 he registered several preparatory designs for "au nègre" clocks, including the "Africa", "America", and "Indian Man and Woman" models (the drawings for which are today preserved in the Cabinet des Estampes in the Bibliothèque nationale in Paris). He opened a workshop in the rue Barbette around 1800, in the rue du Temple around 1804, and in the rue des Fossés du Temple between 1812 and 1820.
Photo gallery