Important Green Marble and Gilt and Patinated Bronze Mantel Clock with Matte and Burnished Finishing
"Jason and the Golden Fleece"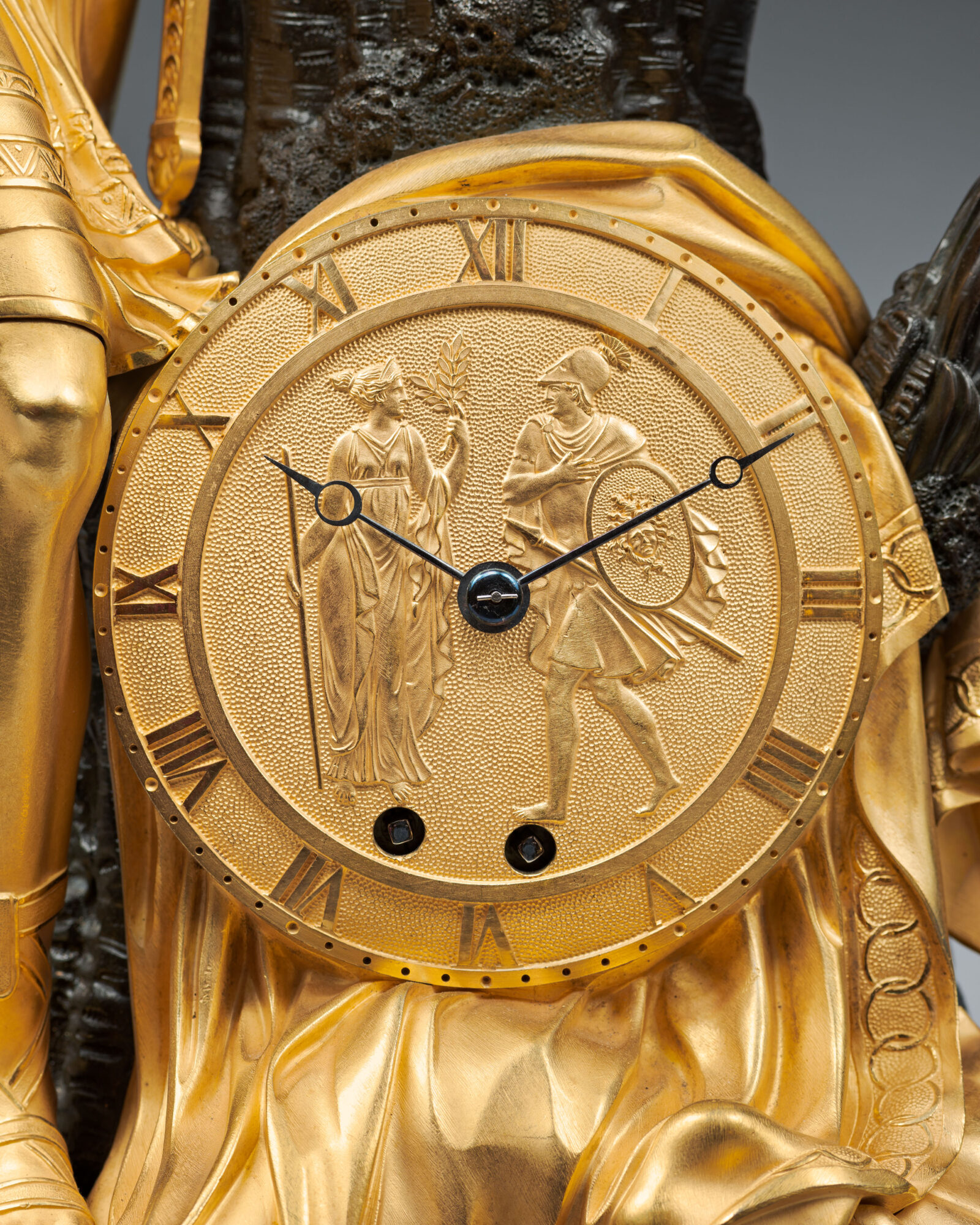 Attributed to the Workshop of Pierre-François and Lucien-François Feuchère
Paris, Empire period, circa 1805-1810
Height
63 cm
Width
42 cm
Depth
22 cm
The gilt bronze dial, in the form of a shield, has a matte chapter ring that indicates the Roman numeral hours and the minutes graduation along its outermost border; it is centered by a low relief group depiction of Athena and Hera. The hour and half hour striking movement is housed in a case that features a very finely chased and gilt mythological figure in gilt bronze, with patinated bronze elements, and matte and burnished finishing. Shown standing to the left of a tree, at the foot of which there is a large drapery and the body of the vanquished dragon, the magnificently sculpted male figure represents Jason, wearing sandals and a plumed helmet. The sheath of his knife is slung across his chest. He is brandishing a ram's skin – the Golden Fleece. The quadrangular green marble base stands on four lions' paw feet.
Discover our entire collection of antique mantel clocks for sale online or at the gallery.
Inspired by the tale, from Greek mythology, of the expedition of the Argonauts, this important mantel clock depicts the most famous episode of the story, in which Jason seizes the Golden Fleece after having killed the dragon that was guarding it. Our attribution of this model to the Feuchère workshop is based on the description of a clock of this type that is mentioned in the Feuchère sale of January 1829: "73. Clock with Jason stealing the Fleece, gilt and patinated, with case and movement". As of the time of its creation during the late Empire period, the model became immensely popular among important Parisian collectors of the day. Among the identical clocks known one example, which came from the Hôtel de Brienne, formerly the Parisian residence of Madame Mère, is on display in the Musée National des Châteaux de Malmaison and Bois-Préau (see B. Chevallier, Musée national des châteaux de Malmaison et Bois-Préau, RMN, Paris, 2006, p.120-121). A second is shown in P. Kjellberg, Encyclopédie de la pendule française du Moyen Age au XXe siècle, Les éditions de l'Amateur, Paris, 1997, p. 413). Two other clocks are in the Royal Spanish Collection (illustrated in J. Ramon de Carvajal, Catalogo de relojes del Patrimonio nacional, Editions Patrimonio Nacional, Madrid, 1987, pp. 186 and 239, catalogue n° 166 and 223).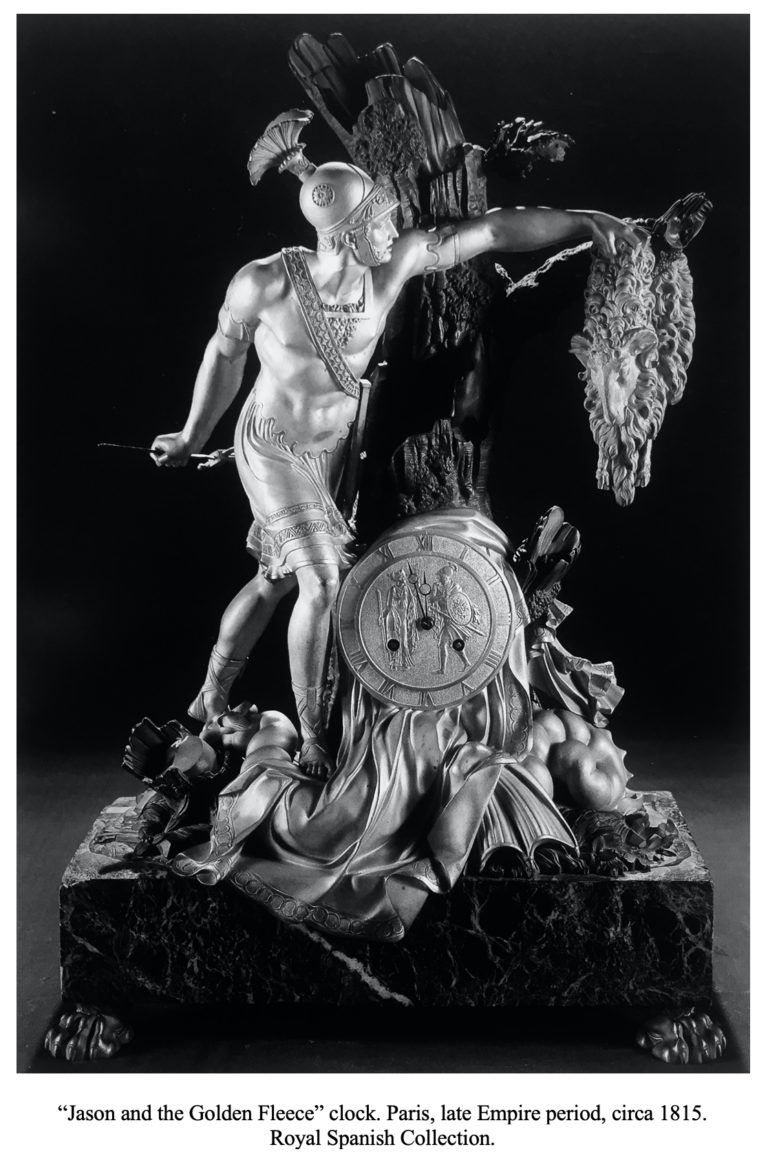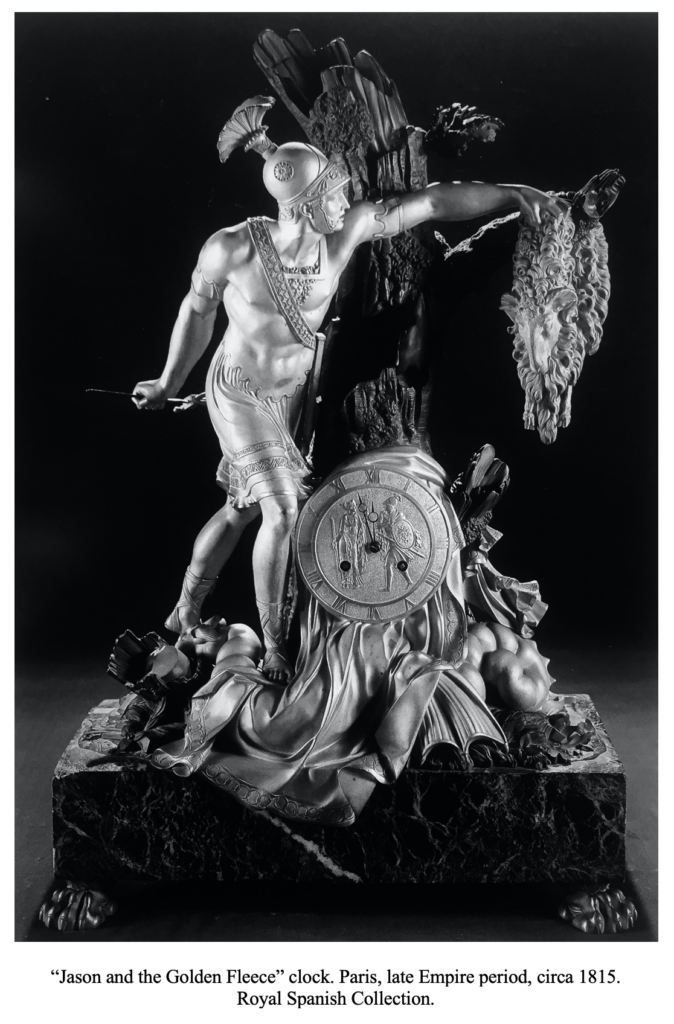 Feuchère

The Feuchère workshop, founded by the chaser-gilder Pierre-François Feuchère (1737-1823) was active as early as the reign of Louis XVI. During the first two decades of the 19th century it became the principle rival of the Parisian bronziers Pierre-Philippe Thomire, Claude Galle and André-Antoine Ravrio. Lucien-François, the son of Pierre-François (active 1780-1828), a master chaser, assisted his father and helped develop the workshop during the Empire period, creating remarkable pieces for a wealthy clientele in France and abroad, including influential German and Austrian aristocrats.
Photo gallery