Rare Gilt Bronze Clock, Homage to Louis XV, with Matte and Burnished Finishing
"The Three Graces"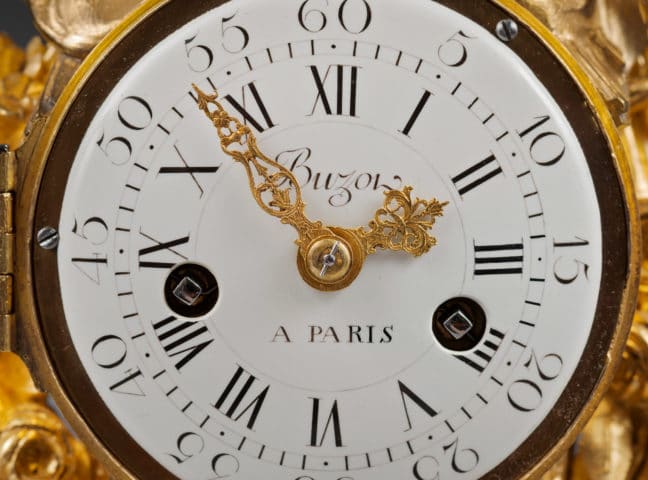 Paris, early Louis XVI period, circa 1775
The white enamel dial, signed "Buzot à Paris", indicates the Roman numeral hours and Arabic numeral five-minute intervals by means of two pierced gilt bronze hands. The hour and half-hour striking movement is housed in a finely chased matte gilt bronze case. The bezel is adorned with a frieze of interlacing motifs alternating with egg and cabochon motifs.  Surmounting the clock is a winged putto reclining on clouds with sunrays, which is holding a wreath above a medallion centered by the profile of King Louis XV against a matted ground. The mechanism is housed in an elongated vase with rudented fluting, which rests on a fluted column that is supported by three classically draped female figures holding rose garlands; they represent the Three Graces. The round base is adorned with a frieze of stylized leaves, grape vines and bunches of grapes, as well as a torus of laurel leaves and seeds; it is in turn supported on a quadrangular base.
A variation on a successful model from the late 1760s, created by the bronze caster François Vion, the present clock depicts the popular theme of the Three Graces, which is associated with the glory of the reigning king, in this case Louis XV. Today, a small number of clocks presenting the same composition are known, though some feature variations in the treatment of the bases and mechanisms. One example, whose movement is signed "Cronier", is illustrated in P. Kjellberg, Encyclopédie de la pendule française du Moyen Age à nos jours, Les éditions de l'Amateur, Paris, 1997, p. 257; fig. F. A second example was offered at auction when the collection of Léon Lowenstein was sold (sold Paris, Me Oudard, December 17, 1935, lot 119). A third, whose dial is signed "Merra à Paris", is illustrated in P. Heuer and K. Maurice, European Pendulum Clocks, Decorative Instruments of Measuring Time, Munich, 1988, p. 46, fig. 68. One further clock of this type, which features the initials of Czarina Catherine the Great of Russia, is in Catherine Palace in Tsarskoye Selo, today known as Pushkin.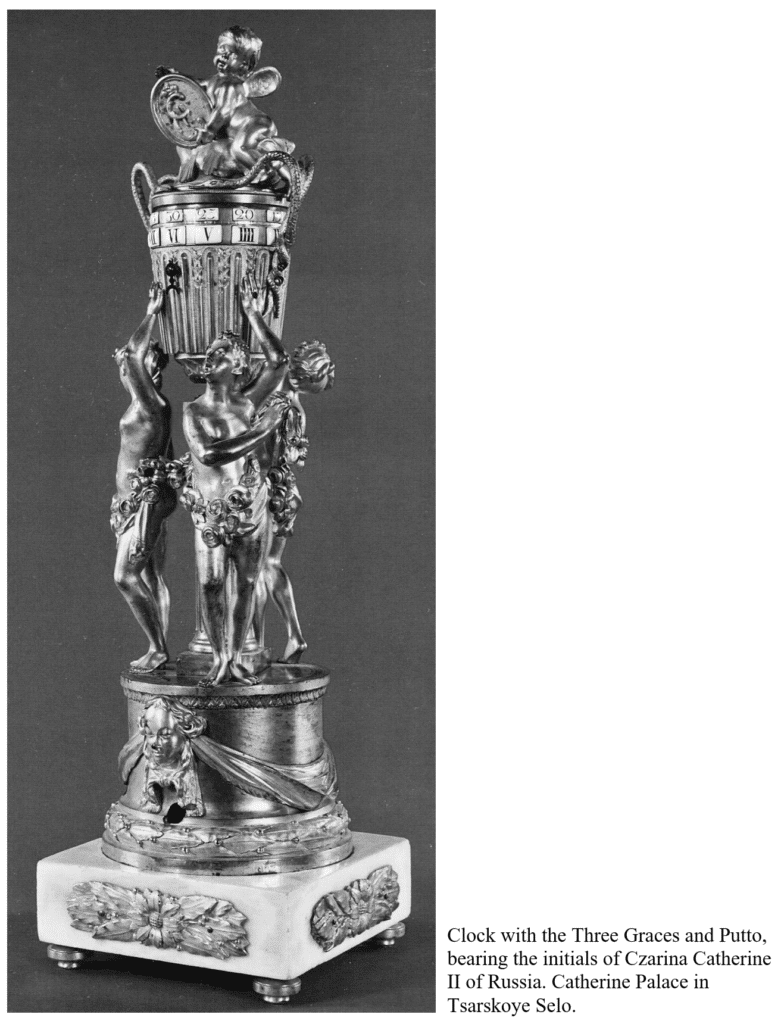 Joseph Buzot

Joseph Buzot, known as Buzot the elder, was one of the most important Parisian clockmakers of the second half of the 18th century. After becoming a master on August 21, 1770, he first opened a workshop in the Quai des Grands Augustins, then in the rue des Fossés Montmartre in 1772 and the rue des Petits Carreaux shortly before the Revolution. During the 18th century, some of his pieces were mentioned as being in the homes of important contemporary collectors. After the Revolution, a mantel garniture was returned to the heirs of the collector Nicolai; it was made of blue Chinese porcelain with finely chased gilt bronze mounts; its central piece was a clock.
Photo gallery