Jean-Joseph de Saint-Germain
(1719-1791)
Rare Gilt Bronze Neoclassical Mantel Clock with Matte and Burnished Finishing
"Urania" or "Allegory of Astronomy"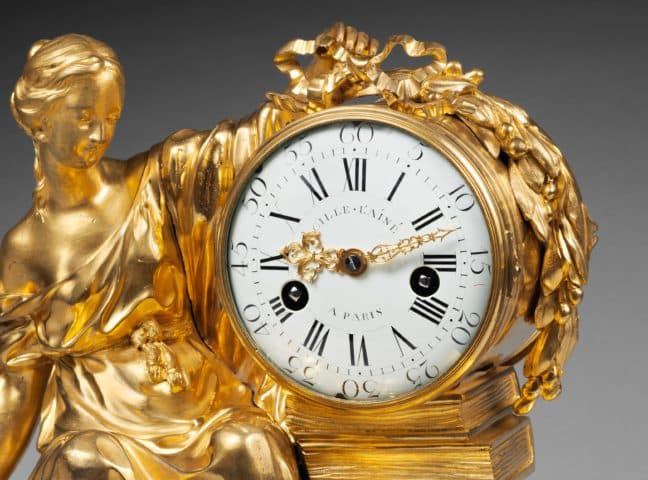 Pierre II Gille, known as "Gille l'Aîné" (1723-1784)
The model attributed to the bronze caster Jean-Joseph de Saint-Germain and probably made for cabinetmaker Antoine Foullet (d. in 1775)
Paris, Transition period between Louis XV-Louis XVI, circa 1765
Height
33.5 cm
Width
38 cm
Depth
17.5 cm
The round white enamel dial, signed "Gille l'aîné à Paris", indicates the Roman numeral hours and Arabic numeral five-minute intervals by means of two pierced gilt bronze hands. The hour and half hour-striking movement is housed in a drum case that rests on a quadrangular gilt bronze base that is decorated with a wave frieze. An allegorical female figure is seated to the side. She is lightly clad in a toga, her hair is coiffed in a bun, and in her left hand she holds a loop of the bow that surmounts the clock while in the other hand she is holding a telescope. At her feet lie a starry globe, a set square, a compass and a rolled parchment, all accessories required for the study of Astronomy. The quadrangular base with shaped border is decorated with a curved band with C-scrolls and reserves on a matted ground that is adorned with rosettes.
Although it bears no signature, this magnificent mantel clock was made in the early 1760s by the bronze caster Jean-Joseph de Saint-Germain. Saint-Germain created the model for the cabinetmaker Antoine Foullet, who could not be directly involved in the making of bronze pieces due to the strict rules that governed the guilds of Parisian artisans at the time. However, though he could not produce bronze pieces, he could sell them. The present model, of which only a small number of examples were produced, was extremely successful among influential Parisian connoisseurs of fine and luxury horology at the time.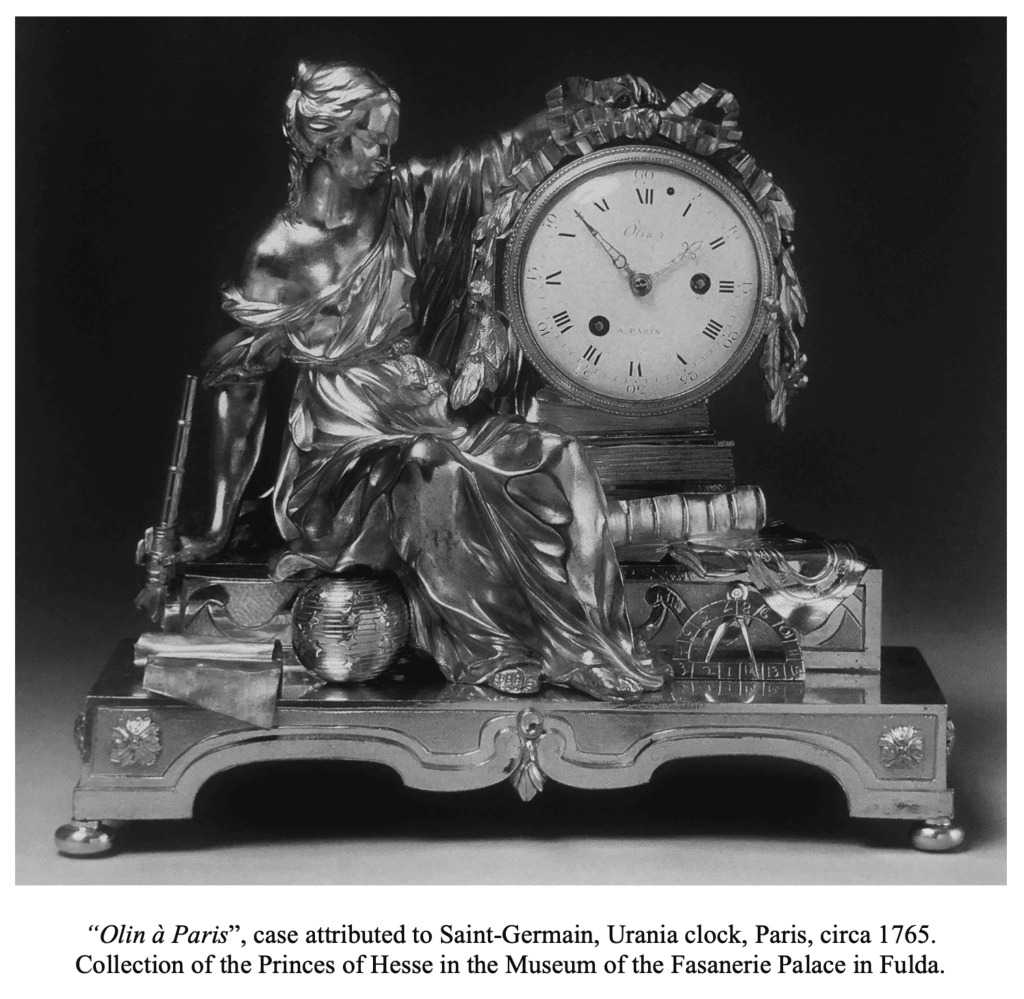 Today only a few similar clocks are known; their designs feature certain variations. Among them, one example, whose dial is by Delaruelle and whose bronze mounts are signed Saint-Germain, is illustrated in J-D. Augarde, Les ouvriers du Temps, Genève, 1996, p. 305. A second clock, whose dial is signed "Janvier à Paris", is in the Calouste Gulbenkian Museum in Lisbon (illustrated in H. Ottomeyer and P. Pröschel, Vergoldete Bronzen, Die Bronzearbeiten des Spätbarock und Klassizismus, Band I, Munich, 1986, p. 162, fig. 3.3.7). A third example, whose dial is signed "Jean-Charles Olin", is in the collection of the Princes of Hesse in the Fasanerie Palace in Fulda (illustrated in Gehäuse der Zeit, Uhren aus fünf Jahrhunderten im Besitz der Hessischen Hausstiftung, Eichenzell, 2002, p. 60-61, catalogue n° 19). One further clock of this type is on display in the Yellow Salon in the Musée Carnavalet in Paris (see A. Forray-Carlier, Le mobilier du musée Carnavalet, Editions Faton, Dijon, 2000, p. 3).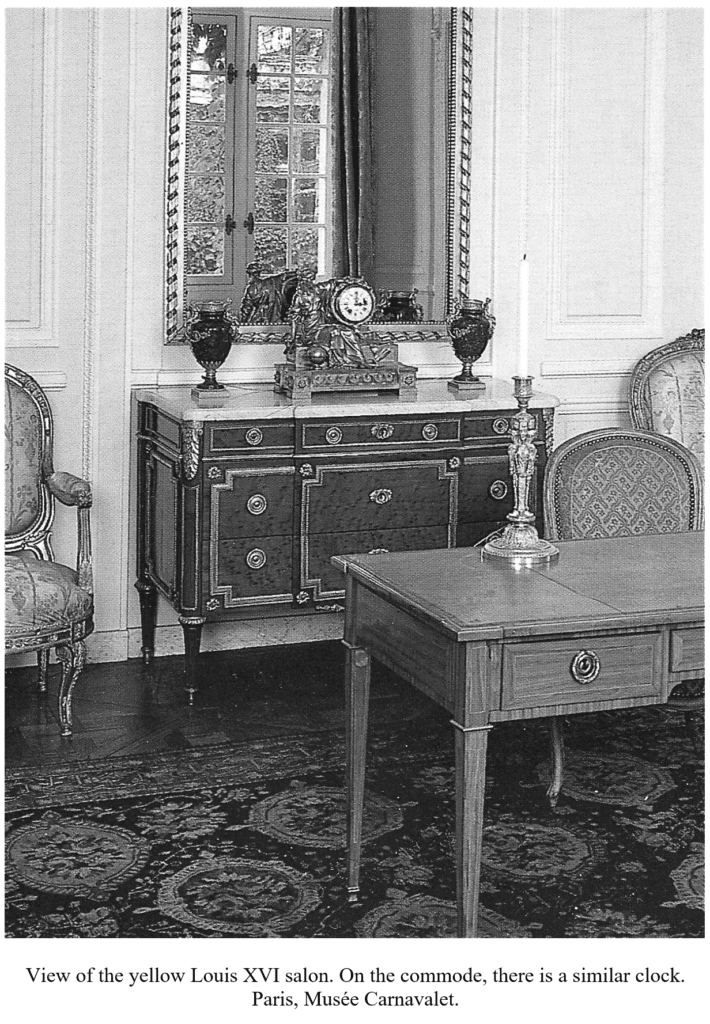 Pierre II Gille

As of 1765, the signature "Gille l'Aîné à Paris" was that of the clockmaker Pierre II Gille.  After becoming a master on 18 November 1746 as the son of a master, he opened a workshop in the rue Saint-Martin, then the rue Saint-Denis and the rue aux Ours. At the beginning of his career he worked with his father, then he opened his own workshop and immediately encountered great success among influential collectors. Among his clients were the Marquis de Brunoy, the Prince Charles of Lorraine, the powerful Farmer General Perrinet de Jars, and the Duke de Gramont.
Jean-Joseph de Saint-Germain (1719 - 1791)

He was probably the most renowned Parisian of the mid 18th century. Active as of 1742, he did become a master craftsman until July 1748. He became famous for his many clock and cartel cases, such as his Diana the Huntress (an example is in the Louvre Museum), the clock supported by two Chinamen (a similar example is in the Musée des Arts décoratifs in Lyon), as well as several clocks based on animal themes, including elephant and rhinoceros clocks (an example in the Louvre Museum). In the early 1760's he played an important role in the renewal of the French decorative arts and the development of the Neo-classical style, an important example of which may be seen in his Genius of Denmark clock, made for Frederic V and based on a model by Augustin Pajou (1765, in the Amalienborg Palace, Copenhagen). Saint-Germain also made several clocks inspired by the theme of Learning, or Study, based on a model by Louis-Félix de La Rue (examples in the Louvre Museum, the Gulbenkian Foundation, Lisbon, and the Metropolitan Museum in New York). Along with his clock cases, Saint-Germain also made bronze furniture mounts, such as fire dogs, wall lights, and candelabra. His entire body of work bears witness to his remarkable skills as a chaser and bronzeworker, as well as to his extraordinary creativity. He retired in 1776.
Photo gallery