Gilbert-Honoré Chaumont
(1790-1868)
Monumental Gilt Bronze and Montcenis Crystal 36-Light Chandelier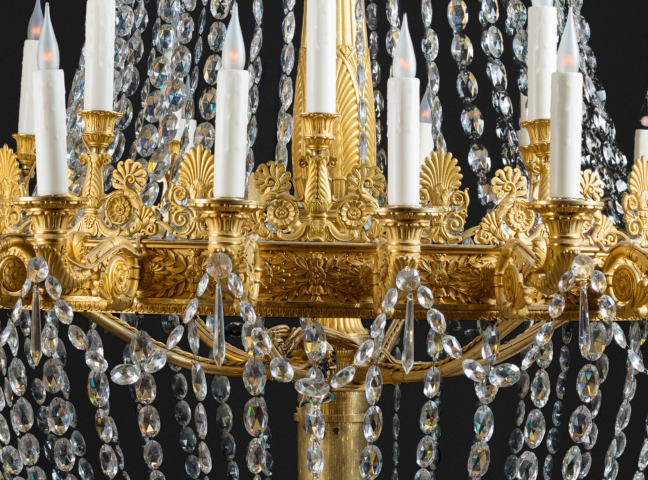 Attributed to Gilbert-Honoré Chaumont
Paris, Empire period, circa 1820
Height
195 cm
Diamètre
120 cm
The corbeille-form chandelier's thirty-six lights are arranged in two tiers. Twenty-four candle arms are modelled as cornucopiae that terminate in rosette scrolls fixed directly to the outside of the finely chased and gilt bronze lower ring, the other twelve arms are placed on the upperportion of the ring. Alternating palmette and leaf motifs punctuate the composition. An intermediate ring is adorned with stylised friezes and motifs; the third and uppermost ring is surmounted by stylised palmettes. The central finely chased gilt bronze baluster stem has a pinecone finial; it is strung with elements of faceted Montcenis crystal.
In the mid 1830's Gilbert-Honoré Chaumont delivered a group of twelve similar sixteen-light chandeliers to the royal Garde-Meuble; they are today in the collection of the Mobilier national in Paris (see M-F. Dupuy-Baylet, L'Heure, Le Feu, La Lumière, Les bronzes du Mobilier national 1800-1870, Dijon, 2010, p. 277, catalogue n° 151).
Gilbert-Honoré Chaumont (1790 - 1868)

The son of chandelier maker Jean-François Chaumont, who himself was the son of a Parisian bronze caster, Gilbert-Honoré Chaumont probably took over the family workshop around 1820. He maintained close commercial ties with the Royal Furniture Depository, which allowed him to receive important commissions for royal palaces and castles. In 1838, he went into partnership with Louis-Auguste Marquis, continuing to supply bronze furnishings, mostly ceremonial lighting instruments, during the July Monarchy (see M-F. Dupuy-Baylet, L'Heure, Le Feu, La Lumière, Les bronzes du Mobilier national, Editions Faton, Dijon, 2010, p. 254 and 277). Chaumont was the creator of a type of firedog that featured winged putti riding dolphins, a pair of which may be seen in the Henri II Gallery in Fontainebleau Palace. He also created a second pair of firedogs that depict children fighting with chimeras, one example of which is in the Grand Trianon in the gardens of the Château of Versailles. In partnership with Louis-Auguste Marquis, he delivered a spectacular gilt bronze and enamel chandelier to the Garde-Meuble, which is today on display in the Reception Room of the Musée National in Pau Palace.
Photo gallery