François Viger
(circa 1708-1784)
Robert Osmond
(1711-1789)
Important Chased Gilt Bronze Rocaille Cartel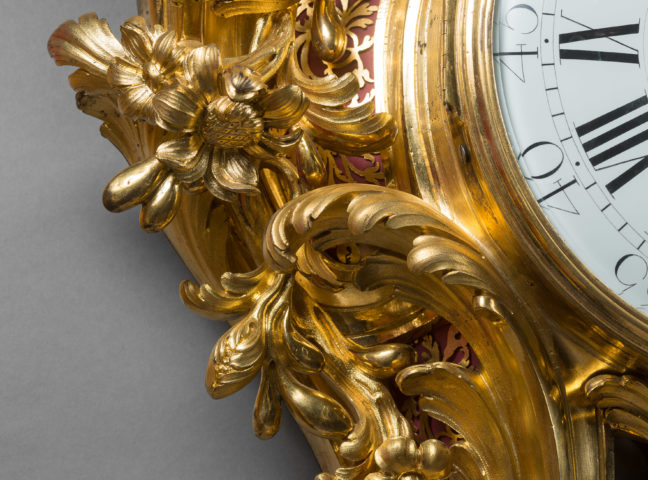 Case Attributed to Robert Osmond
Paris, Louis XV period, circa 1755
The enamel dial, signed Viger à Paris, indicates the hours in Roman numerals and the minutes in Arabic numerals; the gilt bronze waisted case with scrolling, palms and palmettes, shells, leaves, flowering branches and ribbons. The composition and the remarkable quality of the casting, chasing and gilding, all bear witness to the exceptional talent of the bronzier Robert Osmond (1711-1789), who created the model in the mid 18th century.
The case's attribution to Osmond was determined by comparison with an identical example in a private collection, that bears his signature; it is illustrated in R. de l'Espée, Die Osmond, ein Familienbetrieb und seine Produktion, in H. Ottomeyer and P. Pröschel, Vergoldete Bronzen, Band II, Munich, 1986, p. 542, fig. 2. A sketch of cartels made in Paris by the bronziers Foullet and Osmond show a comparable model; this drawing is today in the Institut national d'Histoire de l'Art à Paris, formerly the Bibliothèque Doucet (see H. Ottomeyer and P. Pröschel, op. cit., Band I, Munich, 1986, p. 184, fig. 3.8.8). A few other examples have been identified, particularly one whose dial is signed Moisy à Paris, and which was bequeathed in 1911 to the Louvre Museum by Count Isaac de Camondo (illustrated in D. Alcouffe, A. Dion-Tenebaum and G. Mabille, Les bronzes d'ameublement du musée du Louvre, Editions Faton, Dijon, 2004, p. 84, catalogue n° 36); another clock, with dial signed Julien Leroy à Paris, was formerly in the collection of Prince Paul of Yougoslavia (1893-1976) in the Pratolino-Demidoff Villa in Vaglia, near Florence (sold by Sotheby's, London, on April 21-24, 1969, lot 219).
François Viger (circa 1708 - 1784)

An 18th century Parisian clockmaker. Exercising independently at first, he became a master in August 1744 and opened a workshop in the rue Saint-Denis. As Jean-Dominique Augarde aptly states: "the pieces made in his workshop are of exceptional quality". (Les ouvriers du Temps, Genève, 1996, p. 405). Viger ordered his clock cases from the best bronziers and cabinetmakers of the day, collaborating with such fine artisans as Jean-Joseph de Saint-Germain, Antoine Foullet, and Jean-Baptiste Osmond. His work may be found today in important museums and private collections worldwide, including the Basel Historisches Museum de Bâle, the Wallace Collection in London, the Louvre in Paris, the Hermitage in Saint Petersburg and the Liazenski Palace in Warsaw.
Robert Osmond (1711 - 1789)

French bronze-caster Robert Osmond was born in Canisy, near Saint-Lô; he began his apprenticeship in the workshop of Louis Regnard, maître fondeur en terre et en sable, and became a master bronzier in Paris in 1746. He is recorded as working in the rue des Canettes in the St. Sulpice parish, moving to the rue de Mâcon in 1761. Robert Osmond became a juré, thus gaining a certain degree of protection of his creative rights. In 1753, he sent for his nephew in Normandy, and in 1761, the workshop, which by that time had grown considerably, moved to the rue de Macon. The nephew, Jean-Baptiste Osmond (1742-after 1790) became a master in 1764 and as of that date worked closely with his uncle, to such a degree that it is difficult to differentiate between the contributions of each. Robert appears to have retired around 1775. Jean-Baptiste, who remained in charge of the workshop after the retirement of his uncle, encountered difficulties and went bankrupt in 1784. Robert Osmond died in 1789.
Prolific bronze casters and chasers, the Osmonds worked with equal success in both the Louis XV and the Neo-classical styles. Prized by connoisseurs of the period, their work was distributed by clockmakers and marchands-merciers. Although they made all types of furnishing objects, including fire dogs, wall lights and inkstands, the only extant works by them are clocks, including one depicting the Rape of Europe (Getty Museum, California) in the Louis XV style and two important Neo-classical forms, of which there are several examples, as well as a vase with lions' heads (Musée Condé, Chantilly and the Cleveland Museum of Art) and a cartel-clock with chased ribbons (examples in the Stockholm Nationalmuseum; Paris, Nissim de Camondo Museum). A remarkable clock decorated with a globe, cupids and a Sèvres porcelain plaque (Paris, Louvre) is another of their notable works.
Specialising at first in the rocaille style, in the early 1760's they turned to the new Neo-classical style and soon numbered among its greatest practitioners. They furnished cases to the best clockmakers of the period, such as Montjoye, for whom they made cases for cartonnier and column clocks, the column being one of the favourite motifs of the Osmond workshop.
Photo gallery