François Viger
(circa 1708-1784)
Rare Gilt Bronze Traveling Clock with Alarm and Repeat, with Matte and Burnished Finishing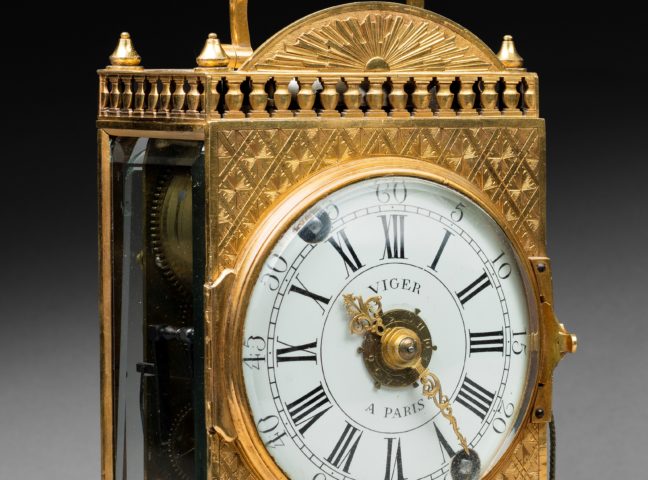 Paris, Transition period between Louis XV-Louis XVI, circa 1765-1770
Pendulette :
Height
21.3
Width
11.3
Depth
8.5
Coffret :
Height
23.5
Width
13.5
Depth
11.5
The round white enamel dial, signed "Viger à Paris", indicates the Roman numeral hours and Arabic numeral five-minute intervals by means of two chased gilt bronze hands. There is a central ring for setting the alarm. The movement, whose plate is also signed "Viger à paris", strikes the hours, half hours and quarters. The case, which is glazed on three sides, is made of finely chased and engraved gilt bronze with matte and burnished finishing. An aperture below the dial allows the movement of the pendulum to be viewed. The plate adorning the façade, which is surmounted by a rounded pediment that features a sunburst motif and a balustrade, and the one on the top of the clock, which is centered by a pewter bell, are decorated with four corner finials; there is a hinged, curved handle decorated with cross-hatching centered by four-leaf clovers. The clock is raised upon four molded feet and is accompanied by its original hinged leather carrying case that also has a hinged brass handle.
This type of small traveling clocks, also called "officers' clocks", was greatly appreciated by lovers of precision horology beginning in the mid-18th century. Rivaling with pocket watches, they allowed their owners to determine the time in all places and circumstances. Among the comparable known examples, one, whose dial is signed "Robin", is illustrated in Tardy, La pendule française dans le monde, Paris, 1994; p. 120. A second clock, by Lepaute, is on display in the Salon Murat in the Elysée Palace, the residence of the French President (see M. Gay, "Du Pont d'Iéna à l'Elysée", in Bulletin ANCAHA, summer 1993, n° 67, p. 13; fig. 11). Two other identical traveling clocks are known. The first, whose dial is signed by Jean-Baptiste Dutertre and whose upper portion features a decorative balustrade, was offered at auction in Paris in 1980 (see Jean G. Laviolette, "L'horlogerie de Paris", in Bulletin ANCAHA, Spring 1981, n° 30, p. 58, fig. 8); the second, also signed "Jean-Baptiste Dutertre", was previously in the Perez de Olaguer-Feliu horological collection in Barcelona (illustrated in Luis Monreal y Tejada, Relojes antiguos (1500-1850), Coleccion F. Perez de Olaguer-Feliu, Barcelona, 1955, plate LXII, catalogue n° 91).
François Viger (circa 1708 - 1784)

An 18th century Parisian clockmaker. Exercising independently at first, he became a master in August 1744 and opened a workshop in the rue Saint-Denis. As Jean-Dominique Augarde aptly states: "the pieces made in his workshop are of exceptional quality". (Les ouvriers du Temps, Genève, 1996, p. 405). Viger ordered his clock cases from the best bronziers and cabinetmakers of the day, collaborating with such fine artisans as Jean-Joseph de Saint-Germain, Antoine Foullet, and Jean-Baptiste Osmond. His work may be found today in important museums and private collections worldwide, including the Basel Historisches Museum de Bâle, the Wallace Collection in London, the Louvre in Paris, the Hermitage in Saint Petersburg and the Liazenski Palace in Warsaw.
Photo gallery