François Vion
(circa 1737-after 1790)
Important Gilt Bronze Wall Cartel with Matte and Burnished Finishing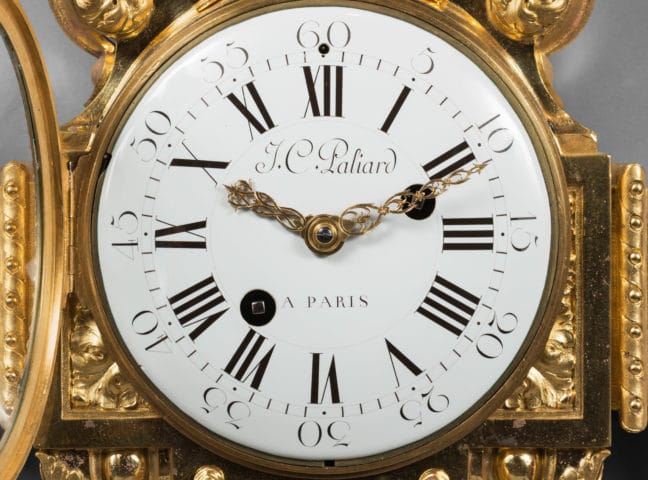 Case Attributed to François Vion
Paris, early Louis XVI period, circa 1775
The round white enamel dial, signed "J.C. Paliard A Paris", indicates the Roman numeral hours and the five-minute Arabic numeral intervals by means of two pierced and engraved gilt bronze hands. The hour- and half hour-striking movement is housed in a magnificent neoclassical case made of finely chased gilt bronze with matte and burnished finishing. Surmounting the clock is a Greek-style urn that is adorned with a laurel torus and fluted reserves. Its four console legs terminate in scrolls; the handles are in the form of rams' heads, and the gadrooned cover has a seed finial. The urn rests on an entablature with a curved pediment that is embellished with rosettes and a ribbon suspended from a ring; it is flanked by decorative leaf motifs. The sides of the case are adorned with quadrangular panels with interlace motifs that are centered by egg and dart motifs to which are attached two large spiral rosettes; from these are suspended garlands of leaves and laurel seeds. Below, the clock is adorned with egg and dart motifs, ribbon-tied reeds, acanthus leaves and other motifs. The clock's lower portion is shaped as a large console with double scrolls, which is adorned with a band of stylized waterleaves and terminates in an acanthus leaf bouquet.
The remarkable architecturally inspired composition of the present important wall cartel was influenced by certain sketches by French designers of the second half of the 18th century. These designers sought to completely revolutionize the decorative schemes and motifs of the Parisian decorative arts, freely adapting their work from antique models, including Greek and Roman examples. This novel "neoclassical" style, based on the arts of antiquity, was that adopted by some of the greatest masterpieces of the French and European decorative arts.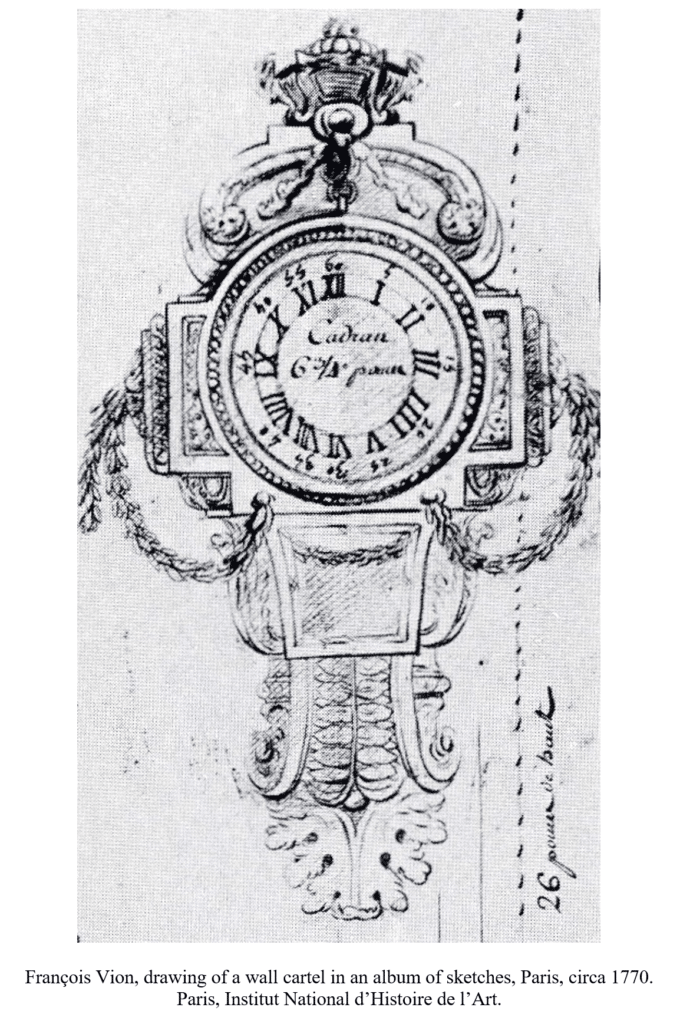 The present cartel was created within that particular context. The exceptional quality of its chasing and gilding attest to the great skill of François Vion, the bronze caster who created the model during the early years of the reign of Louis XVI. Although Vion did not sign the bronzes of the present clock, a preparatory drawing of the cartel in an album of drawings now in the Paris Institut National d'Histoire de l'Art states that François Vion sold the model for the  (then considerable) sum of 376 livres (see H. Ottomeyer and P. Pröschel, Vergoldete Bronzen, Die Bronzearbeiten des Spätbarock und Klassizismus, Band I Munich, 1986, p. 179, fig. 3.7.4).
Jean-Claude Paliard

Jean-Claude Paliard was a Parisian clockmaker who became a master in 1776.
François Vion (circa 1737 - after 1790)

One of the most important Parisian bronze casters of the second half of the 18th century. Having become a master bronze caster in 1764, he was a rival of the Osmonds and Jean-Joseph de Saint-Germain. He specialized in creating clock cases, several of which bear his signature, particularly those known as "Venus and Love" and "Love and the Three Graces".
Photo gallery