Robert Osmond
(1711-1789)
Rare Finely Chased Gilt Bronze Neoclassical Cartel "aux espagnolettes"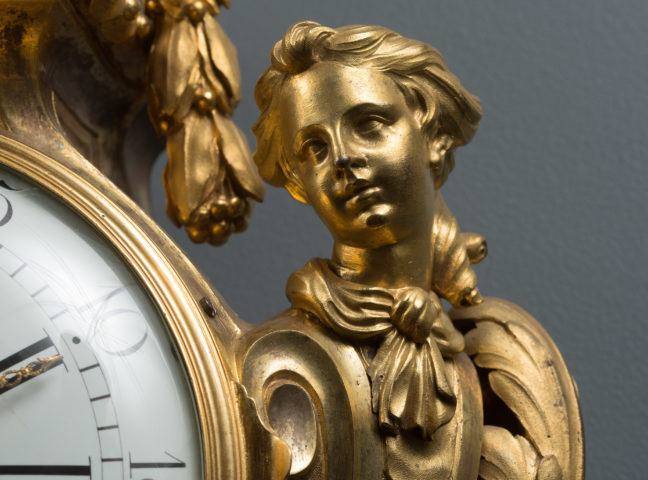 Case Attributed to Robert Osmond
Paris, early Louis XVI period, circa 1775-1780
Height
67
Width
30
Depth
14.5
Provenance:
Probably from the collection of Jacques de Choiseul, Count of Stainville (1727-1789); two cartels made by Duval are mentioned in a June 1789 inventory of his collection: "n° 216. A clock bearing the name Frédéric Duval in a gilt copper case, 60 livres" and "n° 263. A clock bearing the name Ferdinand (sic, for Frédéric) Duval in a chased and gilt bronze case …100 livres" (Archives Nationales, Etude CXIII, June 16, 1789).
The enamel dial, signed Frédéric Duval à Paris, indicates the hours in Roman numerals and the minutes in Arabic numerals; it is set in a finely chased, waisted gilt bronze case, whose remarkable quality allows its attribution to the bronzier Robert Osmond, one of the finest Parisian casters of the time. The composition is punctuated by rosettes and interlacing motifs; at the summit an antique urn with pinecone finial is decorated with hanging laurel swags. The lower portion, made up of large acanthus leaves, terminates in an oak-leaf bouquet. The dial is framed by scrolling and piaster motifs, which terminating in female busts of the type called espagnolettes.
This elegant cartel is of a type much appreciated by Parisian connoisseurs in the early part of Louis XVI's reign. Among the rare comparable examples known, one with a dial signed Courvoisier is illustrated in P. Heuer-Klaus Maurice, European Pendulum Clocks, 1988, p. 40, fig. 54; a second, with a dial signed Gille l'aîné, is illustrated in G. and A. Wannenes, Les plus belles pendules françaises, de Louis XIV à l'Empire, Florence, 2013, p. 182; a third, by Charles Leroy, is illustrated in Henriot, Bronzes et bois sculptés des collections privées, planche 6. One last such cartel with a dial signed Javelot, is in the collections of the Musée des Arts décoratifs à Paris (see Bulletin de l'association nationale des collectionneurs et amateurs d'horlogerie ancienne, n° 61, summer 1991, p. 34, fig. 16).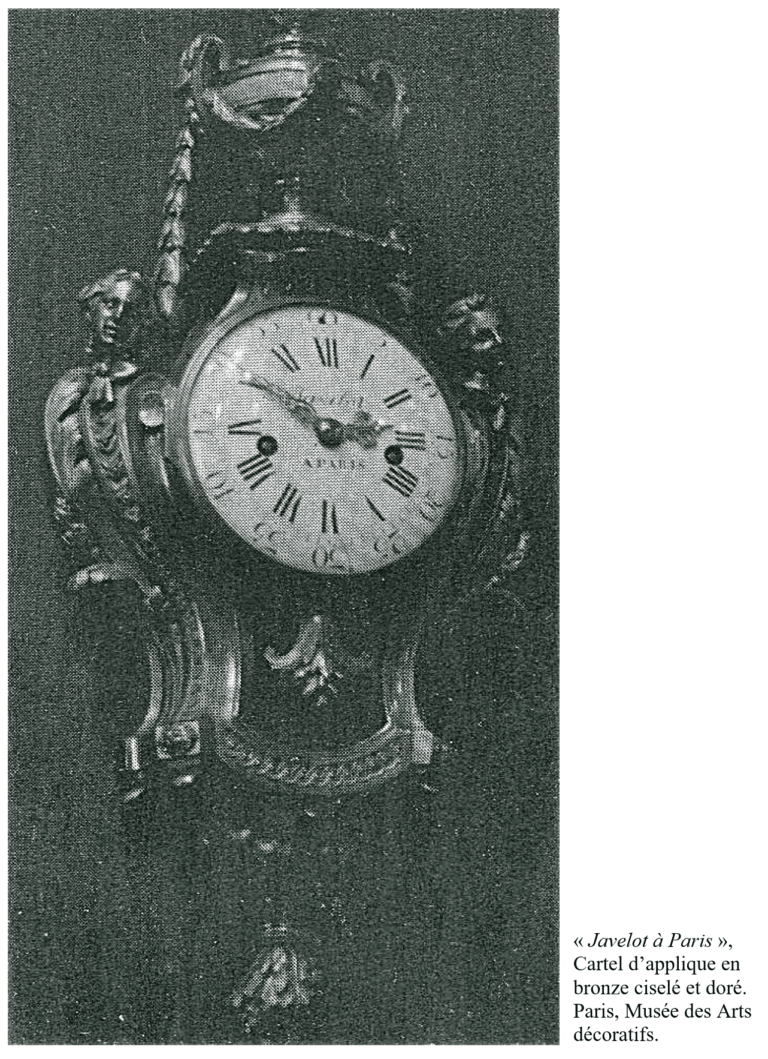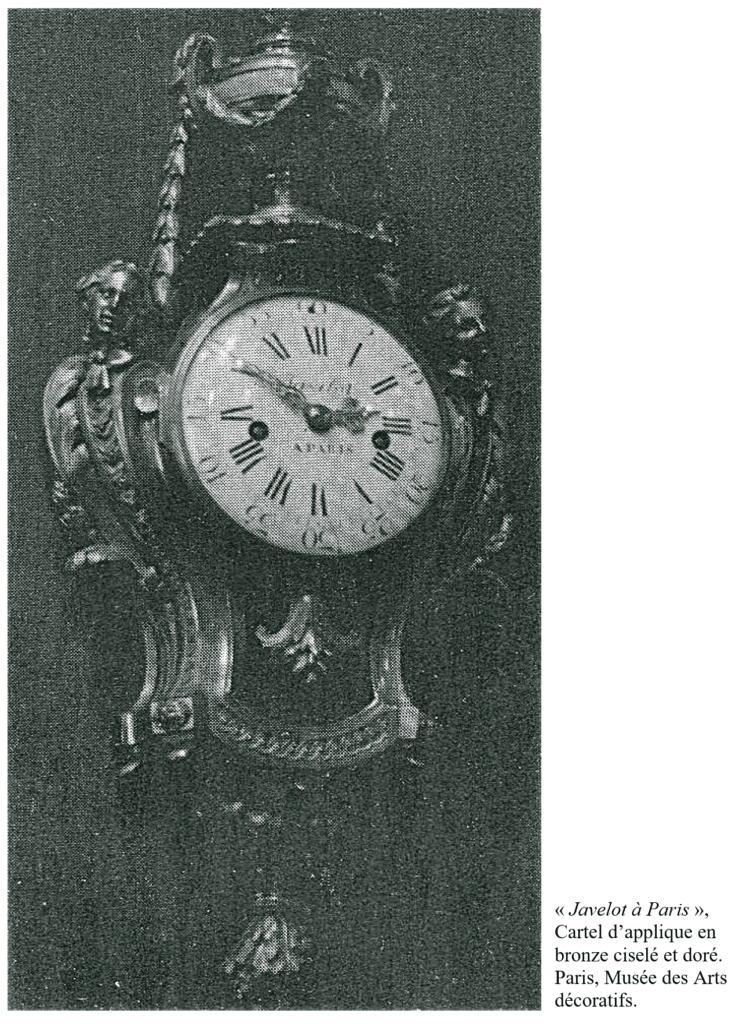 Frédéric Duval

Frédéric Duval trained in the workshop of François Béliard, then worked as an ouvrier libre for approximately a decade. Mentioned successively in the rue Mazarine in 1778 and the rue Jacob in 1781, he favoured cases made by the great bronziers of the day, including Saint-Germain, Morlay, Poisson, and Osmond. He appears to have ceased his activity toward the mid 1780's. The Duke de Choiseul, a connoisseur of fine horology, was probably one of his most important clients.
Robert Osmond (1711 - 1789)

French bronze-caster Robert Osmond was born in Canisy, near Saint-Lô; he began his apprenticeship in the workshop of Louis Regnard, maître fondeur en terre et en sable, and became a master bronzier in Paris in 1746. He is recorded as working in the rue des Canettes in the St. Sulpice parish, moving to the rue de Mâcon in 1761. Robert Osmond became a juré, thus gaining a certain degree of protection of his creative rights. In 1753, he sent for his nephew in Normandy, and in 1761, the workshop, which by that time had grown considerably, moved to the rue de Macon. The nephew, Jean-Baptiste Osmond (1742-after 1790) became a master in 1764 and as of that date worked closely with his uncle, to such a degree that it is difficult to differentiate between the contributions of each. Robert appears to have retired around 1775. Jean-Baptiste, who remained in charge of the workshop after the retirement of his uncle, encountered difficulties and went bankrupt in 1784. Robert Osmond died in 1789.
Prolific bronze casters and chasers, the Osmonds worked with equal success in both the Louis XV and the Neo-classical styles. Prized by connoisseurs of the period, their work was distributed by clockmakers and marchands-merciers. Although they made all types of furnishing objects, including fire dogs, wall lights and inkstands, the only extant works by them are clocks, including one depicting the Rape of Europe (Getty Museum, California) in the Louis XV style and two important Neo-classical forms, of which there are several examples, as well as a vase with lions' heads (Musée Condé, Chantilly and the Cleveland Museum of Art) and a cartel-clock with chased ribbons (examples in the Stockholm Nationalmuseum; Paris, Nissim de Camondo Museum). A remarkable clock decorated with a globe, cupids and a Sèvres porcelain plaque (Paris, Louvre) is another of their notable works.
Specialising at first in the rocaille style, in the early 1760's they turned to the new Neo-classical style and soon numbered among its greatest practitioners. They furnished cases to the best clockmakers of the period, such as Montjoye, for whom they made cases for cartonnier and column clocks, the column being one of the favourite motifs of the Osmond workshop.
Photo gallery