Gérard-Jean Galle
(1788-1846)
Important Pair of Six-Light Candelabra in Portor Marble and Patinated and Gilt Bronze with Matte and Burnished Finishing
"Mars and Minerva" or "An Allegory of War"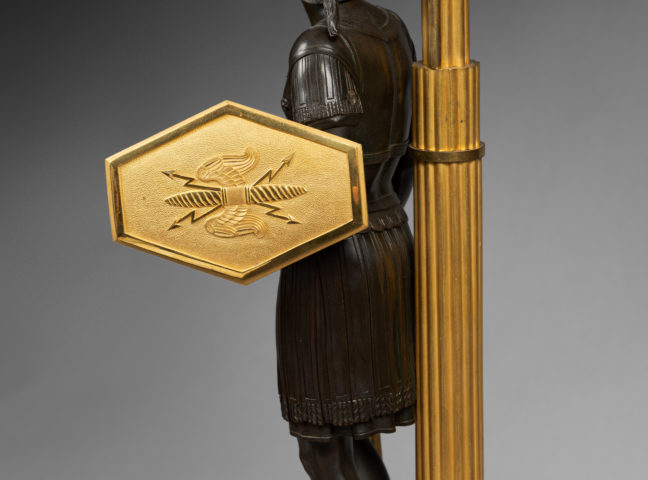 Attributed to Gérard-Jean Galle
Paris, Empire/Restauration period, circa 1815
Height
90 cm
Width
15 cm
Depth
15 cm
Made entirely of finely chased, patinated and gilt bronze with matte and burnished finishing and portor marble, the candelabra feature stems in the form of a lictor's fasces flanked by axes that terminate in a tied ribbon that holds two crossed flags and a conical element forming the socket. Two wreaths adorned with flowers decorate the five light branches in the form of hunting horns that are adorned with oak leaves and knops; they terminate in binets that are adorned with leaf friezes that support the sockets. The lictor's fasces are set on quadrangular terraces on which stand two warrior figures that are facing each other. One represents a helmeted Minerva who is holding a lance and a laurel branch; the other depicts Mars, the god of war, who is holding his shield and sword. The façades of the bases are decorated with applied motifs depicting trophies of weapons including shields, swords, axes and lances. On the sides, there are ribbon-tied laurel wreaths that are centered by Imperial eagles with outstretched wings that are perched on stylized thunderbolts. Square plinths adorned with heart leaf friezes support the composition.
The present important pair of candelabra, which is attributed to Gérard-Jean Galle, is a perfect illustration of Napoleon's desire to make the Parisian decorative arts a continuation of ancient Roman art, with its war-centered themes. Among the small number of comparable candelabra adorned with warrior figures that are today known to exist, one should mention an example that is illustrated in G. and R. Wannenes, Les bronzes ornementaux et les objets montes de Louis XIV à Napoléon III, Edition Vausor, Milan, 2004, p. 386. A second example is now in the Paris Musée des Arts décoratifs (see illustration in L'aigle et le papillon, Symboles des pouvoirs sous Napoléon, under the direction of Odile Nouvel-Kammerer, Les Arts Décoratifs, American Federation of arts, Paris, 2007, p. 177). A third example is in the Pavlovsk Palace Museum (see Pavlovsk Palace, Complete catalogue of the collections, Volume X, Metal, Bronze, Edition 2, Candelabra, girandoles, miracles, chandeliers, second half of the 18th late 19th century, Saint Petersburg, GMZ "Pavlovsk", 2016, p. 121-122).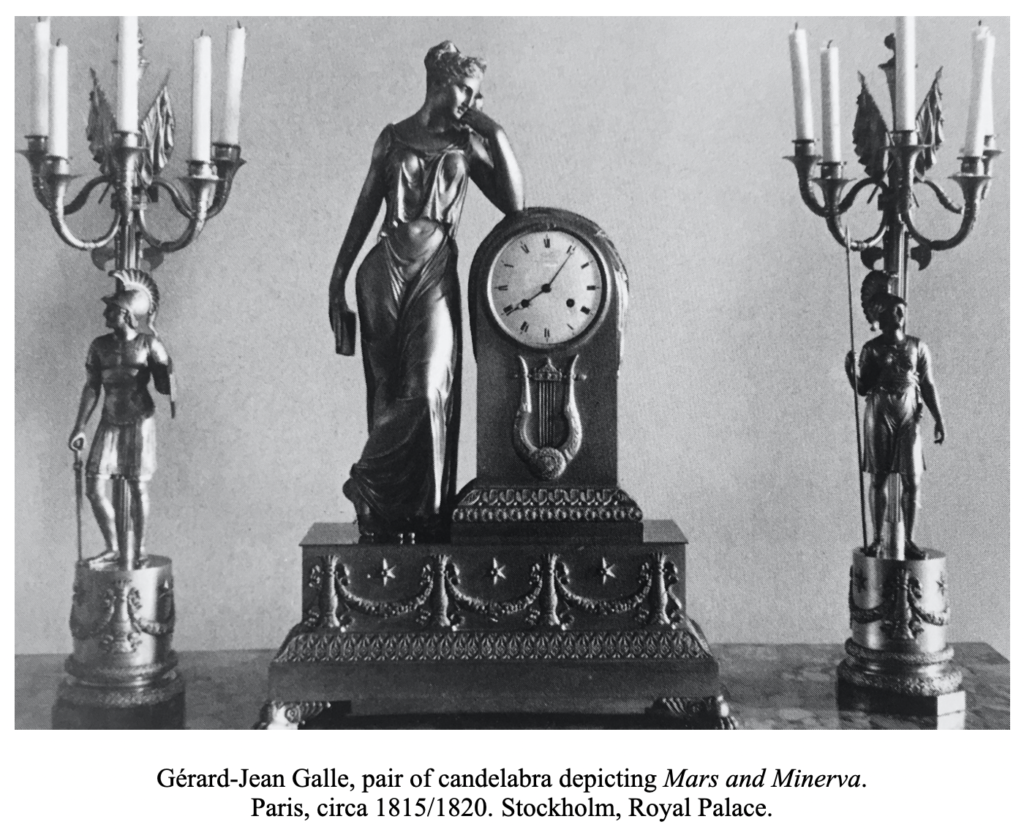 One further pair of identical candelabra, attributed to Gérard-Jean Galle, but which are set on bronze bases, are on display in the Royal Palace of Stockholm (illustrated in H. Ottomeyer and P. Pröschel, Vergoldete Bronzen, Die Bronzearbeiten des Spätbarock und Klassizismus, Band I, Munich, 1986, p. 396, fig. 5.18.8.)
Gérard-Jean Galle (1788 - 1846)

Gérard-Jean Galle was the son of Claude Galle (1759-1815), one of the most important Parisian bronze casters of the late 18th century and the Empire period. After having led a brilliant military career in Napoleon's army, Gérard-Jean took over his father's workshop in 1815. He made exceptional bronze pieces, often basing them on original sketches done by his father. In 1819, during the Exhibition of the Products of Industry held at the Louvre Museum, he was awarded a silver medal for his bronze clocks and lighting instruments. He subsequently became the supplier to the crown and the aristocracy, including the Duke de Richelieu, the Marquis de Martel and the Viscount de la Rochefoucauld. However, the July Revolution of 1830, and the accession of the Orléans family to the throne, led his business to go into decline. He went bankrupt and died in 1846. Today, some of Galle's pieces are in important private and public collections, among them those of the Château de la Malmaison, (the former residence of Napoleon's wife Josephine de Beauharnais), and the Musée Marmottan in Paris.
Photo gallery