Jean-Joseph de Saint-Germain
(1719-1791)
Rare Gilt Bronze Rococo Desk Clock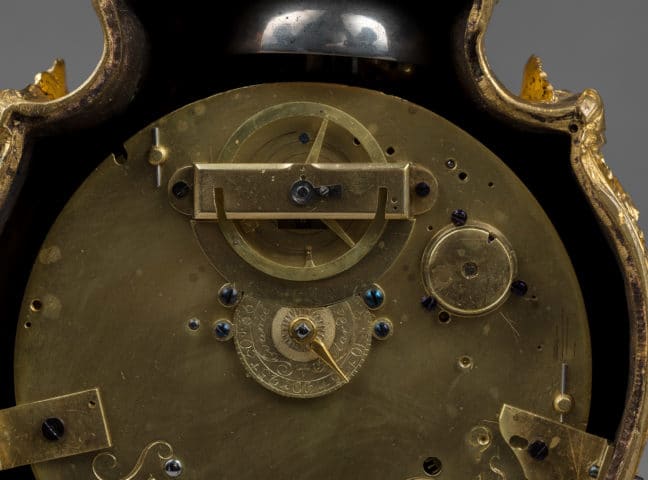 Case Attributed to Jean-Joseph de Saint-Germain
Paris, Louis XV period, circa 1750
Height
22.5
Width
14
Depth
9
The enamel dial indicates the Roman numeral hours and the Arabic five-minute intervals by means of two pierced gilt bronze hands. The magnificent waisted gilt bronze case is finely chased and gilt. The movement, with complications and striking by means of a pull cord, is signed "Stollenwerck à Paris"; it is housed in a case that is elaborately chased with rococo motifs on a matted ground, including wave motifs, asymmetrical foliage, flowers and scrolling, cabochons, shells, latticework centred by flowerets, C scrolls and ribbon-tied rods. The clock is raised upon four foliate-decorated scroll feet.
The design of the present clock, which is typical of the more subdued rococo style of the mid 18th century, stands out due to its well-balanced proportions and its exceptionally fine gilt bronze case. Its excellent quality suggests an attribution to Jean-Joseph de Saint-Germain, one of the most important Parisian bronze casters of the reign of Louis XV. Very few comparable clocks are known, one example of which is illustrated in E. Niehüser, Die französische Bronzeuhr, Eine Typologie der figürlichen Darstellungen, Munich, 1997, p. 198, fig. 38. A second clock, today in a private collection, is pictured in Tardy, La pendule française, 1er partie: De l'horloge gothique à la pendule Louis XV, Paris, 1967, p. 166. One further similar example, with a dial signed "Etienne Le Noir à Paris", is illustrated in P. Kjellberg, Encyclopédie de la pendule française du Moyen Age au XXe siècle, Paris, 1997, p. 112, fig. F.
Michel Stollenwerck

Michel Stollenwerck became a Master Clockmaker in Paris on April 14, 1746.
Jean-Joseph de Saint-Germain (1719 - 1791)

He was probably the most renowned Parisian of the mid 18th century. Active as of 1742, he did become a master craftsman until July 1748. He became famous for his many clock and cartel cases, such as his Diana the Huntress (an example is in the Louvre Museum), the clock supported by two Chinamen (a similar example is in the Musée des Arts décoratifs in Lyon), as well as several clocks based on animal themes, including elephant and rhinoceros clocks (an example in the Louvre Museum). In the early 1760's he played an important role in the renewal of the French decorative arts and the development of the Neo-classical style, an important example of which may be seen in his Genius of Denmark clock, made for Frederic V and based on a model by Augustin Pajou (1765, in the Amalienborg Palace, Copenhagen). Saint-Germain also made several clocks inspired by the theme of Learning, or Study, based on a model by Louis-Félix de La Rue (examples in the Louvre Museum, the Gulbenkian Foundation, Lisbon, and the Metropolitan Museum in New York). Along with his clock cases, Saint-Germain also made bronze furniture mounts, such as fire dogs, wall lights, and candelabra. His entire body of work bears witness to his remarkable skills as a chaser and bronzeworker, as well as to his extraordinary creativity. He retired in 1776.
Photo gallery