Jean-Joseph de Saint-Germain
(1719-1791)
Rare Gilt Bronze Mantel Clock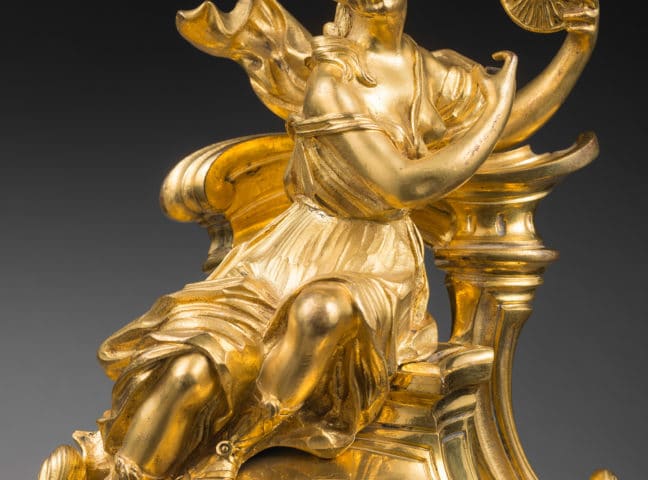 Louis-Antoine Beauvarlet
The counter enamel signed by enameler Elie Barbezat
Case Attributed to Jean-Joseph de Saint-Germain
Paris, Louis XV period, circa 1755-1760
Height
52.5 cm
Width
34 cm
Depth
19 cm
The round enamel dial, signed "Beauvarlet à Paris", features Roman hours and Arabic five-minute intervals, with two pierced gilt bronze hands. The dial bears the signature of the enameller Barbezat on its reverse. The magnificent chased and gilt rocaille case is decorated with scrolling foliage and a cartouche framed by acanthus leaves; the sides and the lower portion are adorned with pierced motifs including stylised foliage and flowers. The case is surmounted by a draped female figure holding a mirror, probably the Sorceress Armida, Princess of Damascus, who seduced the Christian knight Rinaldo with her mirror.
This clock counts among the finest rocaille examples of the mid 18th century. It relates to the work of one of the most important Parisian bronze casters of the time, Jean-Joseph de Saint-Germain. Saint-Germain created many clock cases, including an example that is stylistically similar; it is illustrated in H. Ottomeyer and P. Pröschel, Vergoldete Bronzen, Munich, 1986, p. 131, fig. 2.8.23.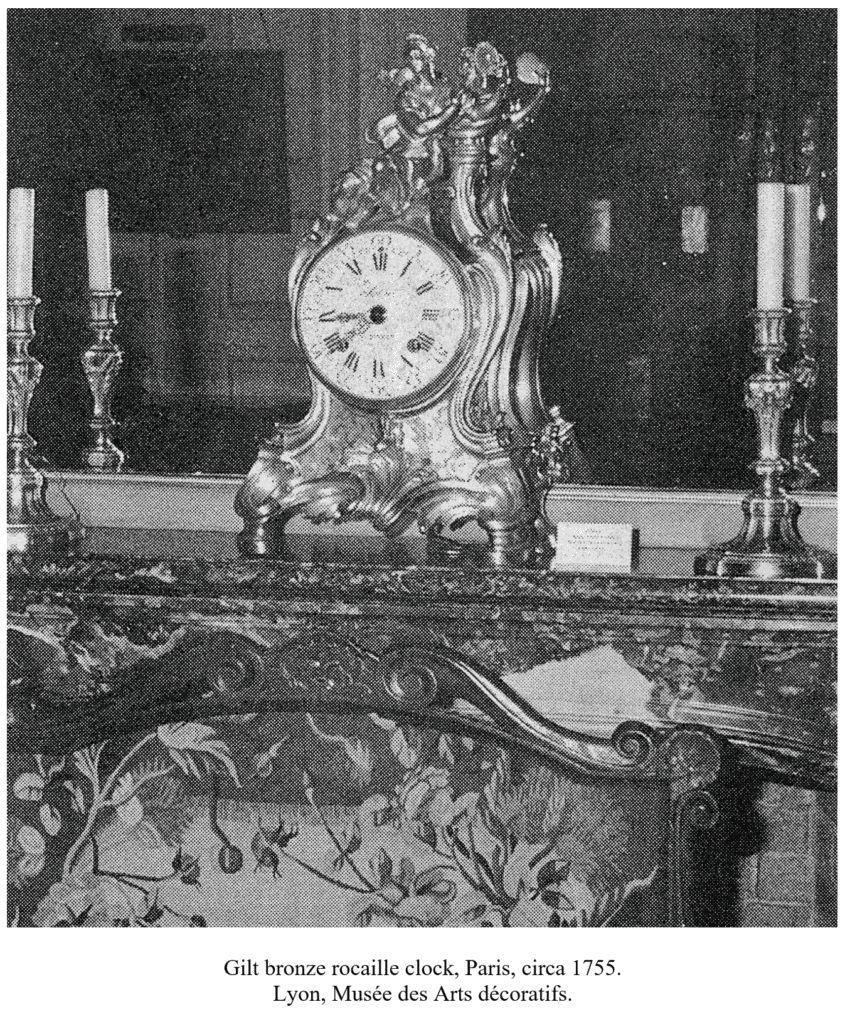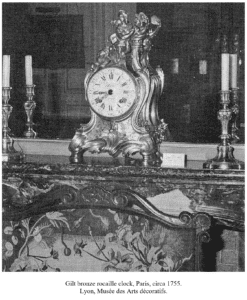 Among the rare similar models known, one example, whose dial is signed  "Ripert à Paris", was sold at auction in Paris by Me Rheims, Palais Galliera, December 6-7, 1965, lot 179 (see also E. Niehüser, Die französische Bronzeuhr, Eine Typologie der figürlichen Darstellungen, Munich, 1997, p. 72, fig. 106). A second example, from the Château des Mesnuls, was sold in Paris, Me Lair-Dubreuil, Palais Galliera, May 15-16, 1924, lot 113; a third, with a carillon playing ten tunes in the base, is illustrated in R. Mühe and H. M. Vogel, Horloges anciennes, Manuel des horloges de table, des horloges murales et des pendules de parquet européennes, Fribourg, 1978, p. 106, fig. 129. A further clock, whose dial is signed Amant à Paris, was bequeathed in October 1927 to the Lyon Musée des Arts décoratifs by Amédée Gonin (illustrated in P. Arizzoli-Clémentel, C. Cardinal and A. Mazur, Ô Temps! Suspends ton vol, Catalogue des pendules et horloges du Musée des Arts décoratifs de Lyon, Lyon, 2008, p. 64, catalogue n° 20).
Jean-Joseph de Saint-Germain (1719 - 1791)

He was probably the most renowned Parisian of the mid 18th century. Active as of 1742, he did become a master craftsman until July 1748. He became famous for his many clock and cartel cases, such as his Diana the Huntress (an example is in the Louvre Museum), the clock supported by two Chinamen (a similar example is in the Musée des Arts décoratifs in Lyon), as well as several clocks based on animal themes, including elephant and rhinoceros clocks (an example in the Louvre Museum). In the early 1760's he played an important role in the renewal of the French decorative arts and the development of the Neo-classical style, an important example of which may be seen in his Genius of Denmark clock, made for Frederic V and based on a model by Augustin Pajou (1765, in the Amalienborg Palace, Copenhagen). Saint-Germain also made several clocks inspired by the theme of Learning, or Study, based on a model by Louis-Félix de La Rue (examples in the Louvre Museum, the Gulbenkian Foundation, Lisbon, and the Metropolitan Museum in New York). Along with his clock cases, Saint-Germain also made bronze furniture mounts, such as fire dogs, wall lights, and candelabra. His entire body of work bears witness to his remarkable skills as a chaser and bronzeworker, as well as to his extraordinary creativity. He retired in 1776.
Louis-Antoine Beauvarlet

Louis-Antoine Beauvarlet became a Master Clockmaker in September 1756.
Elie Barbezat

Elie Barbezat is an enameler specialized in dials. He had his practice on rue Bertin Poiré from 1768, and was one of the finest enamellers of the second half of the 18th century. Few enamellers are referenced and researched, but the corpus of his work reveals an activity concentrated between the end of the reign of Louis XV and the first years of the reign of Louis XVI. We estimate that he was mainly active between 1768 and 1776.
He worked with the best clockmakers of the time: Lepaute, Pierre III Leroy and Robert Robin. His signature can also be found on magnificent clocks by Beauvarlet, Peignat, Jean-Gabriel Imbert dit l'aîné and Ragot.
He took on Georges-Adrien Merlet as an apprentice in his workshop on October 30, 1767, and probably trained him to become his successor. His training was successful, as Merlet went on to become one of the top three enamellers of his time, along with Joseph Coteau and Dubuisson.
According to the Brateau Archives, Elie Barbezat was admitted to the Académie de Saint-Luc as a master painter on November 6, 1777.