Robert Osmond
(1711-1789)
Jean-Baptiste Dutertre
(?-1773)
Important Matte Gilt Bronze Musical Mantel Clock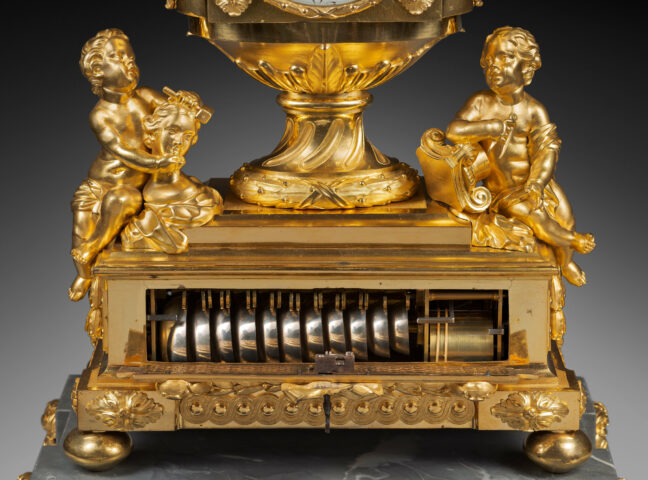 Case attributed to Robert Osmond
Paris, Transition period between Louis XV-Louis XVI, circa 1770-1775
Height
73 cm
Width
41 cm
Depth
24 cm
Bibliography:
Tardy, La pendule française, 2ème Partie: Du Louis XVI à nos jours, Paris, 1971, p. 251, fig. 3 (illustration).
The white enamel dial, signed "J.B. Dutertre à Paris", indicate the Roman numeral hours and the Arabic numeral five-minute intervals by means of two pierced and gilt bronze hands. The hour and half hour striking movement is housed in a Neoclassical case in the form of a finely chased matte gilt bronze vase flanked by putti. The vase, a lidded urn with applied handles, is surmounted by a pinecone finial. It is decorated with rosettes, toruses, and laurel garlands. The pedestal is adorned with spiral fluting and a ribbon-tied laurel torus. The urn stands on an architectural trellis-pierced base, and is decorated with laurel garlands, ribbons and bows, entrelac friezes, and rosettes; it is flanked by two putti, one of which is holding the bust of a young woman and a sculptor's mallet – it is an Allegory of Sculpture – and the other, which is holding a compass and is leaning on an Ionic capital  – an Allegory of Architecture. The base contains a musical movement that is activated on the hour by the horological mechanism; it plays ten melodies on a carillon of eleven bells, by means of nineteen hammers. The clock is raised upon four flattened ball feet.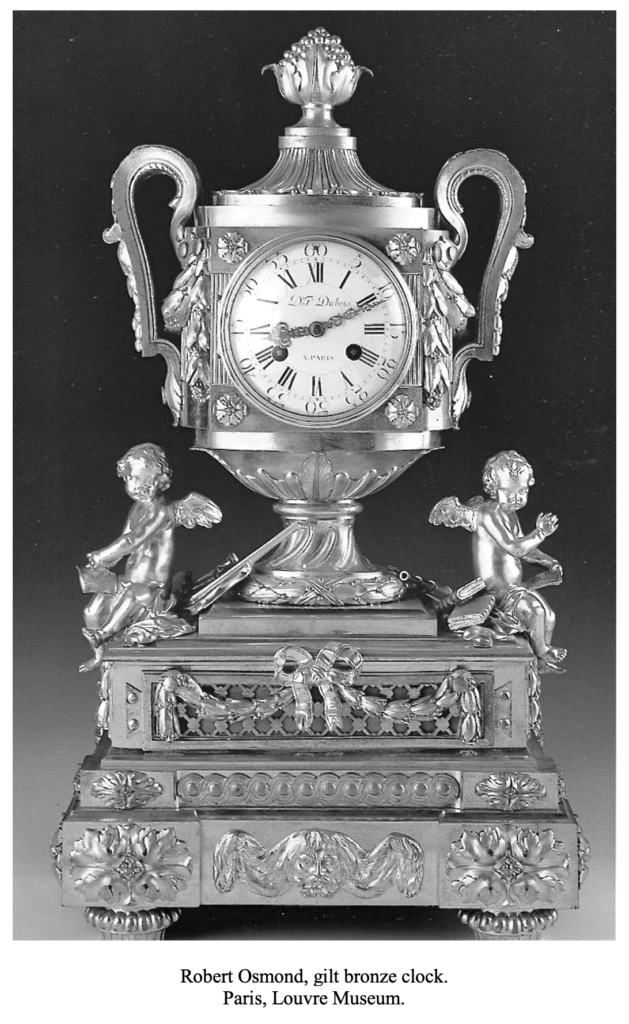 Though unsigned, the case of the present clock may confidently be attributed to Robert Osmond. The model was created by Osmond in the latter part of the 1760s or the early years of the following decade. He continued to produce it, with variations, during the two next decades. Today only a few examples, some featuring variations mostly concerning the treatment of the two figures, are known.  One example, whose dial is signed Berthoud, is in the Musée des Arts Décoratifs in Paris (illustrated in H. Ottomeyer and P. Pröschel, Vergoldete Bronzen, Die Bronzearbeiten des Spätbarock und Klassizismus, Band I, Munich, 1986, p. 177, fig. 3.6.5). A second example is in the Musée du Louvre in Paris (illustrated in D. Alcouffe, A. Dion-Tenenbaum and G. Mabille, Les bronzes d'ameublement du Louvre, Editions Faton, Dijon, 2004, catalogue n° 60). A third clock was formerly in the Etienne Lévy collection (see P. Siguret, Lo Stile Luigi XVI, Milan, 1965, p. 122).
Robert Osmond (1711 - 1789)

French bronze-caster Robert Osmond was born in Canisy, near Saint-Lô; he began his apprenticeship in the workshop of Louis Regnard, maître fondeur en terre et en sable, and became a master bronzier in Paris in 1746. He is recorded as working in the rue des Canettes in the St. Sulpice parish, moving to the rue de Mâcon in 1761. Robert Osmond became a juré, thus gaining a certain degree of protection of his creative rights. In 1753, he sent for his nephew in Normandy, and in 1761, the workshop, which by that time had grown considerably, moved to the rue de Macon. The nephew, Jean-Baptiste Osmond (1742-after 1790) became a master in 1764 and as of that date worked closely with his uncle, to such a degree that it is difficult to differentiate between the contributions of each. Robert appears to have retired around 1775. Jean-Baptiste, who remained in charge of the workshop after the retirement of his uncle, encountered difficulties and went bankrupt in 1784. Robert Osmond died in 1789.
Prolific bronze casters and chasers, the Osmonds worked with equal success in both the Louis XV and the Neo-classical styles. Prized by connoisseurs of the period, their work was distributed by clockmakers and marchands-merciers. Although they made all types of furnishing objects, including fire dogs, wall lights and inkstands, the only extant works by them are clocks, including one depicting the Rape of Europe (Getty Museum, California) in the Louis XV style and two important Neo-classical forms, of which there are several examples, as well as a vase with lions' heads (Musée Condé, Chantilly and the Cleveland Museum of Art) and a cartel-clock with chased ribbons (examples in the Stockholm Nationalmuseum; Paris, Nissim de Camondo Museum). A remarkable clock decorated with a globe, cupids and a Sèvres porcelain plaque (Paris, Louvre) is another of their notable works.
Specialising at first in the rocaille style, in the early 1760's they turned to the new Neo-classical style and soon numbered among its greatest practitioners. They furnished cases to the best clockmakers of the period, such as Montjoye, for whom they made cases for cartonnier and column clocks, the column being one of the favourite motifs of the Osmond workshop.
Jean-Baptiste Dutertre (? - 1773)

Jean-Baptiste Dutertre is one of the most important Parisian horologists of the second third of the 18th century. The son of a clockmaker, he became a master in 1735. He took over the direction of his father's workshop in the Quai des Orfèvres and immediately became quite successful. Like the best artisans of his day, Dutertre called on the best bronziers for his gilt bronze clock cases, collaborating with Jean-Baptiste Osmond, and Jean-Joseph de Saint-Germain, in particular. Influential aristocrats of the time were his clients; among them, the Marquis de Marigny et de Béringhen, the duc de Penthièvre and the Duchess de Mazarin, as well as several bankers and financiers, such as Messieurs Bochart de Saron, Lepelletier de Mortefontaine and Radix de Sainte-Foix, all of whom were collectors of fine horological pieces.
Photo gallery