Rare Gilt Bronze and Red Turquin Marble Skeleton Clock
The white enamel annular dial indicates the Arabic numeral hours and fifteen-minute intervals by means of two blued steel Breguet hands. The movement is housed in a gilt bronze case that is finely chased and matte gilt. The bezel is decorated with a frieze of stylized palmettes; the movement, with lateral gears that support the two weights and the pendulum, features two reed-decorated feet that terminate in lion's paw feet, which emerge from curving leaves linked by a pierced motif made up of acanthus leaves, C-scrolls, flowers and rosettes. The quadrangular red turquin marble base with rounded sides is raised upon four molded feet that are decorated with bead friezes.
Discover our entire collection of antique skeleton clocks for sale online or at the gallery.
During the final decade of the 18th century, the first models of skeleton clocks, whose sober composition featured a main annular dial that revealed the beauty of the movement and its gear trains, and whose complex mechanisms were made by the finest European clockmakers, most of whom were Parisian. The rise of this new style was due to the fact that admirers of fine horology were enthusiastic about the extraordinary technical progress made since the mid 18th century, as well as by the fact that collectors had become tired of clocks decorated with figures from classical mythology. The present clock was created within that historical context. Its remarkable composition is characteristic of the best French production of the 19th century.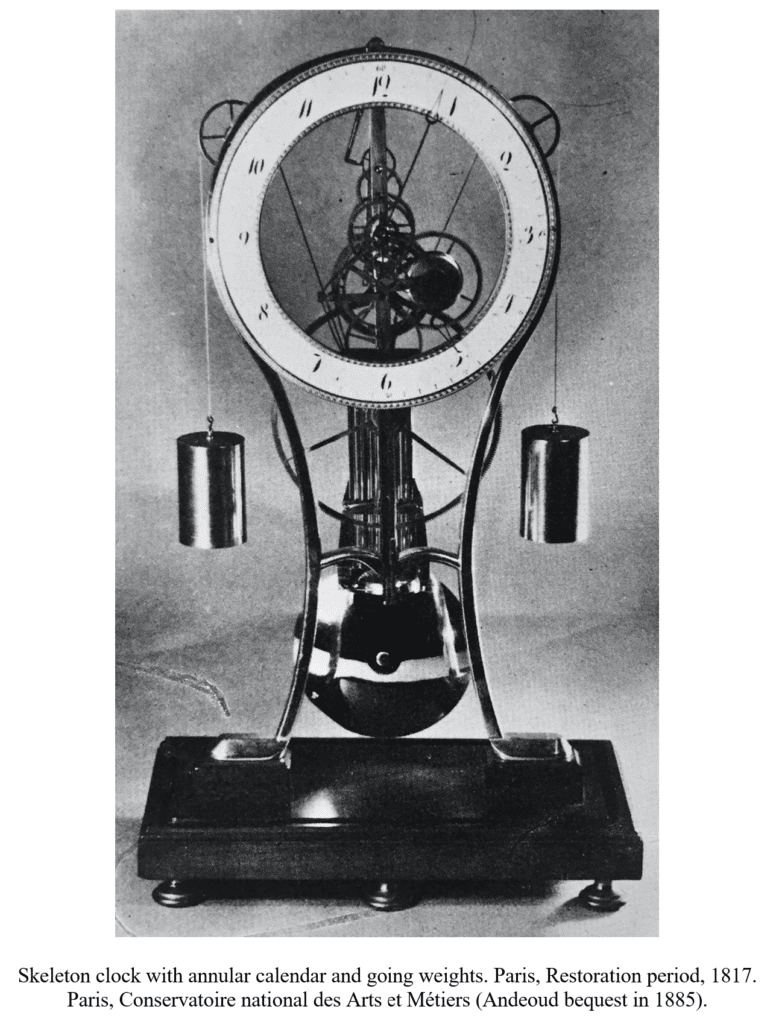 Among the small number of similar clocks known today, one example, made circa 1800, whose dial is signed "Lépine Horloger du Roy Place des Victoires", has a round enamel dial and a white marble base (illustrated in P. Heuer and K. Maurice, European Pendulum Clocks, Decorative Instruments of Measuring Time, Edition Schiffer Publishing Ltd., Munich, 1988, p. 63, fig. 103); a second example of a skeleton clock from the Directoire period is in the collection of the Horological School in  Dreux (see Tardy, La pendule française dans le Monde, Paris, 1994, p. 239). One further example, similar to the present clock, which was made in 1817 and given to the Conservatoire national des Arts et Métiers de Paris by J. Andeoud  in 1885, is illustrated in F.B. Royer-Collard, Skeleton Clocks, Edition N.A.G. Press Ltd, London, 1977, p. 80-81, fig. 5-17 (see also Le XIXe siècle français, Collection Connaissance des Arts, Hachette, 1957, p. 139).
Photo gallery