Pair of Three-Light Gilt Bronze Wall Lights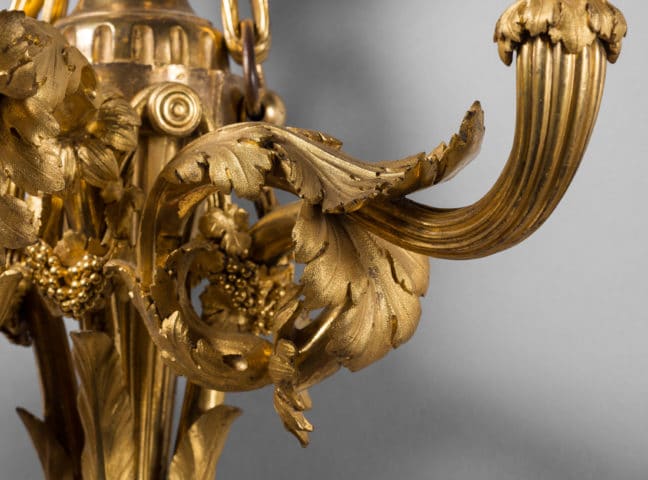 Paris, Louis XVI period, circa 1775
Provenance:
A private Parisian hôtel particulier.
A magnificent pair of gilt bronze three-light wall-lights, each surmounted by a flaming vase, suspended from ring handles by ribbon-ties, above three acanthus-wrapped fluted scroll branches terminated by vase-shaped nozzles above circular foliate cast drip-pans, the acanthus wrapped back plate above a foliate and berried boss.
These elegant wall lights combine elements inspired by the "goût grec", a style that prevailed during the late 1760's and early 1770's with elements influenced by the slightly later "goût étrusque", an artistic style that was fashionable from circa 1775 until the collapse of the Ancien Régime. The first style may be seen in the vase-shaped nozzles; the second one is evident in the naturalistic and symmetrically aligned acanthus scrolls.
A similar pair of wall lights were included in the David Keck Collection sale held by Sotheby's New York, 5th-6th December 1991, lot. 217. Another similar wall light, with a goat's head on the back plate, dating from circa 1775, is illustrated in Hans Ottomeyer and Peter Pröschel, "Vergoldete Bronzen", 1986, p. 231, pl. 4.1.4. The writers cite another pair of similar wall lights in the Château de Versailles.
Photo gallery