François Vion
(circa 1737-after 1790)
Important Gilt Bronze and White Carrara Marble Cercles Tournants Mantle Clock with Matte and Burnished Finishing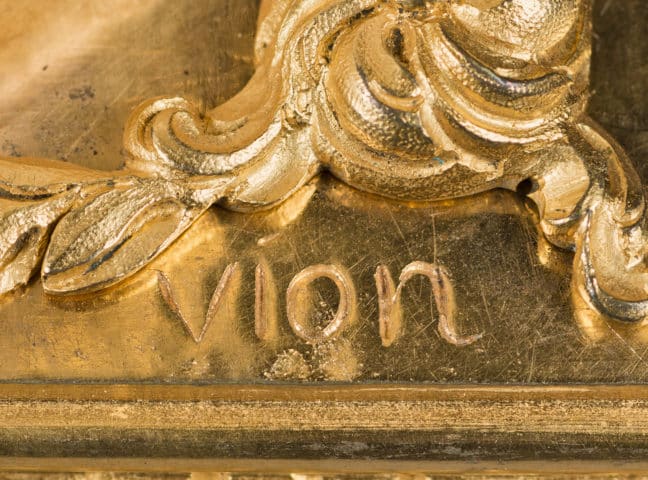 Paris, Louis XVI period, circa 1775-1785
The plinth marked: "VION"
Height
52 cm
Width
19 cm
Depth
19 cm
Provenance:
– Almost certainly from the collection of Armand-Augustin-Louis, the 5th Marquis de Caulaincourt, 1st Duke of Vicenza (Caulaincourt 1773-Paris 1827); mentioned in his probate inventory, drawn up April 1827 in Paris: "A clock composed of a white marble column with a gilt copper dial above the column, the hours told by a child holding an arrow".
The cercles tournants dials, made up of two white enamel rings that indicate respectively the Roman numeral hours and the five-minute intervals in Arabic numerals, are set in a lidded urn with handles adorned with mille-raie motifs. The belly of the urn is decorated with leaf garlands suspended from stylized flowers. The lid is surmounted by a figure of a seated Cupid, who holds a bow in his left hand and an arrow in the other, with which he indicates the time. The pedestal of the vase is supported on a square plinth that is placed upon a tall white Carrara marble column, which is adorned with decorated fluting; it stands on a base adorned with a double molded torus. The quadrangular base, embellished with a waterleaf frieze, features plain reserves with matted frames; the corners of the terrace are decorated with foliage centered by spiral rosettes. The base is further adorned with chased draperies simulating lions' skins suspended from rings, with four ornate leaves supported on lions' paw feet.
The remarkable design of the present rare mantel clock makes it one of the most elaborate Parisian clocks made during the reign of Louis XVI. Today only a small number of comparable clocks are known. Among them, one similar example, made by the clockmaker Roque, is composed of a terrestrial globe supported by two putti resting on a truncated white marble column; it is in the Lyon Musée des Arts décoratifs (illustrated in P. Arizzoli-Clémentel, C. Cardinal et A. Mazur, Ô Temps! Suspends ton vol, catalogue des pendules et horloges du Musée des Arts décoratifs de Lyon, Lyon, 2008, p. 77, catalogue 30). To the best of our knowledge, only one other nearly identical clock is known to exist, although it features several variations, particularly as concerns the lack of adornment of the base, the indication of the date in the upper vase, and the round enamel dial set in the column; that clock was formerly in the Double collection that was sold in Paris in 1881 (see Tardy, La pendule française dans le Monde, Paris, 1994, p. 89; also pictured in E. Niehüser, Die französische Bronzeuhr, Eine Typologie der figürlichen Darstellungen, Munich, 1997, p. 252, fig. 1094).
François Vion (circa 1737 - after 1790)

One of the most important Parisian bronze casters of the second half of the 18th century. Having become a master bronze caster in 1764, he was a rival of the Osmonds and Jean-Joseph de Saint-Germain. He specialized in creating clock cases, several of which bear his signature, particularly those known as "Venus and Love" and "Love and the Three Graces".
Photo gallery