François Rémond
(circa 1747-1812)
Rare Mantle Clock in White Carrara Marble, Wedgwood Porcelain, and Gilt Bronze with Matte and Burnished Finishing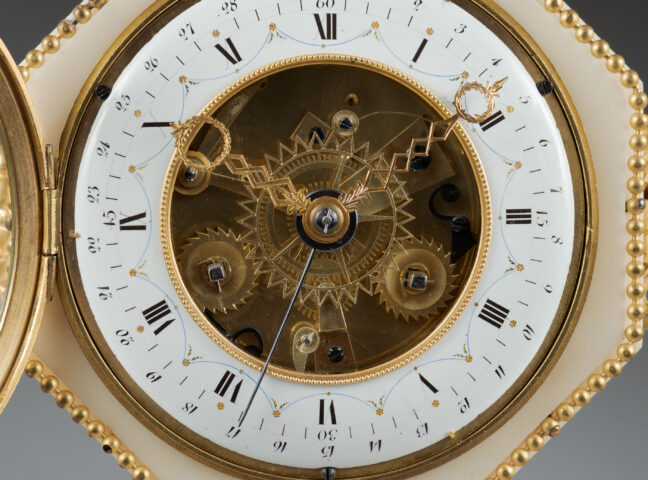 Attributed to François Rémond
Paris, late Louis XVI period, circa 1790-1795
Height
51.5 cm
Width
40 cm
Depth
14.5 cm
The white enamel annular dial, adorned with gilt flowers that are linked by blue scallops, indicates the Roman numeral hours and the Arabic numeral fifteen-minute intervals, as well as the date with Revolutionary months,  by means of three hands, two of which are made of pierced and gilt bronze. The movement is housed in a case of white Carrara marble, with a Wedgwood bisque porcelain medallion, and finely chased gilt bronze with matte and burnished finishing. The skeleton movement, housed in an octagonal case that is surmounted by a ribbon-tied rose wreath with a bow and arrow, which rests on an athénienne tripod decorated with rams' heads from which chains are suspended; its legs terminate in goat hooves. To either side are two long trumpets that are attached to rosettes and around which snakes are entwined; they are surmounted by bouquets of flowers and leaves. Suspended garlands terminating in tassels adorn the case as well.  The two trumpets are held by a winged putto and a young boy who is dressed in a loincloth with bells. Two flower and leaf wreaths lie on the terrace. The shaped octagonal base is decorated with a frieze of alternating seeds and waterleaves, and its sides are adorned with mille-raie panels. On the façade, two plaques with pierced arabesques feature niches with female busts; they flank, on either side, a central oblong panel that is adorned with ribbon-tied laurel branches framing a bisque porcelain medallion with white reliefs against a blue ground, that probably depicts Thetis plunging Achilles into the River Styx. The clock stands upon six flattened feet.
This rare and remarkable clock, featuring chasing and gilding of exceptional quality, may confidently be attributed to François Rémond, the most talented Parisian chaser-gilder active during the final decades of the 18th century and the early years of the following century. Its theme is also particularly remarkable, as is the use of a Wedgwood bisque porcelain medallion that suggests the involvement of one of the contemporary Parisian marchands-merciers such as Dominique Daguerre, who would have had all the commercial contacts necessary to create a clock of such extraordinary quality as this one.
François Rémond (circa 1747 - 1812)

Along with Pierre Gouthière, he was one of the most important Parisian chaser-gilders of the last third of the 18th century. He began his apprenticeship in 1763 and became a master chaser-gilder in 1774. His great talent quickly won him a wealthy clientele, including certain members of the Court. Through the marchand-mercier Dominique Daguerre, François Rémond was involved in furnishing the homes of most of the important collectors of the late 18th century, supplying them with exceptional clock cases, firedogs, and candelabra. These elegant and innovative pieces greatly contributed to his fame.
Photo gallery