Jean-François-Henri Motel
(1786-1859)
Rare Brass Marine Chronometer in its Mahogany Case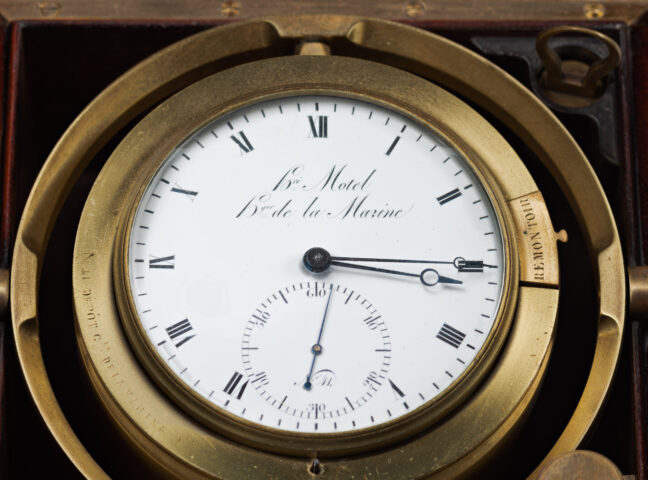 Paris, Restoration period, circa 1830
Height
13.6 cm
Width
16 cm
Depth
16 cm
Provenance:
– Chronometer Number 41, Dépôt général de la Marine royale, Restoration period.
A fine marine chronometer whose round enamel dial is signed "Hri Motel/Hger de la Marine" and numbered "N°41", with Roman numeral hours and Arabic numeral minutes and seconds and three blued steel Breguet hands. The brass movement with pivoted detent escapement is mounted on a removable plate; the compensated balance with arms is fitted with four weights and timing screws. The brass drum case is housed in a mahogany box with a sliding door with glazed viewing aperture. An engraved copper plate bears the mark "N°41/M". The indications on the brass bezel read: "N41 DEPOT Gle DE LA MARINE Rle". The oils were checked in December 1966 by E. Brasseur/Horloger de la Marine/11, rue Général-Faidherbe/Le Havre.
As ocean travel increased, scientists and watchmakers sought to develop timekeeping instruments to help determine the precise latitude and longitude of vessels at any given time, to protect them from the dangers of navigation. The main difficulty lay in determining the time at the reference meridian, i.e. by carrying on board a clock that was regulated to the time of that meridian. During the 17th and 18th centuries, clockmakers attempted to create clocks that remained precise during ocean voyages; these were called marine chronometers. The "Bureau des Longitudes" was created in France in 1795. Its goal was to improve the precision of marine chronometers and the finest precision clockmakers of the time, including Ferdinand Berthoud, Louis Berthoud, and, as of 1823, Jean-François-Henri Motel, were members of it. In addition to the present clock, Motel made a second, nearly identical, clock, numbered 44, which is in the British Museum in London (Inv. 1958/1006.1953).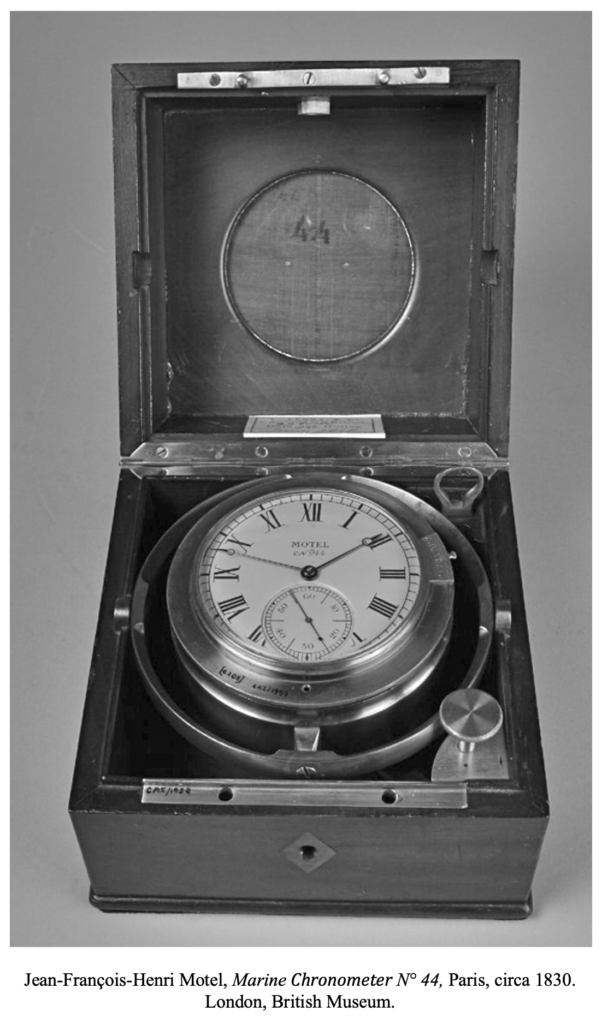 Jean-François-Henri Motel (1786 - 1859)

Jean-François-Henri Motel was one of the most important French clockmakers of the early 19th century. Following his studies at the Ecole des Arts et Métiers in Chalons he came to Paris, where he was one of the most brilliant students of Louis Berthoud (1754-1813). After the death of his master he took over the workshop and quickly expanded it. He left the workshop in 1817, occasionally working with Breguet who entrusted him with the repair of chronometers of the Ministry of the Marine. In 1823, he was named "Horloger de la Marine".
Photo gallery