Victor Fleury
(active circa 1860-1880)
Very Rare and Exceptional Astronomical Regulator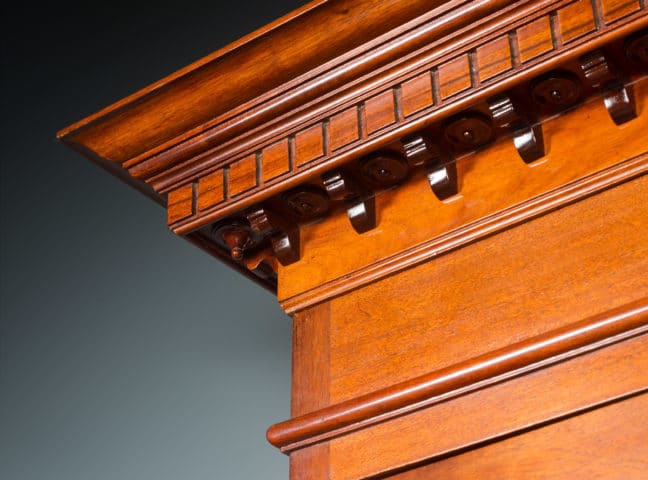 Paris, Napoleon III period, circa 1865-1867
Height
255
Width
94.5
Depth
43.5
Provenance:
– Very likely exhibited at the 1867 Universal Exhibition in Paris (see Tardy, Dictionnaire des horlogers français, Paris, 1971, p. 230).
This regulator, with nineteen dials featuring twenty-three indications, may be considered the masterpiece of Victor Fleury; it is one of the finest horological creations of the Second Empire. The main dial, in the center, is marked "Heure de Paris" (Paris time); it indicates the Roman numeral hours and the minute graduations along its outer border, by means of two blued steel Breguet hands. It features an annual calendar indication with the months appearing in an aperture, the date and the days of the week, and a subsidiary seconds dial in its lower portion. Below it is a shaped cartouche bearing the signature: "Régulateur composé par Victor Fleury". Around this dial are arranged fifteen subsidiary dials; the uppermost dial shows the equation of time, with the phrase "différence du temps vrai au temps moyen"; ten other dials indicate the mean time in cities around the world: Constantinople, London, Geneva, New York, Saint Petersburg, Vienna, Los Angeles, Besançon, Rome and Jerusalem, with their longitudes, latitudes and time difference as compared to the Paris meridian. In the lower portion, two blue enamel dials with star motifs indicate the movement of the sun and the moon phases. They are flanked by two dials that indicate the time of sunrise and sunset in Roman numerals.
The dials are set on a shaped gilt brass or gilt bronze plate that is elaborately decorated with C scrolls, garlands and flowers and leaf bouquets that follow the curved outline of the dial plate. The clock is surmounted by a rococo cartouche adorned with wave and acanthus leaf motifs, flanked by two allegorical figures depicting young children; one, who holds a flaming torch and appears to look straight at the beholder, symbolizes Day; the other, who is asleep and wrapped in a shawl, is an allegory of Night. The movement, with inverted Graham anchor escapement, has a compensation balance with three bimetallic rods, ending in a bob that contains a thermometer graduated with indications of the degrees of contraction and expansion of metals, indicating the "degrés du cercle" by means of a blued steel pointer. The neoclassical case is made of light-colored mahogany and mahogany veneer; it is glazed on three sides and it has a protruding molded cornice; its entablature is supported by brackets adorned with pastilles. The solid, sloping, molded base rests on a quadrangular plinth.
This exceptional regulator, made during the Second Empire period, is an example of the degree of perfection attained by the period's artisans. It hearkens back to the great creations of the finest Parisian artisans of the late 18th and early 19th centuries. Its multiple-dial design is reminiscent of that of a long case regulator that belonged to War Minister Petiet, which was acquired by the Imperial Garde-meuble in 1806 and was installed in Napoleon's apartments in Fontainebleau Castle (illustrated in J-P. Samoyault, Musée national du Château de Fontainebleau, Catalogue des collections de mobilier, 1-Pendules et bronzes d'ameublement entrés sous le Premier Empire, RMN, Paris, 1989, p. 84, catalogue n° 50). Its conception, featuring a main dial and radiating subsidiary dials, is quite similar to that of a long case clock with perpetual calendar, signed "Antide Janvier au Louvre 1800-1802", which gave the time in various cities and far-off islands, and is today in the Musée national des Arts et Métiers in Paris (illustrated in M. Hayard, Antide Janvier 1751-1835, Horloger des étoiles, 1995, p. 146-147). The extraordinary quality and design of the finely chased and gilt bronze ornamentation adds to the clock's magnificence. In particular, the two cherubs appear to have been inspired by an allegorical group with two putti that adorn a clock model created by the famous bronze caster Pierre-Philippe Thomire around 1840, two examples of which have been preserved in French public collections. The first of these is in the Paris Musée des Arts décoratifs (illustrated in Tardy, La pendule française, 2ème Partie: Du Louis XVI à nos jours, Paris, 1974, p. 455), while the second is on display at the Musée national du Château de Versailles et des Trianons (see P. Arizzoli-Clémentel and J-P. Samoyault, Le mobilier de Versailles, Chefs-d'œuvre du XIXe siècle, Editions Faton, Dijon, 2009, p. 416-417, catalogue n° 162).
Victor Fleury (active circa 1860 - 1880)

Victor Fleury is one of the most important Parisian clockmakers of the second half of the 19th century. He is recorded as working at 23, rue de la Paix in Paris. This clockmaker, cited as "Horloger de la Marine" on some of his creations, distinguished himself by his research and important contributions to the creation of a new type of escapement. The author of "Nouveaux principes sur le pendule appliqué à l'horlogerie…lettre aux horlogers, aux savants et aux amateurs de l'art", published in Paris in 1865, Victor Fleury designed a particularly ingenious escapement that bears his name, making a half-seconds regulator whose escapement consisted in a small metal ball that moved freely within a small circular crystal basin only a few millimeters in diameter. Toward the end of his career he appears to have moved to the provinces: a gold box signed "Victor Fleury à Angers" that was sold at auction in Paris, bore the annotation "médailles aux grandes expositions jusqu'en 1867".
Photo gallery