François Rémond
(circa 1747-1812)
Etienne-Maurice Falconet
(1716-1791)
Important Pair of Gilt and Patinated Bronze and Blue Turquin Marble Five-Light Candelabra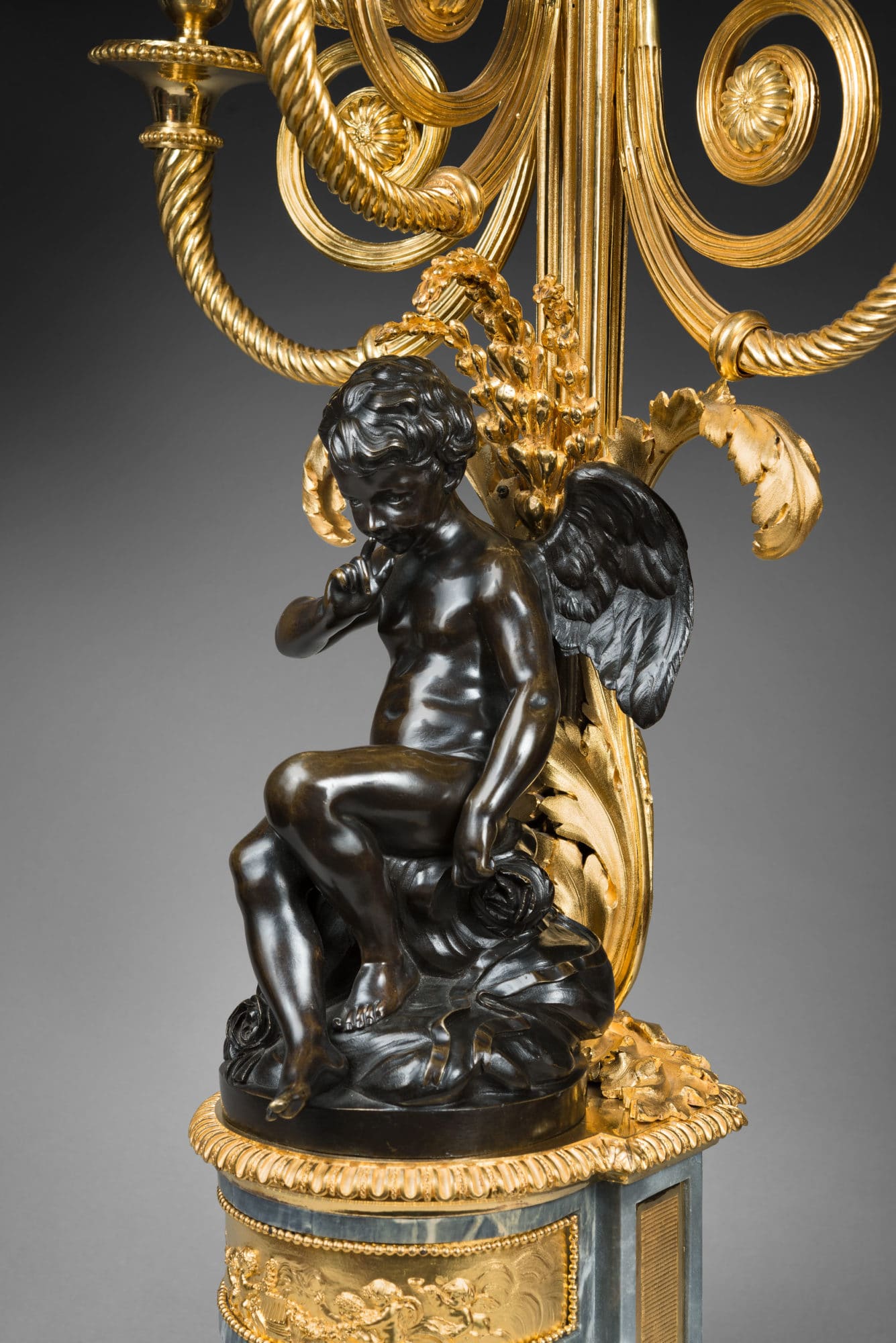 Attributed to François Rémond
Made under the supervision of Dominique Daguerre
The groups after Etienne-Maurice Falconet
Paris, Louis XVI period, circa 1785
Height
99
Width
43
Depth
29.5
Provenance:
– Collection of Prince Marc de Beauvau-Craon (1816-1883) in the Grand Salon of his Parisian mansion in Avenue Montaigne: "Two candelabra with bronzed figures, model known as 'Garde-à-vous', on blue turquin marble bases, with five light branches, in gilt bronze, 18,000 francs".
– By descent, collection of the Princes de Beauvau-Craon in the Château d'Haroué.
Made entirely of finely chased matte and burnished gilt and patinated bronze, each candelabrum is adorned with an allegorical group depicting a young girl sitting on a mound and holding a bow on her right side. She is an allegory of Innocence. The other figure is a winged putto who is also seated and holds his right index finger to his lips; he is an allegory of menacing Love. Behind each figure the light bouquet emerges from leaves that issue from a torch stem with straight and spiral fluting. The stem, to which are attached the five curved light branches in two staggered rows, terminates in a flame motif. The light branches, which are decorated with fluting and spirals, feature molded rings and are adorned with scrolls centered by rosettes. They bear the gadrooned nozzles and drip pans adorned with bead friezes. The candelabra rest on tall quadrangular blue turquin marble bases with rounded fronts that are embellished with fluting and leaves, and feature high reliefs scenes in the manner of the Parisian sculptor Clodion, which depict winged children playing among the clouds.
Peter Hugues and Christian Baulez have confidently attributed the unusual design of this important pair of candelabra to the chaser-gilder François Rémond, based on the design of the light branches, which is characteristic of Remond's work. Dated 1785 by Hugues and Baulez, specialists of 18th century French decorative arts, they are reminiscent of patinated bronze groups directly inspired by two works by the sculptor Etienne-Maurice Falconet. A marble group with a winged putto was ordered in 1755, and exhibited at the Salon two years later: "130 A marble figure that depicts a Cupid. It belongs to Madame the Marquise of Pompadour"; the plaster model of Innocence, never executed in marble, was exhibited at the 1761 Salon. These two groups became an immense success among influential Parisian art lovers, and were widely disseminated in bisque porcelain by the Sèvres and Wedgwood porcelain factories.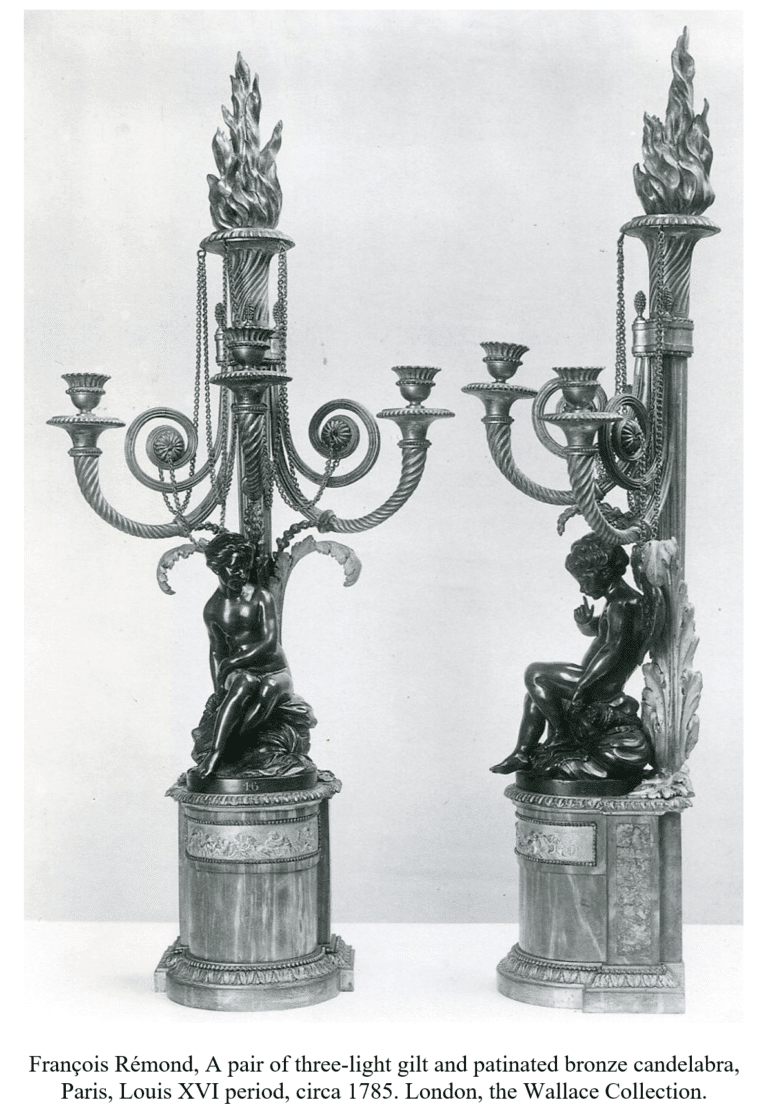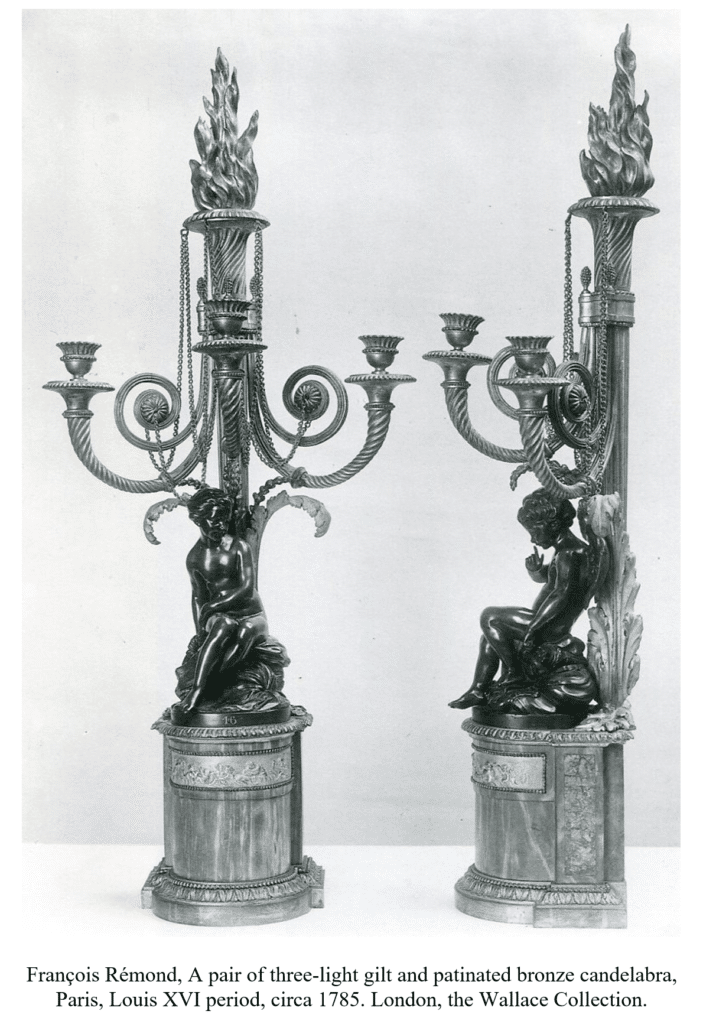 Today only a small number of similar pairs of candelabra are known. Among them, one pair was sold at the Daguerre sale at Christie's, London, on March 25, 1791. Two pairs were no doubt delivered by Daguerre when he was in England: one was delivered to the 1st Count of Harewood or to Viscount Lascelles for Harewood House, Yorkshire, the other to Orlando Bridgeman, 1st Count of Bradford for Weston Park, Shropshire. A fourth, formerly in the collection of the Count of Essex in Cassiobury Park, was sold at Christie's, London, on June 12, 1922, lot 283. A fifth pair, probably purchased in Paris around 1785 by Count Alexander Stroganoff, was offered at auction when the collections of the Stroganoff counts were sold after the Russian Revolution (sold Galerie Lepke, Berlin, May 12-13, 1931, lots 156-157), then at the sale of the Riahi collection in 2000. One further such pair, formerly in the collection of William Beckford, is now on display in the Wallace Collection in London (illustrated in P. Hugues, The Wallace Collection, Catalogue of Furniture, London, 1996, Volume III, n° 251, F140-141).
François Rémond (circa 1747 - 1812)

Along with Pierre Gouthière, he was one of the most important Parisian chaser-gilders of the last third of the 18th century. He began his apprenticeship in 1763 and became a master chaser-gilder in 1774. His great talent quickly won him a wealthy clientele, including certain members of the Court. Through the marchand-mercier Dominique Daguerre, François Rémond was involved in furnishing the homes of most of the important collectors of the late 18th century, supplying them with exceptional clock cases, firedogs, and candelabra. These elegant and innovative pieces greatly contributed to his fame.
Etienne-Maurice Falconet (1716 - 1791)

Etienne-Maurice Falconet is a French sculptor born to a poor family, he initially studied carpentry, but his talent was soon discovered by the sculptor Jean-Baptiste Lemoyne, who took the boy under his wing. Falconet's work was noticed by the Marquise de Pompadour, who commissioned several works from him.
From 1757 to 1766, he was the director of the sculpture workshops at the Sèvres Porcelain Manufactory. There he was instrumental in the success of Sèvres bisque porcelain, which is deliberately left in bisque form, that is, without any glaze or decoration.
In 1754 Falconet became a member of the Académie royale de peinture et de sculpture. In 1766 he travelled to Saint-Petersburg where Catherine the Great had him work on the equestrian statue of Peter the Great. Back in France, he was named rector of the Royal Academy of Painting and Sculpture. He created many masterpieces: Moses and David, for the Saint-Roch church in Paris, Pygmalion, Alexander, Winter, Melancholy, and Menacing Love, one of his most famous works, which was produced in bisque by the Sèvres Manufactory.
Dominique Daguerre

Dominique Daguerre is the most important marchand-mercier (i.e. merchant of luxury objects) of the last quarter of the 18th century. Little is known about the early years of his career; he appears to have begun to exercise his profession around 1772, the year he went into partnership with Philippe-Simon Poirier (1720-1785), the famous marchand-mercier who began using porcelain plaques from the Manufacture royale de Sèvres to adorn pieces of furniture. When Poirier retired around 1777-1778, Daguerre took over the shop in the rue du Faubourg Saint-Honoré, keeping the name "La Couronne d'Or". He retained his predecessor's clientele, and significantly increased the shop's activity within just a few years. He played an important role in the renewal of the Parisian decorative arts, working with the finest cabinetmakers of the day, including Adam Weisweiler, Martin Carlin and Claude-Charles Saunier, cabinetmaker of the Garde-Meuble de la Couronne, Georges Jacob, the bronziers and chaser-gilders Pierre-Philippe Thomire and François Rémond, and the clockmaker Renacle-Nicolas Sotiau. A visionary merchant who brought the level of French luxury goods to its highest point, Daguerre settled in England in the early 1780's, having gone into partnership with Martin-Eloi Lignereux, who remained in charge of the Paris shop. In London, where he enjoyed the patronage of the Prince Regent (the future King George IV), Daguerre actively participated in the furnishing and decoration of Carlton House and the Brighton Pavilion. Taking advantage of his extensive network of Parisian artisans, he imported most of the furniture, chairs, mantelpieces, bronze furnishings, and art objects from France, billing over 14500£, just for 1787. Impressed by Daguerre's talent, several British aristocrats, called on his services as well. Count Spencer engaged him for the decoration of Althorp, where Daguerre worked alongside architect Henry Holland (1745-1806). In Paris, Daguerre and his partner Lignereux continued to supply influential connoisseurs and to deliver magnificent pieces of furniture to the Garde-Meuble de la Couronne, which were placed in the apartments of Louis XVI and Marie-Antoinette. Daguerre retired in 1793, no doubt deeply affected by the French Revolution and the loss of many of his most important clients.
Photo gallery