François Rémond
(circa 1747-1812)
Important Pair of Three-Light Candelabra in Matte, Patinated, and Gilt Bronze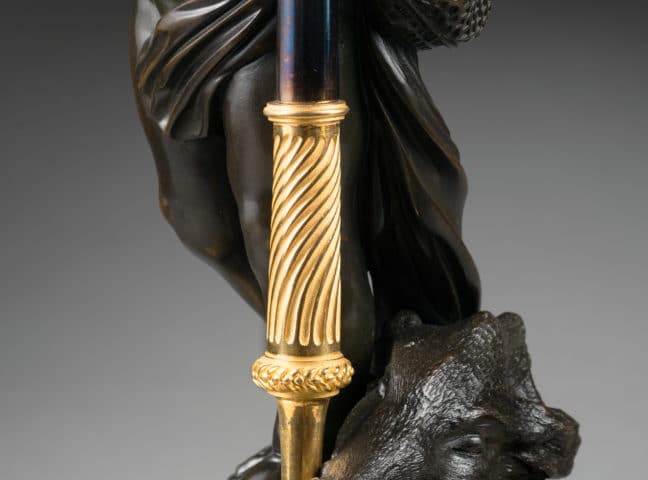 Attributed to François Rémond
Paris, late Louis XVI period, circa 1790
Provenance:
– Probably formerly in the collection of Emily Ridgway, Marquise de Ganay (1838-1921).
– Sold: Paris, Me Lair-Dubreuil, Galerie Georges Petit, May 8-10, 1922, lot 237 (not illustrated): "A pair of three-light candelabra in patinated and gilt bronze, each one comprising the statuette of a nude, standing child that is raising one arm, while in the other he holds an iron lance to which are attached three light branches in the form of hunting horns. At the child's feet lies the head of an animal. Cylindrical red griotte marble bases. Louis XVI period. Height 90 cm".
Each candelabrum is made of finely chased, patinated and matte gilt bronze. Each features a blued steel lance stem to which are attached three light arms in the form of hunting horns that are tied together by a ribbon. The lower portion of the lances feature a molded band adorned by a frieze of stylized toruses framing a band of spiral fluting. They rest on naturalistic terraces with a wild boar's head. Two finely modeled standing putti, lightly draped, complete the composition. The cylindrical red griotte marble bases, which rest on quadrangular plinths, are adorned with mille-raie toruses.
The first mention of a pair of candelabra of this type appeared in November 1809 when the collection of the well-known connoisseur Pierre-Nicolas baron Van Hoorn Van Vlooswyck was sold; they were particularly elaborate: "90. Two girandoles featuring various hunting attributes and bronze figures, each one bearing a blued steel lance adorned with gilt garlands from which are suspended hunting horns that compose the nozzles, the whole adorned with matte gilding and standing on a pedestal of Italian griotte marble adorned with toruses, and gilt bronze bases. Total height 34 inches". Except for the gilded garlands, the "Van Hoorn » candelabra might be the present pair. However, they should be directly compared to the description of the pair described in 1922 furing the posthumous sale of the collection of the Marquise de Ganay. One pair, nearly identical but with several variations, was formerly in the collection of the decorator Georges Geoffroy (see P. Arizzoli-Clémentel, Georges Geoffroy 1905-1971, Une légende du grand décor français, Editions Gourcuff-Gradenigo, Paris, 2016, p. 188).
François Rémond (circa 1747 - 1812)

Along with Pierre Gouthière, he was one of the most important Parisian chaser-gilders of the last third of the 18th century. He began his apprenticeship in 1763 and became a master chaser-gilder in 1774. His great talent quickly won him a wealthy clientele, including certain members of the Court. Through the marchand-mercier Dominique Daguerre, François Rémond was involved in furnishing the homes of most of the important collectors of the late 18th century, supplying them with exceptional clock cases, firedogs, and candelabra. These elegant and innovative pieces greatly contributed to his fame.
Photo gallery