Pierre-Philippe Thomire
(1757-1843)
Rare Pair of Bronze Athenienne tazzas with Burnished and Matte Gilding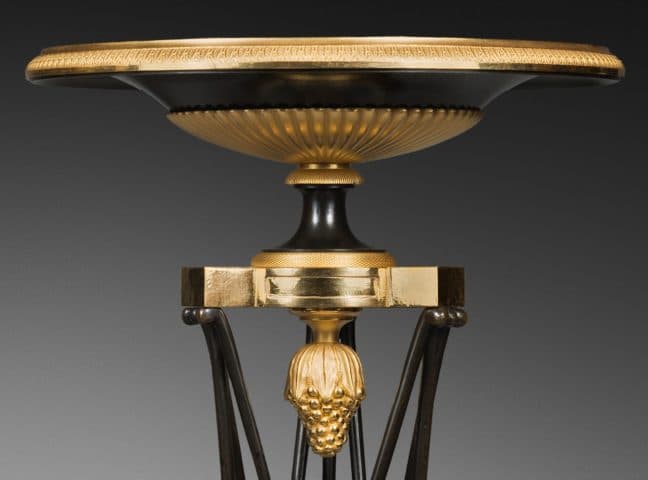 Attributed to Pierre-Philippe Thomire
Paris, Empire period, circa 1805-1810
Each tazza is made entirely of finely chased and engine-turned gilt bronze with patinated, matte and burnished finishing. They stand on crossed braces that are connected by roundels and rest upon three clawed lions' paws with rounded upper rims that are decorated with leaf and seed motifs. The Athenienne tripod base supports a circular bowl with leaf frieze decoration and a gadrooned belly. The pedestal is adorned with engine-turned bands and rests upon a stepped entablature with a central large pinecone finial. The solid, shaped base is made of green breccia marble.
The unusual design of the present tazzas, featuring crossed braces centered by roundels, was inspired by classical tripods, tables, and atheniennes such as those that may be seen in the Louvre Museum in Paris and the Archaeological Museum in Naples (see G. Henriot, Le luminaire de la Renaissance au XIXe siècle, Paris, plate 27). This particularly elaborate model, produced during the Empire period, may be confidently attributed to bronze caster Pierre-Philippe Thomire. It was produced either in the form of athenienne tazzas such as the present model (very rarely), or pedestal tables. A few rare pedestal tables with similar bases are known; among them, one example with an octagonal tabletop of imitation bronze-painted patinated wood, which is today in the Musée des Arts décoratifs in Paris (illustrated in C. Bizot, Mobilier Directoire Empire, Editions Charles Massin, Paris, p. 69). A second example, attributed to the Jacob brothers' workshop, is illustrated in J-P. Samoyault, Mobilier français Consulat et Empire, Editions Gourcuff Gradenigo, Paris, 2009, p. 120, fig. 204). One further model was delivered in 1809 by Jacob-Desmalter, to be placed in the cabinet particulier of the Empress's apartments in Fontainebleau Palace (see J-P. Samoyault, Fontainebleau, Musée national du Château, Catalogue des collections de mobilier 3, Meubles entrés sous le Premier Empire, RMN, Paris, 2004, p. 253, catalogue n° 180).
Pierre-Philippe Thomire (1757 - 1843)

Pierre-Philippe Thomire was the most important Parisian bronzier of the last quarter of the 18th century and the first decades of the following century. Early on in his career he worked for Pierre Gouthière, ciseleur-fondeur du roi, and toward the mid-1770's began working with Louis Prieur. He later became one of the bronziers attached to the Manufacture Royale de Sèvres, creating the bronze mounts for most of the important creations of the day. After the Revolution, he purchased the stock of Martin-Eloi Lignereux, thus becoming the most important suppliers of furniture bronzes for châteaux and Imperial Palaces. In addition, he worked for a wealthy private clientele, both French and foreign, including several of Napoleon's Marshals. Thomire retired in 1823.
Photo gallery