Jacob-Desmalter
(1770-1841)
Important Mahogany, Mahogany-Veneered, and Gilt Bronze Guéridon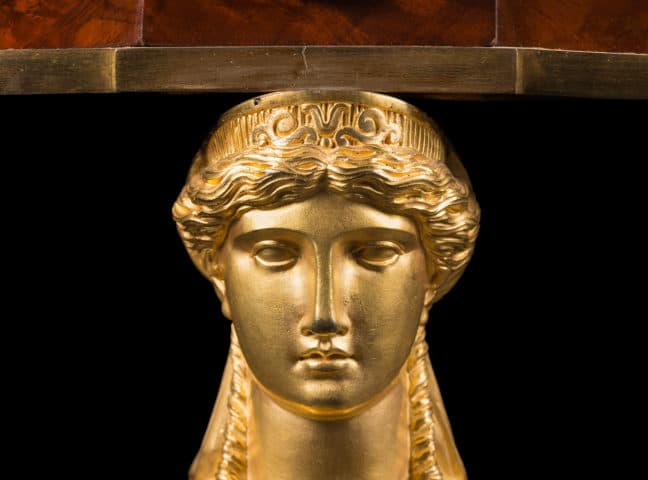 Attributed to François-Honoré-Georges Jacob, known as Jacob-Desmalter
Paris, Empire period, circa 1805-1810
The present circular guéridon is made of mahogany, flame mahogany veneering, and finely chased and gilt bronze. The apron, featuring three protruding sections, is adorned with applied motifs of trumpeting pairs of Cupids holding bows, double flaming hearts framed by leafy branches resting upon bows that support winged Cupids who are about to shoot arrows, and oil lamps with swan-neck handles over antique swords. This upper portion is supported on three tapering legs that are adorned with neoclassical female busts, whose sandal-clad feet appear at the bases, joined by a shaped triangular stretcher, centered by a gadrooned tazza with a pedestal base adorned with leaves and stylized friezes. The stretcher rests upon three quadrangular feet with sloping molded bases. The molded tabletop is made of blue turquin marble.
The present important guéridon may be attributed to the renowned Parisian cabinetmaker Jacob-Desmalter, who often employed similar tapering legs, many examples of which were produced in his workshop in the rue Meslée. Among the rare similar models known, one example is depicted in a painting by Sergio De Francisco, which shows the Grand Salon of the Ricci Palace in Rome (illustrated in J-P. Planchon, Pierre-Benoît Marcion (1769-1840) ébéniste de Napoléon, Editions Monelle Hayot, 2007, p. 72). A second example was formerly in the Mancel-Coti collection (see C. Bizot, Mobilier Directoire-Empire, Editions Charles Massin, Paris, undated, p. 65). A third example, which stood in the study of Queen Caroline, is today in the Blue Salon of Nymphenburg Palace (see L. de Groër, Les arts décoratifs de 1790 à 1850, Fribourg, 1985, p. 174, fig. 329).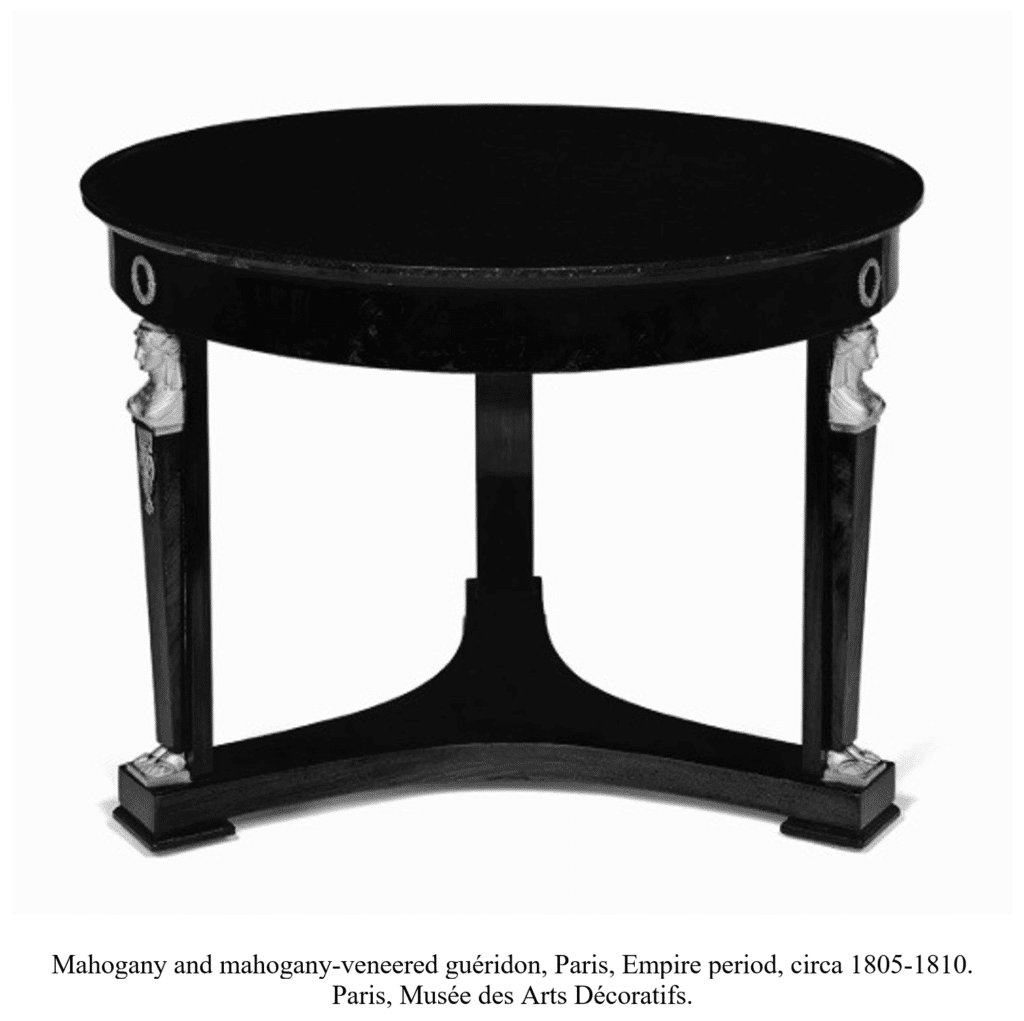 One further guéridon, quite similar to the present one, but smaller and less elaborately decorated, is in the Musée des Arts décoratifs in Paris (illustrated in E. Dumonthier, Mobilier national de France, Le meuble-toilette, Toilettes-coiffeuses portatives, Miroir, Psychés, Morancé, 1923).
Jacob-Desmalter (1770 - 1841)

François-Honoré-Georges Jacob, dit Jacob-Desmalter may be considered to be the most important Parisian chair makers of the first quarter of the 19th century. The youngest son of the famous cabinetmaker Georges Jacob (1739-1814), in 1798 he married Adélaïde-Anne Lignereux, the daughter of the famous merchant Martin-Eloi Lignereux. He first became known for his talent as a draughtsman, and in 1796, he went into partnership with his older brother Georges II Jacob (1768-1803). Together they took over their father's workshop in the rue Meslée, calling their firm Jacob Frères. After the death of his brother, Jacob Desmalter went into partnership with his father, who had begun working again, and changed his stamp. For nearly a decade, they were important suppliers of the Imperial Garde-Meuble, as well as of influential collectors of the time. However, in 1813 the Jacob firm went bankrupt, due largely to the Imperial administration's failure to pay them regularly. In 1825, after several failed attempts at recovery, he sold his business to his son in exchange for a comfortable life annuity of 6,000 francs per year. Finally free of the demands of running a business, he began to travel, going to England, where George IV asked him to help decorate Windsor castle. He died in the rue Cadet in Paris, on August 15, 1841.
Photo gallery