Jacques-Joseph Lepaute
(1750-1796)
Joseph Coteau
(1740-1801)
Exceptional Skeleton Desk Regulator with Equation of Time and Complications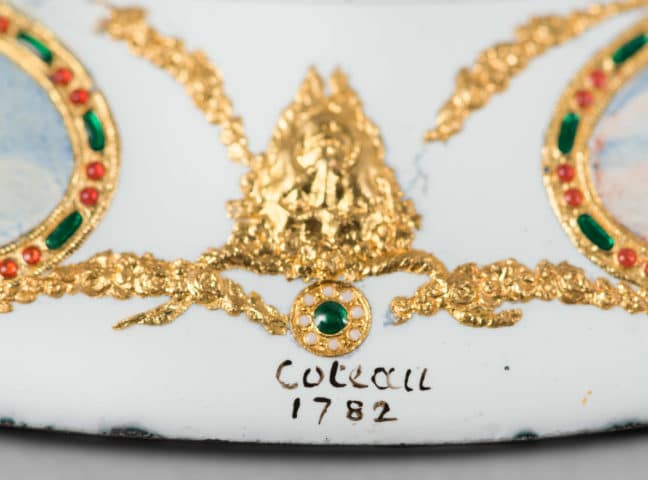 The enamels painted by Joseph Coteau
The spring dated "1783" and signed by Etienne-Claude Richard
Paris, Louis XVI period, circa 1783
Height
55.5
Width
35
Depth
20
Provenance:
– Sale Sotheby's Monaco, March 3, 1990.
– Galerie Aveline, Paris.
The white enamel ring dial, signed "Coteau" and dated "1782", indicates the Roman numeral hours and the Arabic numeral five-minute intervals. It also includes an annual calendar, equation of time (indicating the difference between true, or solar, time and mean time, which is based on a twenty-four hour system). The seconds are indicated by five hands, three of which are made of gilt, engraved, or pierced bronze; its outermost edge is elaborately adorned with oval medallions containing fine polychrome paintings relating to the twelve zodiac signs, which are linked by gilt garlands that are punctuated with bucrane masks; they are highlighted by alternating round and oval green and coral-colored cabochons. The hour and half-hour striking movement has a bimetallic compensation balance with a round bob that is engine-turned in various contrasting patterns. The neoclassical architectural case features a glazed frame made of finely chased and engine-turned bronze that is further adorned with matte and burnished finishing; it is decorated with geometrical reserves that are framed by bands, fluting, and mille-raie patterns. The lower portion bears the engraved signature "Lepaute de Bellefontaine Hger de Monsieur à Paris". The plain oval terrace stands on an oblong green marble base with rounded corners. The clock is raised upon four flattened toupie feet that are adorned with double cords.
Discover our entire collection of antique regulator clocks for sale online or at the gallery.
The sober and elegant composition of this exceptional desk regulator is a perfect example of the extraordinary creativity of some of the most important Parisian clockmakers of the reign of Louis XVI, as well as their desire to reveal as much as possible of their ingenious and elaborate movements. The brilliant idea of combining the skeleton clock and desk regulator in the present remarkable clock allowed Lepaute de Bellefontaine to draw attention both to the rare and luxurious materials, which the clockmaker carefully selected, and to the remarkable and precise mechanism. Today only a few comparable examples are known to exist. Among them, one example by Ferdinand Berthoud is illustrated in P. Heuer and K. Maurice, European Pendulum Clocks, Decorative Instruments of measuring Time, Munich, 1988, p. 71. A second clock, with two auxiliary dials and a driving weight, which is shown in Tardy, La pendule française, 2ème Partie : Du Louis XVI à nos jours, Paris, 1974, p. 355. A third, signed "Robin Gallerie du Louvre", which features a main dial and four smaller dials, is in the Musée international d'horlogerie in La-Chaux-de-Fonds (see the exhibition catalogue La Révolution dans la mesure du Temps, La-Chaux-de-Fonds, 1989, p. 40-41). One further such clock, attributable to Robert Robin, is on display in the Franklin Institute in Philadelphia (see F.B. Royer-Collard, Skeleton Clocks, London, 1977, p. 72).
Jacques-Joseph Lepaute (1750 - 1796)

Jacques-Joseph Lepaute, called "de Bellefontaine", was one of the most talented Parisian clockmakers of the last third of the 18th century. Probably a member of the Lepaute family that came originally from Thonne-la-Long, he was born in Bellefontaine near Luxembourg and went to Paris at a relatively young age. After having probably worked as an "ouvrier libre", he became a master and soon became a favorite among connoisseurs of luxury horology. With workshops successively in the rue Saint-Honoré, the rue Neuve des Petits-Champs, and the rue des Gravilliers, he produced some of the most remarkable horological creations of the last third of the 18th century. Nevertheless, he encountered financial difficulties at the end of the 1770s. When the value of his workshop was estimated, the names of well-known artisans appeared among his collaborators. These included chaser-gilders such as Robert and Jean-Baptiste Osmond, François Rémond, Michel Poisson and Joseph-Noël , Turpin, as well as the enameller Joseph Coteau and the spring maker Etienne-Claude Richard. In 1783 Lepaute received the much-coveted title of "Horloger de Monsieur", that is Louis-Stanislas-Xavier de France, Comte de Provence, brother of Louis XVI and the future Louis XVIII (1815-1824). In addition, he delivered several clocks to Prince Charles de Lorraine and received a commission for a monumental clock bearing the arms of Stanislas Augustus Poniatowski, King of Poland. Several decades later, one of his clocks was mentioned in the probate inventory of the General and Senator Antoine-César de Choiseul-Praslin, Duke de Praslin. Today, his clocks may be found in important public and private collections around the world, including the Wallace Collection and the Victoria & Albert Museum in London, in the Royal Palace of Warsaw, the Royal Museums of Art and History of Brussels and the Royal British Collections.
Joseph Coteau (1740 - 1801)

The most renowned enameller of his time, he worked with most of the best contemporary Parisian clockmakers. He was born in Geneva, where he was named master painter-enameler of the Académie de Saint Luc in 1766. Several years later he settled in Paris, and from 1772 to the end of his life, he was recorded in the rue Poupée. Coteau is known for a technique of relief enamel painting, which he perfected along with Parpette and which was used for certain Sèvres porcelain pieces, as well as for the dials of very fine clocks. Among the pieces that feature this distinctive décor are a covered bowl and tray in the Sèvres Musée national de la Céramique (Inv. SCC2011-4-2); a pair of "cannelés à guirlandes" vases in the Louvre Museum in Paris (see the exhibition catalogue Un défi au goût, 50 ans de création à la manufacture royale de Sèvres (1740-1793), Musée du Louvre, Paris, 1997, p. 108, catalogue n° 61); and a ewer and the "Comtesse du Nord" tray and bowl in the Pavlovsk Palace in Saint Petersburg (see M. Brunet and T. Préaud, Sèvres, Des origines à nos jours, Office du Livre, Fribourg, 1978, p. 207, fig. 250). A blue Sèvres porcelain lyre clock by Courieult, whose dial is signed "Coteau" and is dated "1785", is in the Musée national du château in Versailles; it appears to be identical to the example mentioned in the 1787 inventory of Louis XVI's apartments in Versailles (see Y. Gay and A. Lemaire, "Les pendules lyre", in Bulletin de l'Association nationale des collectionneurs et amateurs d'Horlogerie ancienne, autumn 1993, n° 68, p. 32C).
Etienne-Claude Richard

Etienne-Claude Richard was a spring-maker who became a master in Paris in 1775.